Reserve Community Service Officer Unit#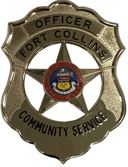 Fort Collins Police Services offers free training and volunteer opportunities for citizens over 21 years old through the Reserve Community Service Officer program (under 21? See below).
Reserve CSOs are civilian volunteers who have an interest in law enforcement. They assist Fort Collins Police in many areas of law enforcement by working closely with officers, detectives, and specialty units. Reserve CSOs not only work side by side with officers but also give presentations on crime prevention, conduct traffic control and patrols during events, provide security to crime scenes, and conduct surveillance. Reserve CSOs are required to attend regular training sessions and meetings.
Requirements#
Reserve Community Service Officer requirements include:
must be at least 20 years of age;
must be a citizen of the United States or legally authorized for employment within the U.S.
must be willing to travel to Fort Collins regularly for training and meetings
must possess a valid Colorado driver's license
must pass a background check
no felony arrests/convictions
must pass an honesty/integrity examination
Members of the community are encouraged to join the Department's Reserve Community Service Officer Unit. Ongoing training and all uniforms and equipment are furnished by Fort Collins Police Services.
Under 21 years old and at least 15? We have the program for you! The Fort Collins Police Explorer program offers similar training and opportunities for younger people interested in law enforcement. Read more about becoming a Police Explorer.
For further information on either of these exciting programs, please contact Community Service Officer Supervisor, Angeline Allen, aallen@fcgov.com.