Jobs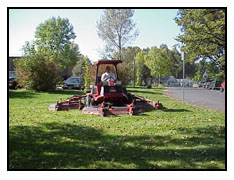 Our mission is to provide personalized, quality community services. We are responsible for the maintenance of award winning parks, cemeteries, and trails.
Park Seasonal Positions
This is an outdoor labor position. The work hours are typically from 7:00 a.m. to 3:30 p.m., Monday through Friday and some weekends and holidays. Note that some work shifts will be adjusted to include the weekend as part of the five-day work week. This is a forty-hour per week position, but overtime is occasionally necessary. Seasonal positions are employed from March - October.
Some of the jobs will include cleaning of public restrooms and emptying trash cans. You may, on occasion, be asked to apply chemical herbicides.
We assist Cemeteries with the preparation for Memorial Day weekend.
You will be required to wear steel toed (safety) shoes and the City will reimburse you for 40% of the cost of the shoes after 30 days. The City will make other safety equipment available to you (ear protection, safety glasses, gloves). Dressing in a professional manner is essential as a representative of the City.
Seasonal Essential Duties
Assists in the maintenance of city parks, trails, facilities, and recreational areas.

Operates a variety of equipment including mowers, blowers, weed whips.

Operates utility vehicles and small trucks.

Restroom cleaning/trash removal.

Some chemical/herbicide application.

Botanical(shrub beds, flower beds, specialty gardens).

Seasonal Working Conditions
Working under the supervision of a crew leader, the employee will work outdoors in a variety of climate conditions, equipment noise, and paint/equipment fumes.

Will adhere to dress codes and use of safety gear.

Attend weekly staff meetings and safety meetings as scheduled.

Seasonal Minimum Qualifications/Experience
Physical, mental and cognitive abilities sufficient to perform the essential duties outlined above. These include:

Ability to read, write, and communicate well with others

Physical ability and stamina to perform duties including, bending, lifting, digging, pushing, and kneeling

Ability to lift and move 80 pounds.

Valid driver's license.

Must be at least 18 years old.

Previous experience preferred, but not required.

Passing a pre-employment drug test.

Classified Positions
Classified employees are generally 40 hour per week positions with established salary ranges and benefit packages including paid holidays, vacation time, and sick leave following establish City policies.

These positions are posted through the Human Resource Department when available. A written application is required, written and/or performance testing may be required, and oral interviews would take place for qualified candidates.

The City of Fort Collins is an equal employment opportunity provider. A mandatory drug test is required of all new classified position inductees.