Curbside Parking#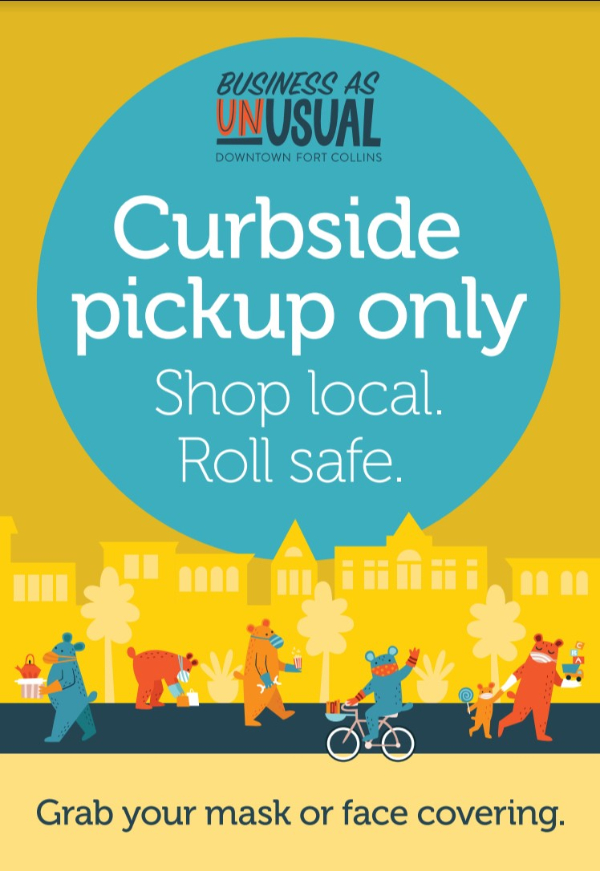 This morning, 86 curbside pickup parking signs were distributed throughout Old Town by the Downtown Development Authority and City Parking Services. Thanks again to the 60 businesses who completed the recent Curbside Parking Survey. Please see below for key points and additional information.
Please contact Derek Getto, DDA Policy & Program Manager, (dgetto@fcgov.com) to request a curbside parking sign in front of your business, or to ask questions or provide feedback.
62% of survey respondents identified a need for short-term curbside parking and the 86 curbside pickup signs were distributed to reflect those requests.
The curbside parking is flexible and can be modified as business needs change.
Please let Derek (dgetto@fcgov.com) know if your business would benefit from a sign being placed in front of your business.
City Parking Services will not be enforcing curbside parking and has currently suspended the regular enforcement of 2-hour time parking. This curbside parking initiative is intended to be enforced using the "honor system."
Please encourage your employees to leave on-street parking spaces available for customers coming downtown; please direct employees to park in the parking garages, in city parking lots or to utilize private parking spaces that your business may provide.
If you feel that these signs are hindering or hurting your business, please make sure to share that feedback, too.
Thank you to the DDA, City Parking Services, City Traffic Operations and City Engineering for the collaborative effort to operationalize this initiative and provide convenience for downtown customers.
Please see below for an up-close example of the parking signage as well as an active application of what the signage looks like on the streetscape.
To provide feedback, submit questions or request curbside parking signs in front of your business, please contact Derek Getto, DDA Policy & Program Project Manager at Dgetto@fcgov.com
On-Street Parking#
Downtown offers a variety of parking options, including on-street, parking structures, and surface lots. In general, the on-street parking in the core of downtown has 2-hour time limits, while the parking around the periphery of downtown has free, open, all-day parking. On the map below, the 2-hour parking is shown in the light blue.