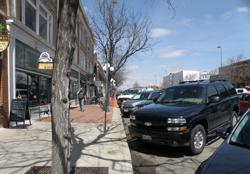 This planning effort began in early 2011 and addressed a number of critical parking issues in Downtown.
Parking Plan
Council adopts plan with a 7-0 vote
On January 15, 2013, City Council voted 7-0 in favor of adopting the Parking Plan. From now until March 1, staff is putting the final polish on the document and making it ready for distribution. The plan incorporates comments made by citizens, Downtown stakeholders, City boards and commissions, and City Council throughout the planning process.
Parking Services staff will begin implementation of:
a neighborhood permit program and
an electric vehicle public charging stations pilot program.
Key Recommendations On-street Pay Parking (meters)
Issues: high parking occupancies, employee parking, inflexible time limits
Not recommending now, to be evaluated in future (See Principle 2, Policies 2.1 & 2.2, p. 35)
Recommending add-on option to pay-by-cell for extended parking beyond two hour time limits (See Policy 4.7 p. 37, Action #9, p. 43)
Organization for Parking Management (governance)
Issue: Need for more Downtown stakeholder involvement in parking decisions
Not recommending new organization
Recommending increased engagement with businesses (See Policy 1.2, p. 35)
Employee Parking
Issue: Approximately 20% of high demand parking spaces needed for business customers used by employees
Recommending engagement with Downtown business owners to identify appropriate tools (See Principle 3, Policies 3.2, 3.3, p 36, Action Item 7, p. 43.)
Parking in Neighborhoods
Neighborhoods experience spillover parking from Downtown businesses and Colorado State University
Recommending residential permit parking program (See Policy 5.1 p. 37)
Recommending residents pay a reasonable fee (See Policy 5.2, p. 37)
Electric-Vehicle Charging Stations
Recommending stations in appropriate public facilities (See Policies 7.8-7.9 on p. 39)
Future Public Parking Infrastructure Needs
Issue: City not prepared for future parking demand increases
Recommending public-private partnerships
Recommending smaller, distributed, parking facilities (See Policy 6.3, p. 38 and Action item 15, p. 43)
Financing
Issue: No viable source for future parking infrastructure and programs
Recommending distribution of parking costs among community, Downtown, and new development (See Policies 8.3 – 8.7, pp. 39-40, Action Item 13, p. 43)
Parking for New Development
Issue: New development is generating new parking demand, but there is no mechanism to address parking needs
Recommending a Parking Impact Fee for new development
Recommending adding Transportation Impact Study requirements to assess parking impacts (See Policies 6.2, 6.4, p. 37-38, 8.6, p. 40 and Action Items 2, 8, 16, pp. 42-43)