Occupancy Limits & Enforcement#
What
is

the

Occupancy Limit All About?#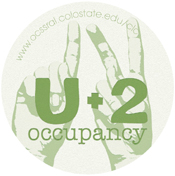 To avoid over occupancy complaints, landlords and tenants should be familiar with The City of Fort Collins occupancy limit.
The "U plus 2" law or occupancy ordinance states:
"Occupancy in a residential dwelling unit (single-family, duplex, and multifamily) is restricted to:
one family as defined below (Section 5.1.2) and not more than one additional person;
OR
one adult and their dependents (if any), a second adult and their dependents (if any), and not more than one additional person."
Family shall mean any number of persons who are all related by blood, marriage, adoption, guardianship or other duly authorized custodial relationship, and who live together as a single housekeeping unit and share common living, sleeping, cooking, and eating facilities. The occupancy limits are further defined in the Land Use Code 3.8.16.
Under this ordinance the following scenarios are allowed:
a family (of any size and configuration)
a family (of any size and configuration) and their nanny
a family (of any size and configuration) and an exchange student
two single parents, their kids, and a friend
two siblings and one friend
two married couples as long as a familial relationship exists linking the two couples
These are not allowed:
two couples, married or not, with no familial relationship linking couple A to couple B
two siblings and their two or more friends
a family (of any size), a caretaker, and an exchange student
Occupancy Disclosure Forms#
Sale
Occupancy Disclosure Form (Word) (PDF)
Lease
Occupancy Disclosure Form (Word) (PDF)
An occupancy disclosure form is required to be signed at the time of lease or sale of any property within the City of Fort Collins. There are two versions of this form, one for the sale of property and one for leasing property. (See Download Forms above.) Owners or landlords should keep this form as part of their records. The form is intended to ensure all parties are aware of and understand the occupancy ordinance. If an occupancy complaint is filed on a property the City will ask the owner or the landlord to provide a copy of a signed occupancy disclosure form.
The Disclosure Statement must have the execution date verified by electronic means OR have all signatures notarized. *Electronic means includes email, fax, scanning, or third-party processes.
A copy of the statement must be kept at the property and made available to the City immediately upon request.
In the case of multi-family units with an on-site manager/office, the disclosure statement may be kept on file in the on-site office as long as it is available during business hours immediately upon request of the City.
Lease renewals with all the same parties do not need to sign a new disclosure statement as long as the parties signed a disclosure statement at the original lease signing.
Occupancy Enforcement Process#
If you believe there is a home near you which is over occupied, you can file a complaint by either completing an investigation form (see Download Forms above) or calling the Nuisance Hotline at 970-416-2200. Complaints can be made anonymously, although staff encourages signed complaints so they can work directly with neighbors to resolve the issue. All complaints will be followed up on. Because over occupancy can be difficult to prove, it is helpful if you can provide information such as license plate numbers of occupants and any other relevant information.
Upon receipt of a complaint, staff begins an investigation.
Staff may contact the owner/property manager and request a copy of a signed occupancy disclosure form. (these forms have been required since December 2005 and there is a potential $1000 fine for not having one).
If the investigation produces reasonable cause to suspect over occupancy, a City inspector gives notice to all tenants, the landlord, and the property manager stating they may receive citations.
A reasonable amount of time will be given to correct the over occupancy and come into compliance. A citation may be issued immediately or at any time during the process.
If a citation is issued, correcting the situation does not relieve any of the parties of the potential fine. The penalty can be up to $1,000 per person, per day the home is over occupied. As such, prompt compliance is encouraged.
Host Family Permits#
Host Family Permits are now available (See Download Forms above).
Effective 2010, City Council adopted an ordinance to allow a process to increase the occupancy limit for host families. With respect to single-family, owner-occupied dwellings, the number of persons allowed under Section 3.8.16(A)(1) may be increased to allow one additional person by the issuance of a Host Family Permit provided that the following conditions are met:
Adequate off-street parking is available to accommodate the additional occupant.
There have been no violations the City Code or the Land Use Code at the premises for which the permit is sought within the twelve (12) months immediately preceding the date of the application for the permit.
At least two (2) months have elapsed since the issuance of any previous host family permit for the same premises.
Permits issued shall be valid for ten (10) months from the date of issuance. A permit may be revoked during the permit duration if a violation of the City or Land Use Code has occurred at the premises for which the permit was issued. A fee of $25 will be charged by the City for the host family permit in order to cover the costs of processing the application, which shall be payable at the time of application.
Occupancy FAQ's#
Why does the occupancy code exist and how long has it been in the books?
Since the 1960s, Fort Collins has enforced occupancy restrictions. The City addresses occupancy to help ensure health and safety of residents, and to help protect the quality and character of neighborhoods.
What if I have guests on most weekends? Will I be in violation even though these guests don't technically live with me?
It depends on if those guests are occupants. The occupancy limit applies to occupants - not guests. The code classifies anyone who spends more than 30 nights in a dwelling unit in a 12-month period as an occupant. Therefore, a frequent guest could actually be considered to be an occupant. If the City receives a complaint, there would be an investigation to see if there's reasonable suspicion of a violation of the occupancy limit.
What if a house can easily accommodate more than three residents?
The property can be designated as an Extra Occupancy Rental Home if the house meets certain criteria. For more details, please download Extra Occupancy Rental House Regulations.
Who can I contact if I have questions?
You can contact Neighborhood Services at 970-224-6046. If you are a CSU student you can also contact CSU's Student Legal Services at sls.colostate.edu.
Occupancy Study#
In 2016, the City was asked to consider soliciting another study to determine both the effectiveness of the ordinance as well as potential unintended consequences. In 2017, in partnership with Colorado State University (CSU), the Associated Students at Colorado State University (ASCSU), the Board of Realtors (BOR), and neighbors a scope of study was created. Corona Insights was chosen to conduct the study which began in 2018 and was coordinated to work around the academic school year.
Study scope:
Primary questions to be answered
Has the occupancy ordinance had an impact on neighborhood quality?
Does the occupancy ordinance impact the affordability of housing?
Information on short term rental impacts was also included.
This study, is intended to be a snapshot in time of the rental market and the forces that affect it, with comparisons over time from which the City and the community can identify trends.