Community Liaison
A cooperative effort between the City of Fort Collins and Colorado State University!
The City of Fort Collins and Colorado State University are partners in the effort to build community and create a positive environment where non-student residents and students share neighborhoods. The University and City jointly fund a Community Liaison to take the lead on implementing programs to enhance relations between students and their neighbors. These programs include student volunteer opportunities within the Fort Collins community and education programs designed to help students succeed in neighborhoods. Click here to read about current and past collaborations.
For more information about the community programs offered, please visit the website of CSU's Office of Off-Campus Life.
Student Focused Housing Session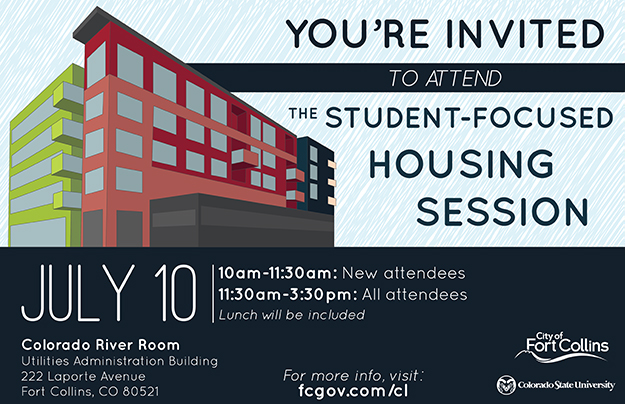 The City of Fort Collins Neighborhood Services and Police Services, along with Colorado State University's Off-Campus Life, would like to invite you to the third annual Student-Focused Housing Session. This half-day session (lunch is provided) is designed specifically for the managers of apartment complexes in Fort Collins that predominately house college students.
The details
When: July 10, 2017 from 10:00am 3:30pm

Check in is at 9:45am, information sessions start at 10:00am

The initial information provided from 10:00-11:30 will be geared toward new attendees who have not been to previous sessions. Returning attendees are welcome to check in at 11:30 for lunch and new information

Where: Colorado River Room, 1st floor Utilities Administration Building, 222 Laporte Ave
What: Presentations this year will include:

The session will open with an overview on Police programs, Neighborhood Services, and Off-Campus Life. This information will be geared toward new participants, and will contain a review of information given in previous years. Returning participants are welcome to come after this review for lunch and new information (below).
A presentation on what is new with Fort Collins Police Services along with a brief presentation by Utilities
Information regarding CSU's on campus stadium and what game-days will look like
A partnership discussion with Fort Collins Mediation and CSU's Conflict Resolution

Some benefits include:

Get educated about the unique City of Fort Collins ordinances that have an impact on you and your property
Gain access to Neighborhood Services resources (mediation program, landlord trainings, etc.)
Gather information on all of the resources that Off-Campus Life and CSU provide to CSU students and how you can partner with CSU to gain access to potential student renters
Meet other managers, network, and share information
Learn how we can all partner together to better serve residents and our community

Lunch will be provided
What to do
Please RSVP by FRIDAY, JUNE 30th , by emailing Katherine Bailey a2JhaWxleUBmY2dvdi5jb20= and providing:

First and last names, positions, contact information (emails and phone numbers)of ALL who will be attending (please note that you may wish to include your security management staff, as we will be discussing security issues).
A list of ALL of the complexes you and your team manage and then which ones you are representing at the Student-Focused Housing session.
We will be providing you with helpful brochures to be distributed in your welcome packets to your residents. Please let us know the TOTAL NUMBER you need (either 1 per resident or 1 per unit depending on how you distribute your welcome packets). Please let us know the breakdown of the brochure count for each individual property you need them for.
History
5 years ago Neighborhood Services partnered with Fort Collins Police Services' Neighborhood Enforcement Team (NET) to do outreach with the new student-focused apartment complexes opening across the City. Our goal was to build a connection with the managers so that we could provide resources and partner early and often on any issues that may arise in these college renter specific apartments. These outreach meetings connected the manager(s) directly with the NET officer(s) assigned to their area providing a direct connection and faster response to potential issues. Additionally, the manager(s) got connected to Neighborhood Services resources and gained a personal contact and better understanding of the Public Nuisance Ordinance and other ordinances that have a direct impact on not only the tenants but the property managers and owners of the complex. These outreach meetings were highly successful and have proved invaluable when dealing with issues and establishing partnerships. Therefore the program was expanded to all of the apartment complexes that focus on college students.
Please join us in continuing these important conversations and sharing information, so we can strengthen our partnerships. Should you have any questions, please feel free to email bnNwcm9ncmFtc0BmY2dvdi5jb20=. Additionally, if you know of any other student-focused apartment complex managers who are interested in attending, please link them this information.