Adopt
a

Neighbor#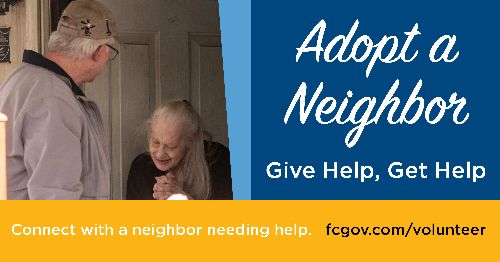 Do you need assistance with snow shoveling?
Adopt a Neighbor pairs volunteers with those who need assistance with certain tasks. You will be connected with a neighbor in your community who wants to help, is background checked, and is trained on COVID-19 safety. Tasks may include grocery shopping and delivery, snow shoveling, and outdoor pet care/dog walking. Both ongoing and one-time requests are accepted.
Note: Volunteers are not allowed inside your home and cannot drive you somewhere, so tasks that require either activity cannot be fulfilled by this program.
To receive assistance:
Fill out this form to be put on a list to receive help. Requests must be made at least 2 weeks in advance. Last minute or day-of requests cannot be accommodated.
We will begin our search for a volunteer for you.
When a volunteer is found, they will contact you to introduce themselves and set up a schedule with you.
Please note that we cannot guarantee a volunteer can be found for you. If we cannot fulfill your request, we will refer you to other resources in the area that can help you.
If you need help applying or have questions, email Emily Olivo at eolivo@fcgov.com or call/text 970-510-6638
Volunteer with Adopt-A-Neighbor!#
We are in a unique and uncertain time, but we are in it together. The coronavirus has put some of our friends, families, and neighbors at greater risk. Yet, with all the uncertainty, we have the chance to show that Fort Collins is a truly exceptional community that rises up to help one another.
The city is seeking volunteers to assist with services to our vulnerable populations. Volunteers may assist neighbors with tasks such as grocery shopping, picking up medications, snow shoveling, lawn care, and pet care. Specific needs and schedules will vary, and there are opportunities for long-term pairings with one neighbor as well as one-time tasks. When you apply, you can let us know your preferences.
If you have any questions, please contact Emily Olivo at eolivo@fcgov.com or 970-510-6638 (call or text).