Dept Head: Jacqueline Thiel
Note: May - 2015 Edition: Some information may be out of date.
Thank You
We appreciate your interest in the 2015 Business Appreciation Breakfast celebrating businesses in our community!
Did you miss it? See notes from consultant Jon Schallert at The Schallert Group about his keynote speech or check out the following videos:
Video: Business leaders talking about doing business in Fort Collins (shown at the breakfast)
Video: Celebrating entrepreneurism and innovation with the CSU Blue Ocean Enterprises Challenge
Recycling Ordinance Update
The City Fort Collins is considering an update to the local recycling ordinance.
General topics include:
Including businesses and apartment complexes in the recycling ordinance (currently only applies to single-family homes)
Discussing curbside yard waste collection for single-family homes
Considering other updates to curbside trash and recycling service for single-family homes
Stay in touch on the project. City Council will consider these updates at a work session in October 2015.
Helping the Community Thrive
The Fort Collins City Council on May 19 awarded $2.8 million to agencies serving low-income Fort Collins residents through housing and other public services.
As a percentage of total available funds for projects and programs, 72 percent has been allocated to affordable housing, and 38 percent to public service. Funds originate with two federal programs - the Community Development Block Grant program and HOME Investment Partnership program - and through the City's General Fund and Keep Fort Collins Great.
Council, after a recommendation from the City's CDBG Commission, approved the following funding:
Housing Loans ($2,081,091):
The City received five proposals, which Council funded:
City of Fort Collins: Homebuyer Assistance ($200,000)
Fort Collins Housing Authority: Tenant Based Rental Assistance ($170,227)
Fort Collins Housing Authority: Village on Redwood ($1,407,255)
Neighbor to Neighbor: Coachlight Plaza ($21,000)
Villages: Legacy Senior Residence II ($282,609)
Public Service Grants ($799,248)
The City received 34 proposals totaling $1.3 million with only $799,248 in available funding. Council awarded 33 agencies partial funding; no agency received full funding. Agencies and programs range from childcare to youth services, services for seniors, disabled citizens, rent assistance, homeless services, persons living with HIV/AIDS, people who are victims of sexual assault or domestic violence and mental health services. For a complete list, go to fcgov.com/socialsustainability.
To date, through these grants, the City will serve more than 11,000 individuals in 2015. The next funding cycle will begin in January 2016. For more information, contact Sharon Thomas at 970.221.6595 or c3Rob21hc0BmY2dvdi5jb20=.
Housing Affordability
The City's Social Sustainability department held a public forum on May 19 to begin to gather input for a five-year Housing Affordability Strategic Plan. Staff is using the input to revise the plan before going to City Council on June 9 for a work session. Council is scheduled to consider the plan at a regular meeting in August. For more information, contact Sue Beck-Ferkiss at c2JlY2tmZXJraXNzQGZjZ292LmNvbQ== or 970.221.6753.
Small Business Corner: Riverside Technology
Riverside Technology, Inc. is a local company with far-reaching impact. Founded in 1985, the small business helps U.S. communities, federal agencies and nations around the world manage the impacts associated with climate change.
Riverside is celebrating its 30th anniversary this year. The company's 150 employees provide environmental intelligence for government and industry, which improves their management of environmental interactions – reducing capital expenditures, minimizing risk, and improving operational efficiency – and makes the world more secure and sustainable.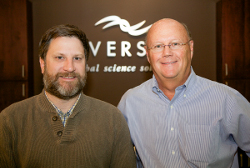 Brian Ashe, left, and Larry Brazil
At its local office here in Fort Collins, about 50 employees manage projects that model water use and forecast floods and droughts on a global scale. Their work is as varied as assisting northern African countries with managing water along the Nile River Basin, to forecasting how much water will be available within the Northern Colorado Water Conservancy District. The remaining staff is scattered around the country working on everything from NASA environmental observation satellite launches to evaluating endangered species in the Gulf Coast region for the National Oceanic and Atmospheric Administration. All Riverside endeavors are linked with water resources as the common theme.
"We look at the impacts of climate variability on water," said Brian Ashe, director of Business Development for Riverside. "Water intersects all parts of the environment. Climate variability over the next 50 to 100 years is going to affect how we sustain our life as well as how we manage our land use. We provide the tools so decision makers will have the information to best support people in northern Colorado and other parts of the world."
Roughly 15 to 20 percent of Riverside's clients are overseas, particularly in developing countries of Africa and Latin America. U.S. clients include the National Weather Service, U.S. Army Corps of Engineers and the Tennessee Valley Authority, which manages more than 30 dams along the Tennessee River. Riverside is also working with New York City to manage water quality in their water supply system.
The company is particularly innovative with helping clients manage complex systems to monitor real-time water data, Ashe said. Riverside President and CEO Larry Brazil said the company's ties to Fort Collins are not just happenstance. "The company is based here because of ties to Colorado State University," he said. "I went to graduate school at CSU, and a number of our employees have roots there, too. We have a strong connection to CSU's world-renowned Department of Civil Engineering."
Calling Fort Collins home makes it easy to recruit employees, Brazil said. "We like living here. A lot of students leave after graduation and later realize they want to return. Most of our employees want to remain in this area to enjoy all the great things Fort Collins has to offer.
"The City does a great job of maintaining a wonderful place to live," Brazil added. "That's important to our employees – lots of opportunity for them to have interesting and active lives outside the office." For more information about Riverside, go to http://www.riverside.com/.
Etc.
June 28 is the last day Fort Collins residents can receive up to $50 in rebates through the 2015 Lawn and Garden Equipment Rebate Program. Like last year, this year's rebate program once again includes electric or reel lawn mowers as well as electric or battery-powered leaf blowers, string trimmers, hedge trimmers, edgers, chain saws, pole saws, cultivators, and tillers that have a retail purchase price of $99 or more. For a complete list of participating retailers or to request a rebate, go to fcgov.com/lawnmower or call 970.221.6600.