Climate Adaptation
The report of the Colorado Local Resilience Project, convened by the Colorado Climate Network and the Colorado Municipal League, was released on April 23, 2015. The report is a call for action – for more steps by local governments, the Colorado state government, and others to improve the resilience of Colorado communities to climate change-related risks, including increases in wildfires, floods, and health-threatening heat waves. Former City of Fort Collins Mayor Karen Weitkunat and other City staff participated in the process along with 78 representatives from 30 local governments and six related local organizations to develop the report, which contains six conclusions and 36 recommendations, all representing a consensus of the project participants.
Colorado Local Resilience Project
Climate Change Adaptation Report
Read a recent report about the City's climate action strategies and the role of the City in assessing the community's vulnerabilities to climate change.
Air Quality and Extreme Heat Case Study
The City of Fort Collins Recreation Department is planning now for future challenges related to wildfire smoke, poor air quality and increased heat. This case study highlights our lessons learned from the 2012 High Park Fire and how we're planning now to manage future conditions to ensure our Recreation program participants are protected and informed.
---
Acting Locally
And

Globally

The City remains committed to reducing greenhouse gas emissions (GHG) through multiple strategies. In 2015, Mayor Wade Troxell signed the Compact of Mayors agreement, joining over 600 other cities, committing Fort Collins to completing a full climate action and adaptation plan by 2018. Fort Collins already has a comprehensive Climate Action Plan and will be completing a municipal adaptation and resiliency plan in 2018. Together, these plans will ensure Fort Collins continues to be a safe, prosperous place to live and is resilient to its challenges now and in the future.

Many mitigation and adaptation strategies offer benefits to both efforts. By mitigating emissions locally and globally, we can help prevent future climate impacts from becoming more severe. Go tohttps://www.fcgov.com/climateaction to learn more about how you can help fight climate change and participate in a variety of city programs to improve your home or business.
---
Why Do We Need
To

Prepare

For

A

Changing Climate?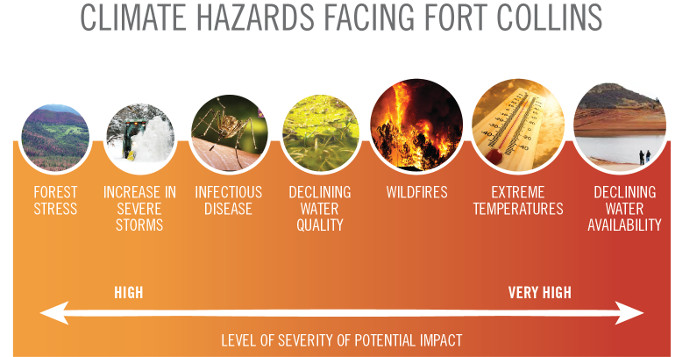 While we must make concerted efforts to reduce greenhouse gas emissions, historic emissions have and will continue to impact our climate. Climate change is an urgent challenge that requires us to develop and leverage extraordinary capacity for resilience and innovation across sectors. In 2012, throughout the nation there was record heat and drought. Locally we suffered record wildfires that impacted the Cache la Poudre watershed- a key source of water and pride for Fort Collins. In 2013, the Colorado Front Range experienced extreme flooding that killed people, destroyed homes, business and public infrastructure. Climate science indicates we should expect more of what we saw in the last two years in future.
Future climate impacts for our region could include:
Declines in snowpack
Earlier spring runoff
Greater likelihood for: severe storms, extended drought and severe wildfire
Increased frequency and severity of heat waves and ozone formation
The City of Fort Collins has been considering the impacts to climate change since 2008. Assessments of potential climate impacts include:
Vulnerability and risk assessments of key city services
Repeated scientific study of hydrology, water supply and water demand
Stormwater and floodplain management
Measures to reduce vulnerability could include:
Fold adaptation considerations into city planning and decision-making processes
Physical modifications to structures
Changing the way infrastructure is installed and operated to reflect changing conditions
Amending or implementing new codes and policies
Improved coordination, communication and response during extreme events
Participation in regional peer learning networks focused on adaptation strategies
---
Presidential Task Force
Presidential Task Force Releases Recommendations
After more than a year serving on the President's State, Local and Tribal Leaders Task Force on Climate Preparedness, Fort Collins Mayor Karen Weitkunat saw her hard work come to fruition with the release of the Task Force's recommendations. Read more here.
Background
The President's Climate Preparedness and Resilience Task Force (Task Force) was convened to develop recommendations on how the federal government can better support local, state and tribal governments in achieving resilience through disaster preparedness, built systems, natural systems and agriculture, and community development and health.
The Task Force is charged with providing actionable strategies that can be implemented by Executive Order or through existing agency authorities which:
Remove barriers and create incentives and otherwise encourage investments in resilience.
Provide useful tools and information, including through intergovernmental coordination.
Otherwise support state, local, and tribal preparedness for resilience to climate change.
The Built Systems Subgroup is soliciting input in developing recommendations specific to: water, transportation, energy, facilities, and coastal infrastructure in addition to program and agency administration.
Please consider contributing to this process with a brief response to the questions presented below with particular consideration to those actions that can be advanced in the short term and which will have the most impact.
---