Recent Design Review Decisions
Please click HERE for a list of the recent design review decisions from Historic Preservation staff and the Historic Preservation Commission (HPC).
What
Is

Design Review,

and

Why Does It Happen?#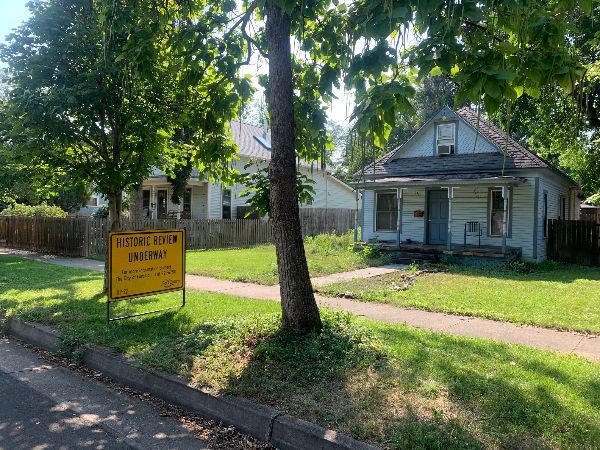 Historic preservation is the process of connecting history, culture, and heritage to a place and telling that place's story. That requires the preservation of key physical features of buildings, sites, and landscapes so that place can continue telling its story - that's what design review is all about.
The design review process exists to prevent the loss of, or damage to, Fort Collins' significant historic resources, preserve our city's unique history, realize the environmental benefits of reusing our existing building stock, and help property owners take advantage of financial incentives available for eligible historic resources, including tax credits and zero-interest loans.
Through the design review process, all exterior alterations to designated resources in Fort Collins are approved or denied based on the historic significance and character of the property. The review process is outlined in Chapter 14, Article IV of the Fort Collins Municipal Code and Chapter 3.4.7.
Is Design Review Required
for

My Property?#

Historic preservation design review is required for:

Fort Collins Historic Landmarks and Landmark Districts (the most protected)

National Register of Historic Places & Colorado State Register (protection encouraged; sometimes required)
Report under Article IV required before work can proceed. Report documents whether project meets the Standards.
It is recommended that work meet SOI Standards to retain listing and access to financial incentives.
For owners of single-family residences listed in the National or State Registers, compliance with the Standards is not required, although work cannot begin until a report is issued by the City's Historic Preservation Staff or Historic Preservation Commission.
Note: work completed on these kinds of historic buildings that does not meet the Standards may endanger the historic status of the building and lead to permanent loss of access to historic preservation incentives for the property.
Multi-family residential and commercial properties that are designated as historic OR eligible for Landmark designation
Compliance with the Standards is required and a Certificate of Appropriateness must be issued per the requirements of Land Use Code 3.4.7.
When Should I Start This Process?#
If you own a designated resource, you are required to have all exterior work reviewed and approved by either City historic preservation staff or the Landmark Preservation Commission before you start work on the project or be approved for a building permit. Staff recommends that you work closely with us from the idea stage through completion of the project. This will help ensure that the idea you have comes to reality in a way that fits your needs and meets the Secretary of the Interior's Standards.

It is never to early to contact staff to get the process started, even if you aren't quite ready to fill out an application. You can reach us at preservation@fcgov.com or 970-416-4250.
How Do I Apply
for

Design Review?#

Design Review begins when an application is received for a project. Some minor/routine projects may not need an application (e.g., in-kind roof replacement), so please check with staff at preservation@fcgov.com or 970-224-6078 if you're not sure.
Design Review Application: Fill out this PDF and return to staff at preservation@fcgov.com with photographs and any other accompanying information (project plans, product sheets, etc.).
Extra Design Review Worksheet: If you need more room to discuss your project, or have more items to request review for, use this extra worksheet.
Historic preservation design review is usually completed by City staff, who are trained specialists in historic preservation. In cases where a project is large, complex, is not meeting the Standards, or is being appealed, review will be completed by the City's Historic Preservation Commission.
Most projects are able to be reviewed at a staff level. Those projects are usually routine in nature, very minimally effect the historic integrity of the property, or very clearly meet the Secretary of the Interior's Standards for the Treatment of Historic Properties. After staff receives an application, they will be able to let you know if it is eligible for staff level review only.

Staff review means that the application can be reviewed internally without going before the Historic Preservation Commission. Staff review is generally quicker than going before the HPC, but will still be reviewed with the same rigor and adherence to the Standards.
Historic Preservation Commission Review Process#
Although City staff reviews most projects, some, including large projects, may go to the Historic Preservation Commission (HPC) for review instead. All projects reviewed by the HPC go through at least one hearing, but applicants going before the HPC are encouraged to complete a conceptual public hearing with the Commission prior to submitting final project plans for approval.
The HPC's meeting schedule can be found online, here. Materials are typically due from applicants the Monday two weeks in advance of the meeting (usually twelve business days in advance).
Public Hearing - Conceptual (Optional, but strongly recommended)
This is an opportunity for the applicant to discuss requirements, standards, design issues and policies that apply to designated historic resources prior to beginning work. Problems can be identified and solved prior to final review of the application. Conceptual review of any proposed work may be limited to certain portions of the work as deemed appropriate by the Commission. If, upon review of the proposed work, the Commission determines that conceptual review is not necessary given the absence of a significant impact on the landmark or landmark district involved, it may be waived by the Commission, and the Commission may then proceed to consider the proposed work on final review at the same meeting.
Public Hearing - Final
Each application shall be finally reviewed and approved by the Commission at the same meeting as the Commission's conceptual review of the application, if any, or at a subsequent meeting of the Commission. During final review, the Commission shall consider the application and any changes made by the applicant since conceptual review.
Guidance
for

Common Projects#