Fort Collins Urban Design Awards#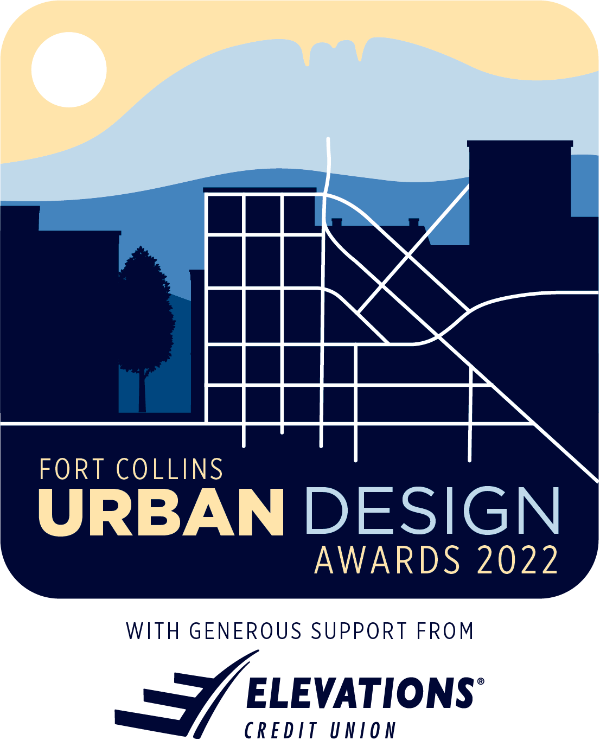 The City of Fort Collins celebrates great places and people who design them. Join us in promoting awareness of urban design, and its importance for the quality of life in our community. Urban design ranges from a city or city subarea to a single outdoor space and considers the look and feel, as well as environmental, economic and social consequences of design. It is not simply concerned with new development but also with the maintenance and enhancement of existing development. Come celebrate what's been accomplished!
These awards were first given in the fall of 2006, again in 2008, 2011, 2013, 2015 and most recently in 2019. The selection process starts with a call for entries and ends with a committee (made up of local designers, city board members, and city staff) selecting winners from the applications. The process culminates with an awards ceremony.
What's New for 2022
We have a sponsor! - We are excited to host this year's Urban Design Awards with generous support from Elevations Credit Union.
We have a new housing award category! - Following the adoption of the 2021 Housing Strategic Plan, we are excited to announce the addition of a housing award category. This category is intended to highlight housing projects that advance the City's housing vision and those that contribute to the community's equitable development and sense of place.
The 2022 Urban Design Awards Ceremony#
This year's award ceremony is Thursday, September 8th, 2022, from 4:30 - 7:30 p.m. at the Lincoln Center, 417 West Magnolia Street.
Project Entries#
Eligibility:
within city limits
completed any time within the past ten years (2012-2022)
demonstrates the qualities of one or more of the award categories (you may enter projects in multiple categories)
the project is not a previous winner
See project entry form for complete details.
Hall
of

Fame Nominations#

Eligibility:
may be a person, firm, organization;
either living or deceased;
who made a continuing and significant contribution to enhancing the urban design of the Fort Collins community
We encourage you to use this award to honor a colleague, mentor or partner, and you can even give the presentation or have us help you put one together.
See nomination form for complete details.
Past Winners#
Take a look at the past winners by watching the videos or downloading a ceremony program.