Fort Collins Urban Design Awards#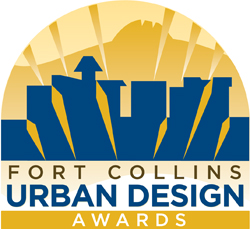 The City of Fort Collins celebrates great places and people who design them. Join us in promoting awareness of urban design, and its importance for the quality of life in our community. Urban design ranges from a city or city subarea to a single outdoor space and considers the look and feel, as well as environmental, economic and social consequences of design. It is not simply concerned with new development but also with the maintenance and enhancement of existing development. Come celebrate what's been accomplished!
These awards were first given in the fall of 2006, again in 2008, 2011, 2013 and most recently in 2015. The selection process starts with a call for entries and ends with a committee (made up of local designers, city board members, and city staff) selecting winners from the applications. The process culminates with an awards ceremony.
What's new
for

2019#

Who Presents the Winning Projects at the Awards Ceremony - Each winning team will provide photos, details, and stories about the project to City Staff to compile a master slide presentation. The Master of Ceremonies will give all presentations at the ceremony.
The 2019 Urban Design Awards Honorees#
The following exemplary design work has been chosen by the Selection Committee to be honored at the ceremony:
Architecture
Ginger and Baker
The Elizabeth Hotel
Union Bar and Soda Fountain
Public Spaces
The Exchange
Union Bar and Soda Fountain
Utilities Administration Building
Old Firehouse & West Mountain Alley Enhancements
Twin Silo Park
Poudre Mulberry Bridge
Urban Design Plan
Urban Fragments
Ringfall
Utilities Administration Building
Sustainable Design
Pavilion at West Laurel Village
Utilities Administration Building
Hall of Fame
Frank Vaught
Joe Frye
Justin Larson
Project Eligibility Criteria#
within city limits
completed any time within the past five years (2014-2019)
demonstrates the qualities of one or more of the award categories (you may enter projects in multiple categories)
the project is not a previous winner
Award Categories#
Urban Design Plan
This category is for a plan or a study that provides a development or redevelopment strategy in the mid-term to long term. Urban design studies, subarea plans, urban design charettes, master plans, development plans and a community plan of high inspirational value with the potential for significant impact on Fort Collins' urban design may be considered for award.
Architecture
This category is for any built building or group of buildings that contribute to and support quality urban design. It will be an individual building or group of buildings of high architectural standard, which achieve design excellence through its unique relationship with its immediate surroundings because of its site, massing, architecture and pedestrian amenities.
Urban Fragments
This will involve a single, small-scale piece of a building or landscape that contributes significantly to the quality of the public realm. This category includes street furniture, lighting elements, interpretation media, memorials, public art or other forms that contribute to the beautification, enjoyment and/or appreciation of the urban environment.
Public Spaces
This category is for any built project that creates or contributes to a great public space that invites people to spend time and enjoy the sense of place. Projects can add to Fort Collins as a unique, interesting, beautiful city with streetscapes, landscapes, parks, plazas, civil engineering infrastructure, architectural spaces, public art, lighting, signage, and myriad other features of design.
Sustainable Design
This category is for any built project that exhibits sustainable design contributing to and integrated into engaging urban design. Selected projects will have significant or special benefits for environmental stewardship, social sustainability, economic vitality, or a balance among the three. Project design may address sustainability challenges by integrating factors such as architecture, engineering systems, site design, technology, natural systems, re-use, infill and redevelopment issues, walkability, and other solutions to community needs. City Plan, the City's comprehensive plan, is a useful reference for understanding sustainability values in Fort Collins.
Engineering
This category is for any built project for which civil and/or structural engineering design contributes to the use, enjoyment or beautification of the urban environment.
Hall of Fame
This award honors a person/business/organization for their continuing and significant contribution to enhancing the urban design of the community.
Past Winners#
Take a look at the past winners by watching the videos or downloading a ceremony program.