PRIDE: History
of

LGBTQ+ People

in

Fort Collins#
Disclaimers: LGBTQ+ is a common acronym for lesbian, gay, bisexual, transgender, and queer people. While it is meant to be an inclusive acronym, a fuller version, LGBTQIA+, also recognizes people who identify as intersex and asexual. The plus sign signifies all gender identities and sexual orientations not covered by the other initials, such as Two-Spirit, an indigenous American identity. You should use whichever term you feel most comfortable with and always match the language a person uses to define and affirm themselves.
Words take on different connotations over time. While "queer" used to be a pejorative term, the LGBTQ+ community has reclaimed it today. It has a positive connotation and is often used as a general term for all LGBTQ+ people. We use it here in that modern sense.
Although historic preservation typically prioritizes historic resources that are more than 50 years old and this summary emphasizes history from that era, LGBTQ+ history requires a different approach because many of the exceptionally important places are associated with significant people and events from the last 50 years. For that reason, this short overview presents history up to the present day.
Want to Explore Places in the LGBTQ+ History of Fort Collins? Try this Virtual Tour!
Check out this walking/biking tour of places where the LGBTQ+ story has unfolded here in Fort Collins.
PRIDE:
A

History

in

Fort Collins#

Introduction

The history of Fort Collins traditionally has been told without including the stories and contributions of LGBTQ+ people. But Fort Collins has always had LGBTQ+ community members who have lived, loved, and thrived here, raised families and built businesses and careers here, and also survived here despite widespread, legal discrimination and acts of violence for much of that history. Today, 4.6% of the population of Colorado self-identifies as LGBTQ+, ranking thirteenth among U.S. states. LGBTQ+ people are represented in every racial and ethnic category, religious, political, and cultural background, and across the full spectrum of gender expression and identity. This short overview cannot do justice to those intersecting stories but sharing just a few of them, with emphasis on associated historic places, recognizes a fuller continuum of people with diverse identities in Fort Collins.

Early LBGTQ+ History (1860s-1970):

When American and Spanish settlements were created in the West, the settlers imported new ideas rooted in their own cultural traditions, whether European American, African American or from other countries. Those ideas that governed the new settlements and military and mining camps included systems for commerce, land use, and property rights, and social norms about families, gender, marriage, and sexuality that differed in many ways from the displaced indigenous communities who first called this area home. For example, the Arapaho have traditionally recognized a "third gender" or Two-Spirit identity, the haxu'xan, as do most other indigenous peoples. When American settlements forced out the Arapaho, Cheyenne, and Ute peoples from their land in Northern Colorado, their indigenous cultural norms were pushed out as well.

Social norms related to gender and sexual identity have also changed within the American Western settlement communities over time. Camp Collins and the early town that grew from it was composed primarily of European American men, some of whom had married women from local tribes. Early mining and military camps were different social environments than the established Eastern cities the newcomers left behind, and the legal system that developed along with the territory reflected the reality of same-sex activity in its regulation of public space. In 1860, the ratio of men to women was thirty-four to one in the Colorado Territory. Cross-dressing and same-sex sexual activity appears frequently in historical records. Accordingly, the first criminal code in Colorado, which remained in place until the 1920s, established that "sodomy" as a same-sexual behavior was illegal, although distinct from homosexual identity. The first law regulating gender presentation in public places in Colorado was introduced in Denver in 1886, and records indicate numerous examples of arrests and public scrutiny for cross-dressing and gender non-conformity. Social freedom was also linked to class and race. For example, some women in early settlement communities could forego or delay heterosexual marriage due to financial independence.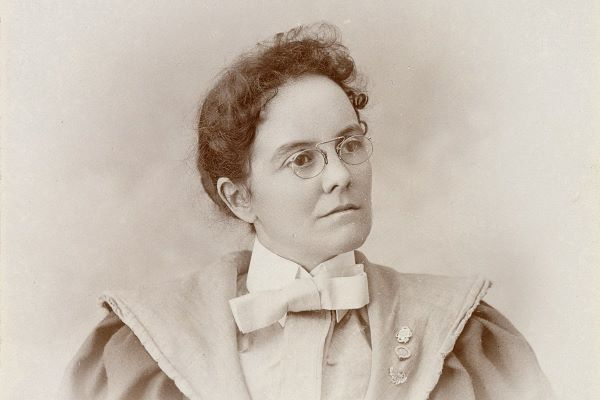 In addition to establishing businesses, seeking higher education and professional careers, and participating in reform efforts such as women's suffrage, and otherwise defying the typical constraints defined by the female gender norms of the era, some had the freedom to form partnerships with other women, within or beyond the bounds of heterosexual marriage. For example, Katherine Lee Bates, who wrote "America the Beautiful" after visiting Colorado in 1893, lived with Katharine Coman of Wellesley College for twenty-five years. Carrie Chapman Catt, the president of the National American Women's Suffrage Association who gave a rousing speech at the Fort Collins Opera House in 1893, was in a thirty-year relationship with Mary Garrett Hay. And Grace Espy Patton, an important local suffrage advocate and one of the first female instructors at the Colorado Agricultural College (now Colorado State University), was known for defying conventional gender stereotypes in her manner and dress. Modern speculation about Patton's relationship with a colleague has led some to believe she may have been the school's first LGBTQ+ professor, although this remains unconfirmed.
After World War I, the growth of a national "American" consumer culture began to challenge regional patterns of LGBTQ+ life and identity. Some nationally important figures, both white and Black, who expressed LGBTQ+ identities as radio and film personalities brought awareness of sexual and gender diversity to smaller towns and cities across the country. Social lives in this era shifted to more interactions in public places and commercial establishments, which provided more social freedom and exposure to new ideas. Denver's first gay bar, The Pit, opened in 1939 on Seventeenth Street. While it was short-lived, World War II led to additional internal migration in the country that concentrated more people in urban areas such as Denver, where group social opportunities were available for LGBTQ+ people. After the war, as the country settled into a sustained era of stabilization, nuclear families and traditional gender roles prevailed. The release of the Kinsey Reports in 1948 and 1953 began to change conventional understanding of male and female sexuality, but the medical community continued to treat anything other than heterosexual behavior and traditional gender roles as a shameful problem that should be eliminated through aggressive conversion therapy. In 1953, Colorado passed a psychopathic offender law that allowed for indefinite institutionalization of anyone who committed an act defined as a sex crime, which at that time included homosexual acts. This was in place until 1967, when ruled unconstitutional by the U.S. Supreme Court in Specht v. Patterson. Simultaneously, in the first few years of the 1950s Senator Joseph McCarthy led a blacklisting campaign of persecution against alleged communists that was galvanized by the "Red Scare." This Cold War-era tactic also included the "Lavender Scare," persecution of LGBTQ+ people who were perceived as morally and psychologically weak and vulnerable to blackmail by Soviet spies due to their private personal lives. Local and federal law enforcement targeted LGBTQ+ people with a variety of laws, which meant that most remained in the closet to avoid criminal prosecution.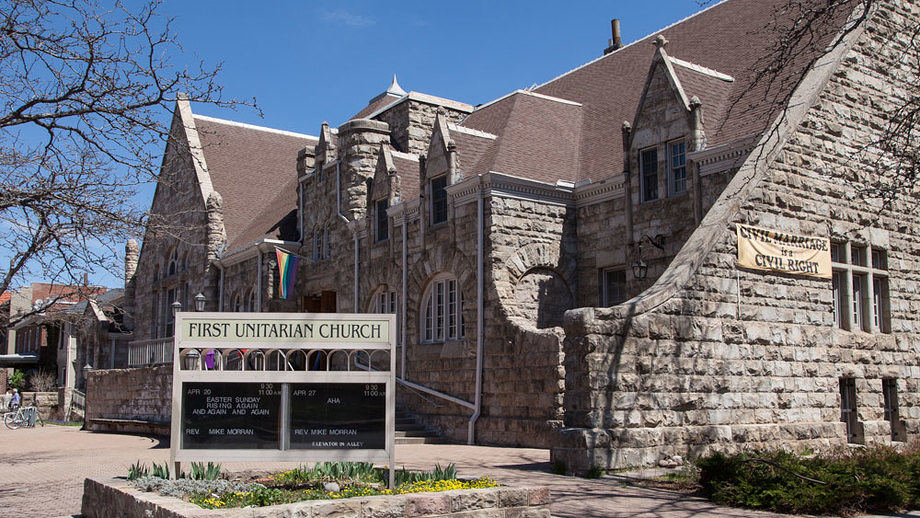 Despite widespread discrimination and anti-gay violence, LGBTQ+ communities grew along with the population of major cities around the county, including Denver, because they served as regional refuges for queer culture and created a critical mass of individuals seeking community with each other. In the early 1950s, pioneering organizations such as the Mattachine Society and Daughters of Bilitis sought to create "respectable" and "law-abiding" public identities as well as to unify the community in places other than bars that were subject to frequent police raids, but this movement largely benefited white middle and upper class people. Despite some commonalities, a hierarchy of privilege based on race, class, and gender expression continued to prevail within the LGBTQ+ community. A rural-urban divide for LGBTQ+ people meant that those living in smaller communities, such as Fort Collins, often had to travel to Denver in order to find community in bars and private social or political gatherings. In an environment of overt discrimination, it remained relatively common for some LGBTQ+ people to "pass" as straight by participating in heterosexual relationships, in the same way that some light-skinned African Americans could choose to pass as white.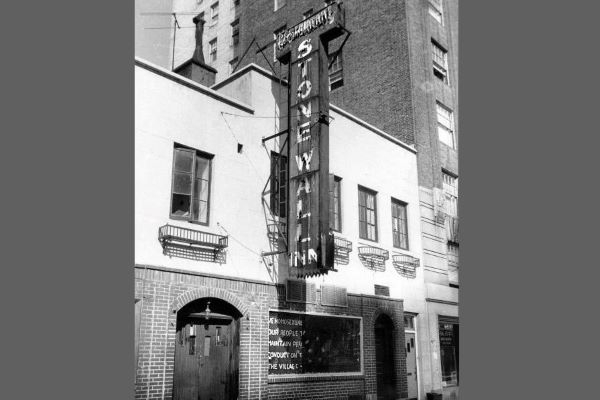 LGBTQ+ History in the Late 20th Century (1970 – 2000)
The countercultural social movements that flourished in the late 1960s included the Gay Liberation Movement and Lesbian Feminism. The Stonewall Inn uprising in Greenwich Village (NYC) on June 28, 1969 was led by people of color and transgender people. It represented a changing tide of resistance to persecution that could be felt in bigger cities across America. Political and community organizing increased visibility of LGBTQ+ people and issues and inspired a wave of grassroots social and environmental movements across the globe. In 1971, Colorado became the third state to repeal its sodomy laws, making same-sex activity between consenting adults legal throughout the state. At the same time the state passed a public indecency law that banned PDA between same-sex couples, until the Colorado Supreme Court struck it down in 1974.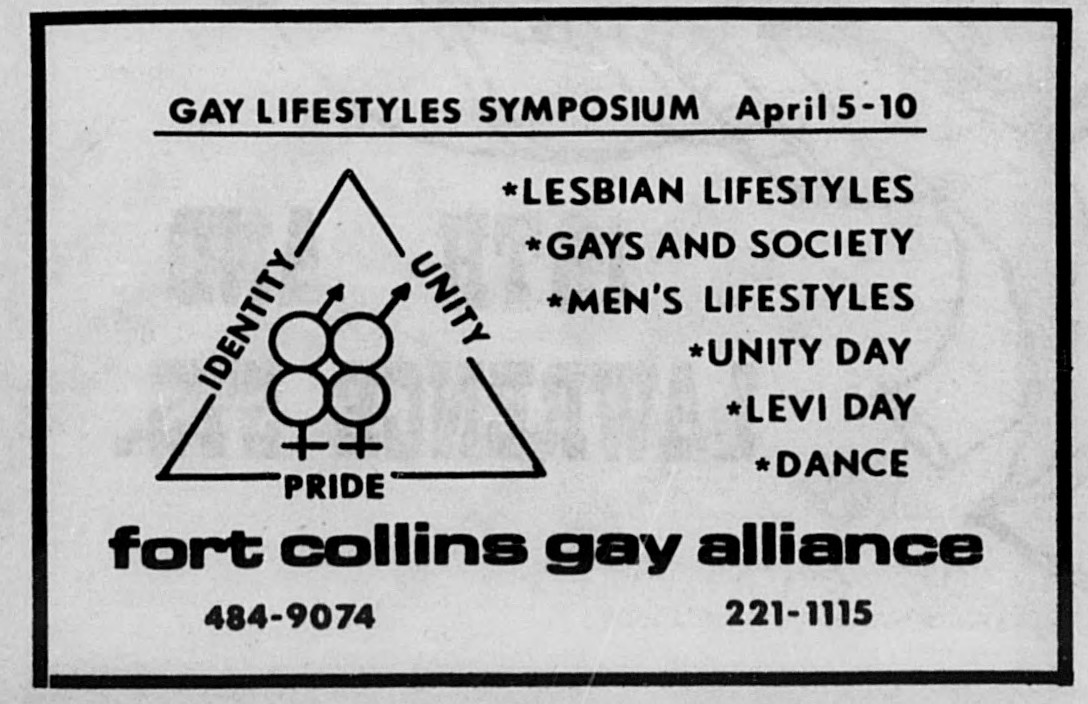 As the grassroots movement began to grow around the state, CSU provided the earliest opportunity for LGBTQ+ people to organize in Fort Collins, with the founding in 1971 of Student Organization for Gays, Lesbians, and Bisexuals (SOGLB). The student-run group, one of the first LBGTQ+ student organizations in the country, met in a private location at first but was recognized as a formal organization by the university in 1975 and emerged as the Fort Collins Gay Alliance, with both students and community members involved and an office in the Lory Student Center. The work they did to educate local residents on and off campus and to unite the local queer community was critical and transformational.
An annual feminist conference at CSU provided public education workshops, including lesbian issues. In 1974, Del Martin and Phyllis Lyon, prominent national leaders as co-founders of Daughters of Bilitis, came to Fort Collins to serve as the workshop leaders. Frank Kameny of the Mattachine Society also visited Fort Collins to give a lecture on gay employment issues in the federal government. In the late 1970s, the Fort Collins Gay Alliance was offering coffee houses, advertised in the Coloradoan, and annual symposia at the university. The growing strength of LGBTQ+ organizing in Denver provided resources that connected people around the region and included the 1976 launch of Out Front Magazine, a publication that served Denver and the region. Advocates also established organizations to support LGBTQ+ individuals including the Gay Community Center, which opened in 1977 to help people come out and included one of the first support groups for transgender people, and the Gender Identity Center, which incorporated in 1980.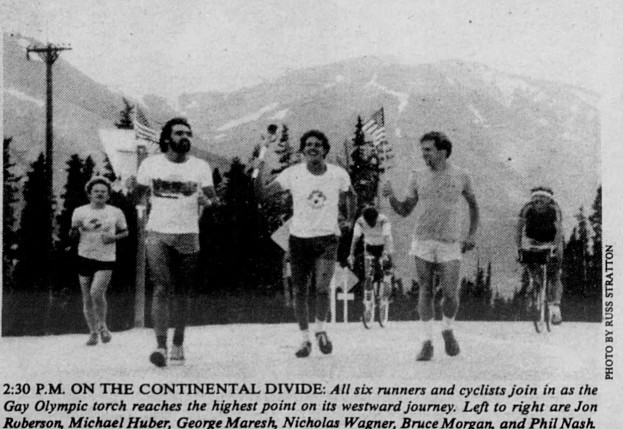 As more people began to come out—whether to family and friends or in their public lives—more social opportunities and visibility simultaneously emerged. In 1982, a transcontinental relay torch celebrating the Gay Games passed through Fort Collins on the way to San Francisco. The Denver Athletic Union and Fort Collins Gay and Lesbian Alliance worked together to bring it through Colorado, which had the largest contingent of athletes in that summer's games. Other important regional developments included the founding of The Colorado Gay Rodeo Association in 1982, the Mile High Freedom Band in 1985, and a new statewide publication, Colorado Gay and Lesbian News. House parties, community dances, and bars continued to provide important opportunities to develop social ties and support. In the Fort Collins area, LGBTQ+ community dances hosted by the Fort Collins Gay and Lesbian Alliance and Tri-State Lambda were held at the Bellvue Grange and the Lincoln Center in the late 1970s and early 1980s. The events were publicized in Out Front Magazine and drew people from around the region, although they were not otherwise publicized as LGBTQ+ events to the wider community in order to protect the safety and privacy of the attendees. Individual allies, such as an employee at the Lincoln Center who provided key logistical support, were important in making those events happen. Other than the dances, the Fort Collins LGBTQ+ community held most social gatherings in private homes. That changed in 1983 when the Sagebrush Bar (later known as People's Bar and then Nightingale's) opened at 934 South Lemay. A 1985 Out Front Magazine profile of the gay community in Northern Colorado included interviews with Fort Collins residents who noted that visibility was growing in Fort Collins and the community was becoming more accepting. The Sagebrush Bar had to overcome some opposition in order to open but had exceeded the expectations of many. As a new social gathering space, it served as a nexus for opportunities such as the organization of a volleyball team that competed in the Denver league and the formation of a local Metropolitan Community Church congregation, which held services there. One of the bar owners noted improved cooperation and respectful interactions with Fort Collins police. The police officer assigned to the route that included the bar, as well as to the Lincoln Center dances, was another important ally for the community at that time. At the same time, the Fort Collins Gay and Lesbian Alliance was providing gay speakers for classes on campus and running a telephone hotline, support groups, an annual Gay Awareness Week, and community dances that drew hundreds of people from the region.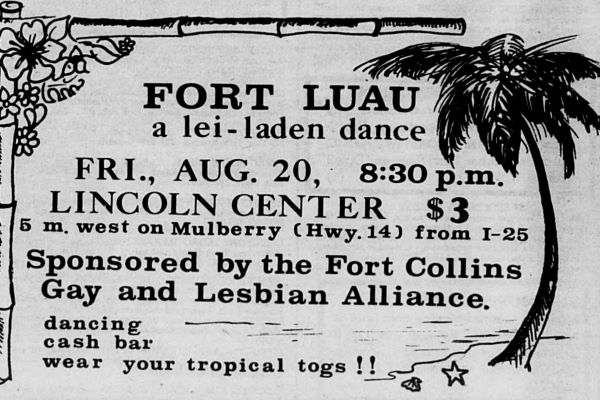 Despite the growth of LGBTQ+ visibility and community in the 1980s, lack of anti-discrimination laws left LGBTQ+ community members vulnerable to oppressive daily conditions because their full human rights were still being denied. But gay culture and political influence slowly gained momentum. Denver's first Hispanic mayor, Federico Peña, was an ally and raised concern about occupancy laws that discriminated against LGBTQ+ families who were not legally recognized. In 1987, many Colorado residents traveled to Washington, D.C. to participate in the National March on Washington for Gay and Lesbian Rights. The following year, Colorado residents participated in the first National Coming Out Day on October 11, 1988. That same year, the Fort Collins Gay and Lesbian Alliance, Human Relations Commission, and Civil Rights for Individuals sought a local anti-discrimination ordinance. Despite the support of several Council members, including Mayor Larry Estrada, the effort failed, but Denver became one of first cities in the country to adopt an anti-discrimination policy that included gays and lesbians in 1990.
The urgency and severity of the AIDS health crisis in the 1980s was a key impetus for activism. Deaths of beloved celebrities who had lived their lives in the closet, as well as losses within families and local communities played into growing awareness of how many people identify as LGBTQ+ and yet kept that identity hidden to remain physically safe, able to earn a living, and connected to family and social networks. To fill the gap in services left by discrimination in the established medical community, the Colorado AIDS Project emerged as an important effort from the Gay Community Center in Denver. In Fort Collins, the Northern Colorado AIDS Project was established to serve the local community. In the first decade of available AIDS testing, from 1985 to 1995, 135 people in Larimer County were diagnosed and 41 died. The crisis galvanized the local LGBTQ+ community and allies, which supported fundraising events to support the NCAP. For example, a benefit performance at the Lory Student Center on January 28, 1995 by Canyon Concert Ballet, Bas Bleu Theatre Company, Dance Connection Performance Network, Opera Fort Collins, OpenStage Theater, and the Rainbow Chorus raised $5,000.
The human rights efforts of the 1980s were met with a regressive response in Colorado that brought unfavorable notoriety to the state. Support for a 1992 constitutional amendment that prohibited gay rights laws emerged as local jurisdictions began to pass anti-discrimination ordinances. The passage of the amendment, which was drafted and promoted by Colorado for Family Values and supported by 53 percent of voters, reflected the spread of misinformation that anti-discrimination laws were "special rights" rather than equal rights. Calls to boycott ensued and some began to refer to Colorado as the "Hate State." In a reference to the apartheid system of segregation and discrimination in South Africa, the writer Armistead Maupin referred to Colorado as "the South Africa of the U.S. for gays." Amendment 2 rescinded rights that were already provided by law and required the redirection of financial resources and energy in the community of LGBTQ+ organizations and allies in order to fight back. However, it also built new awareness and partnerships, including with the business community that was opposed to the amendment and suffering the effects of the boycott. The charged political environment led to the Colorado Legal Initiatives Project (CLIP), founded to raise legal funds to fight Amendment 2. Joining CLIP was the Gill Foundation, started by Colorado software entrepreneur Tim Gill and dedicated to the mission to secure equality for LGBTQ+ Americans, and the Speakers Bureau to End Discrimination (SBED), which provided education all over the state. In 1994, the Colorado Supreme Court ruled Amendment 2 unconstitutional, and on May 20, 1996, in Romer v. Evans, the U.S. Supreme Court agreed.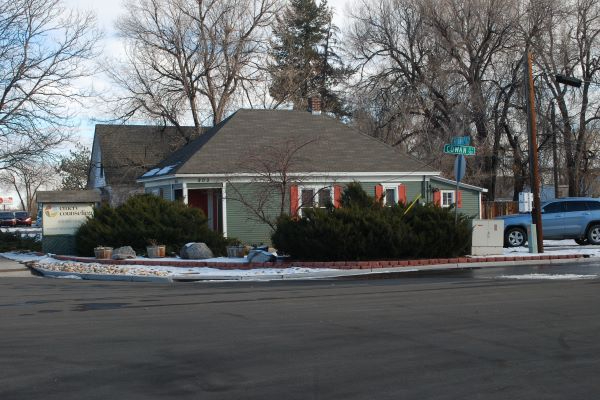 But while Amendment 2 was the law, LGBTQ+ residents experienced even greater incidents of violence, vandalization, and harassment. In Fort Collins, anti-gay crimes occurred at the People's Bar in 1991, and Nightingale's Bar in 1994. The City's Human Rights Office revived in 1994 and directed by Alma Vigo-Morales, began hosting multicultural retreats in coordination with CSU, and additional community resources and opportunities for visibility and solidarity also emerged in 1994: A Quiet Corner Bookstore, catering to the LGBTQ+ community, opened at 803 E Mulberry, and the Lambda Community Center, which was an outgrowth of the campus organization and started meeting in the home of CSU professor and Peace Corps founder Dr. Maury Albertson and Dr. Audrey Olsen Faulkner, who was an important ally and social justice advocate in the community. The Lambda Center moved to 1437 E Mulberry in the early 1990s, and later to 149 West Oak Street, Suite 8. The center provided many important services but struggled financially. When it folded, it was replaced briefly with a satellite office of Denver's LGBT Community Center of Colorado. The Rainbow Chorus, established in 1992 as an alliance project of gay and straight members in response to Amendment 2, rehearsed weekly at the Foothills Unitarian Church on Yorktown Avenue and performed three major concerts per year at the Lincoln Center.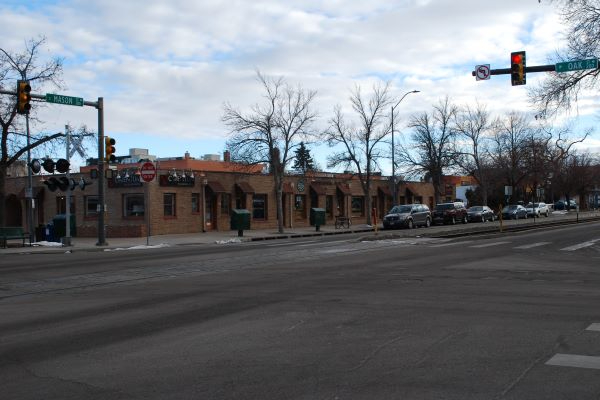 The persistent threat to life and liberty for LGBTQ+ residents in the region were made strikingly clear in October 1998 following the tragic murder of Matthew Shepard in Laramie, Wyoming. Beaten by two men and left for dead, Shepard was transported to Poudre Valley Hospital in Fort Collins where he later died of his injuries from the anti-gay hate crime. The hospital created a website to provide updates on his condition, and more than 815,000 people visited it from around the world. The murder put a spotlight on the region and Wyoming's failure to enact anti-hate crimes legislation, and because Fort Collins was the location of his death the city was briefly the epicenter of LGBTQ+ rights issues in America. Shephard's murder galvanized significant public support across the country for LGBTQ+ individuals and began turning momentum against discriminatory laws and behaviors. Even as awareness was changing nationally, the Fort Collins community was still restricting the rights and safety of LGBTQ+ residents. In the spring of 1998, a voter referendum overturned the Fort Collins City Council's unanimous approval to add sexual orientation to the city's non-discrimination law covering employment, housing, and public accommodations.
Pride in the 21st Century
In 2001, Colorado passed a hate-crimes law that provides protection based on sexual orientation and gender identity or expression. As pride festivals became an important way for the community and its allies to celebrate and support queer identity through a big public event, Fort Collins developed its own public festival in 2004 at Library Park, known as "Pride in the Park." Also in 2004, a crowd of 400 people showed up in Old Town Square for the Freedom to Marry Day Rally on February 28. Several bars came and went from the social scene such as Club Static, Fox Bar, Shots Choice City, and the R Bar. Programming for older LGBTQ+ residents at the Fort Collins Senior Center, and ongoing expansion of visibility within places of employment, schools, and around the community created more mainstream integration. On campus, thanks to the ongoing influence of activists who kept pushing for their rights, CSU opened up married student housing for domestic partners and began welcoming same-sex couples as residence hall directors. These advancements that created safe space in the university community attracted more LGBTQ+ staff and students and allowed the community to grow. Today, the Pride Resource Center offers an impressive array of services for LBGTQ students of every background.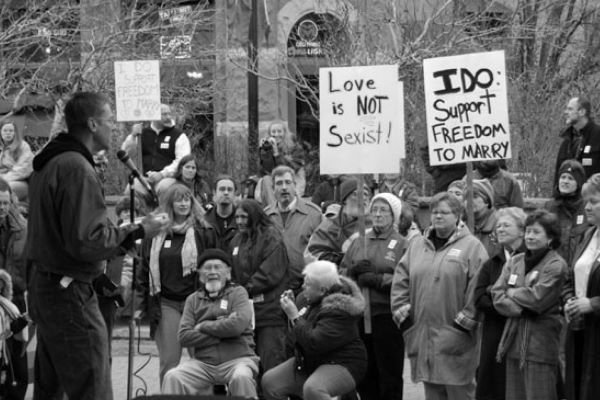 Civil rights activists earned some important victories in the new century. In 2007, LGBTQ+ people in Colorado gained the right to adopt children, and the state's Employment Nondiscrimination Act included protections for sexual orientation and gender status. The following year, Governor Bill Ritter signed the Colorado Anti-Discrimination Act, providing protections in housing and public accommodation for LGBTQ+ residents and banning conversion therapy on minors. In 2013, the Colorado Civil Union Act passed, and the city's first civil union licenses were issued at the Larimer County Courthouse Offices. In 2014, gay marriage was legalized in Colorado, and the Obergefell v. Hodges U.S. Supreme Court decision made it legal in all fifty states in 2015. Colorado elected its first openly gay governor, Jared Polis, in 2018. As of 2019, transgender people in Colorado can change the gender on their birth certificate by request. And in 2020, 22 years after the murder of Mathew Shepherd, Colorado became the eleventh state to abolish the gay panic defense, so that defendants accused of hate crimes can no longer blame their violent actions on the identity of the person they attacked.
What's Next?
Recognizing local properties that reflect our LGBTQ+ history is one important way to support a sense of belonging for LGBTQ+ people who live here today. It also provides the basis to understand the history of anti-gay and anti-trans discrimination and violence, which is necessary to continue to work for full human rights and safety for everyone in Fort Collins.
Fort Collins' LGBTQ+ history is a unique community story that is also reflective of a larger national context. In its role as "America's Storyteller," the National Park Service released an LGBTQ+ Heritage Theme Study in 2016 as part of a nationwide effort to support preserving places associated with the heritage of historically underrepresented groups. The National Register of Historic Places has a growing list of properties that reflect significant LGBTQ+ history, and cities across the country are beginning to research and document their locally significant histories and related sites. Denver has designated a local historic landmark, the First Unitarian Church Society building at 1400 Lafayette, based on association with LGBTQ+ history, but Fort Collins has none. While a formal historic context study to support identification of those local sites is anticipated, the preliminary information on this site provides an introductory outline of LGBTQ+ history in Fort Collins and identifies a few noteworthy sites. Further investigation, including suggestions from members of the public about places that matter to the LGBTQ+ community, will provide a fuller history and set of related historic sites.
We Need Your Help!
Our goal is to recognize the places in Fort Collins that reflect the full history of our LGBTQ+ community, as an important but underrepresented group in our city's widely recognized history to date. This history intersects with racial justice issues and movements, and those connections will be more carefully explored in the broader civil rights history of the community as it develops. If you have stories, photographs, or research leads that will help us identify important places in Fort Collins associated with LGBTQ+ history and other stories that are underrepresented, please contact us at preservation@fcgov.com, share your stories on the global Queering the Map platform, or contribute to photos, artifacts, and stories to History Colorado's LGBTQ+ History Project, which will result in a new museum exhibit in 2022.
For More Information:
LGBTQ+ History Projects and Sites:
National Park Service: LGBTQ+ America: A Theme Study of Lesbian, Gay, Bisexual, Transgender, and Queer History
National Park Service: Finding Our Place: LGBTQ Heritage in the United States
History Colorado: Colorado LGBTQ+ History Project
ONE National Gay & Lesbian Archives
Local Resources:
Northern Colorado Equality: https://www.nocoequality.org/
Pride Resource Center, CSU: https://prideresourcecenter.colostate.edu/
Special thanks from the Historic Preservation Services division for the contributions of Barb Kistler, Nick Heimann, Heather Cox, Meaghan Overton, Yaz Haldeman, and Julie Wenzel.
Celebrate Pride Month!
June is LGBTQ+ Pride Month in the United States, in recognition of the June 1969 Stonewall Riots in New York City, a milestone act of resistance that created important momentum in the LGBTQ+ civil rights movement. One year after Stonewall, the number of LGBTQ+ groups in the country had grown from approximately 50 to 1500. By 1971, it had risen to approximately 2500 formal groups. Pride month celebrations now occur all over the world, and one of the largest is in Denver.
Pride Month in Fort Collins provides many ways to celebrate the LGBTQ+ community, while continuing to recognize the work that remains to be done to end discrimination and violence against LGTBQ+ people. This introductory information about our LGBTQ+ history is provided as a resource for the entire community.
Check out the link below for more information about 2021 events.
Click below to learn more about a wide variety of Fort Collins history topics developed by Historic Preservation Services.