Historic Districts are concentrations of historic resources in a given area that relate to a common historical or architectural theme from the past. Districts are established by federal, state, or local governments and can include historic neighborhoods, commercial areas, farms and ranches, parks, etc. Depending on what level of government designated the district, there may be different outcomes, financial incentives, and obligations for property owners.
Fort Collins Landmark Districts#
Landmark Districts have been designated by Fort Collins City Council for protection due to their historical or architectural importance (or both). Historic designation does not change the allowable uses, ownership, or overall zoning for a property, but does mean that exterior alterations must be approved by City staff or the City Landmarks Preservation Commission under Chapter 14 of the City Municipal Code to ensure the preservation of historic character and materials. Development and building permits will not be issued until approval under Chapter 14 is finalized. Property owners in these districts to qualify for state and local preservation incentives.
Below are Fort Collins' current Landmark Districts: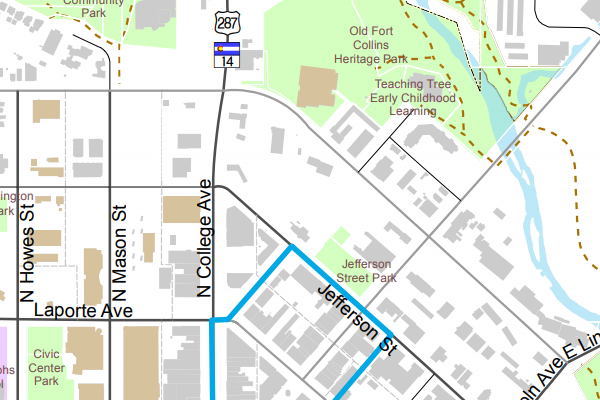 Old Town
In 1979, City Council passed an ordinance declaring the Old Town area a local historic district. While not encompassing all of downtown Fort Collins, the district included the core of the area representing the city's early business and commercial history and architectural development, including such landmarks as the Linden Hotel, Northern Hotel, and the Avery Block.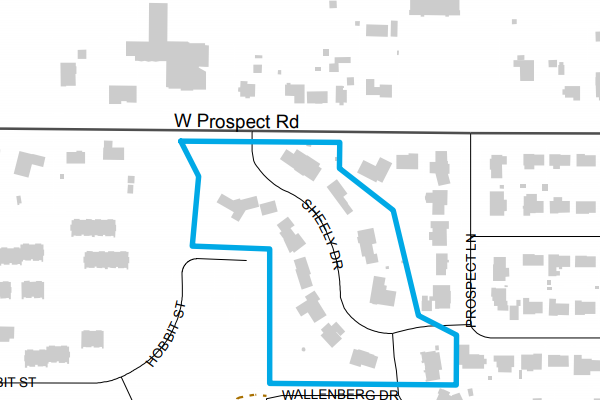 Sheely Drive
Recognized for its innovative architecture and its associations with Fort Collins' prominent business and civic leaders in the mid-1900s, Sheely Drive is a small historic district off of West Prospect Road comprised of eleven mid-century Modern homes. It was also one of the earliest historic districts in Colorado to recognize mid-century Modern resources.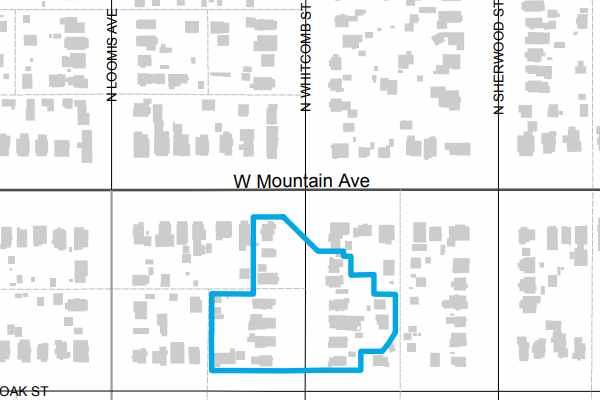 Whitcomb Street
Designated in 2013, this small historic district includes a collection of thirteen historic homes both from Fort Collins' original 1873 plat and the Loomis Addition. These homes reflect Fort Collins' early residential development and are currently the only local historic district in the city preserving the community's nineteenth and early-twentieth century homes via city ordinance.
National Register Historic Districts#
The National Register of Historic Places (NRHP) was created in 1966 as the nation's official list of places worthy of preservation. Listing an historic district in the National Register of Historic Places is mostly honorary, but may qualify certain projects on listed properties for financial incentives. Some local governments also review development on federally-designated historic properties to encourage their preservation. The City of Fort Collins, reviews exterior development on NRHP-listed properties (both individual and in historic districts) to document whether the development does or does not meet the Secretary of the Interior's Standards for Treatment of Historic Properties. The review encourages the meeting the Standards, and utilizing financial incentives, to ensure these important resources remain listed in the National Register. Property owners qualify for local, state, and possibly federal preservation incentives.
Old Town
The National Park Service listed this historic district in the National Register in 1978. It documents the oldest portions of the City's commercial and business history and architecture and includes the commercial core of early Fort Collins anchored by Linden and Walnut Streets, extending northeast of Jefferson Street to include some of the city's early railroad and industrial buildings. Fort Collins City Council protected a portion of it in 1979 via ordinance.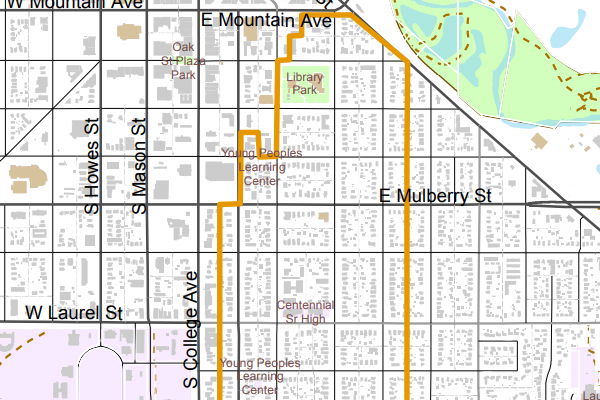 Laurel School
The National Park Service listed this area in the National Register in 1980. It is Fort Collins' largest historic district and encompasses portions of three historic development areas southeast of Old Town. This district recognizes the early architecture and community development of Fort Collins to the southeast from the 1870s through the 1930s. Although the area is not a City Landmark District, many of the individual homes in this district are City Landmarks.