Residents' Role
in

Development Review#
NEW! Need answers fast? Use our new form to request the customized planning and development information you need. Click below to get started.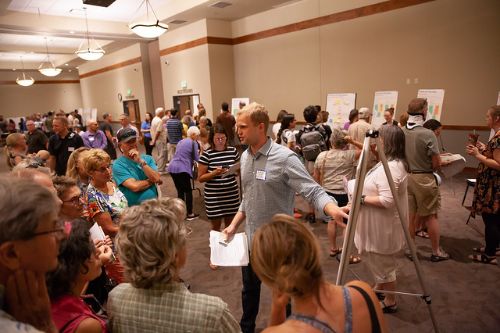 Welcome to the Residents' Role page. Here you will find answers to commonly asked questions about development review and how you can play a role in the process.
Why Development Review?#
Development review is a central local government responsibility. As cities and towns grow and change, local governments must ensure that proposed developments meet the needs of the community at-large. These needs include:
safety and welfare of residents
high-quality, consistent design
protection of environmental resources
sufficient public infrastructure
Development review exists in part to ensure each new development is in aligned with our community's vision for Fort Collins. Another purpose of development review is to ensure consistent and high quality projects and public improvements. For example, the City requires development to "pay its own way." This means private-sector developers are designing and constructing many improvements, such as sewer lines and streets, which will become a part of the public infrastructure maintained by the City.
The City takes an integrated approach to the development review process. A development review team, comprised of City staff from numerous departments, reviews applications through a coordinated review process. This ensures development applications meet all of the City's requirements.
What Policies Regulate Development Review?
The Development Review process is set by legal regulations described in multiple Codes. The language in the Codes guides staff and legislators in making decisions which support the mission, vision and values of the City of Fort Collins.
The Land Use Code contains regulations including the City's procedural requirements, project types and requirements of each, general development standards, zone district purposes, permitted uses, specific development standards of each, and definitions of many of the terms used in the code. Other standards guiding development review can be found in the Municipal Code, the Larimer County Urban Area Street Standards, various subarea plans, and more.
All of the City's regulatory codes were developed from the policies and principles in the City Plan, a comprehensive plan for Fort Collins developed from engagement with community members and best practices in municipal governance.
This Week
in

Development Review Newsletter#
Don't miss out on upcoming events! Subscribe to our newsletter to receive weekly information on development that may impact you.
Every week, there are new proposals going through the Development Review process at the City of Fort Collins, and every week the City hosts events for residents to get involved in them. The TWIDR email newsletter was created to help any member of the public learn more about Development Review and stay in the loop about what's going on in their City.
Making
a

Public Comment

to

Decision Makers#

Anyone who has an opinion on development in Fort Collins can explain their stance in a public comment to the people who approve or deny development proposals (Such as the Planning and Zoning Commission). Decision makers often find input from the public to be compelling evidence in support or opposition to the proposal. Commenters are not required to live next door to proposed development, or hold citizenry within the City of Fort Collins to be heard.

How can I provide an effective comment?

Although the quantity of letters may indicate the extent interest, it is the relevance of the comments to the Land Use Code that will most affect a proposal's outcome.
Be specific in providing input. In addition to sharing what you like or don't like, it's helpful to say why. For example, in addition to saying "I don't like that building", it is often helpful to say, "I don't like the color" or "I think it's too tall." Those more specific pieces of feedback are much easier to consider and respond to.
Be constructive, and provide alternatives when possible. It is often helpful to talk about what you would like to see in a specific project in addition to what you are concerned about. For example, in addition to sharing concerns about the effect of projects on traffic in the neighborhood, you could add "Walking in my neighborhood is important to me. I would like to see safe sidewalks around this property." Or, in addition to sharing concerns about effects on your property values, you could add, "It is important to me that this matches with the look and feel of the surrounding neighborhood. I would like to see different colors and materials on the buildings."
Stay plugged in. Neighborhood meetings are a great opportunity to provide early feedback, but projects often continue to evolve as they go through rounds of review with staff. All those plans are shared online, and staff is always available to go through those comments in depth. Comments made throughout the process are shared with the planners so they can consider them in their ongoing reviews.
Who will hear my comment?
There are three main decision-making bodies which have the ability to approve or deny a development proposal. Which proposals are heard by which decision makers is based off of characteristics such as the zone, the type of use proposed on the land, or the amount of public interest
Type 1 Hearings: Proposals which are less impactful are heard by the Director of Community Development or their designee. Members of the public are able to attend these hearings virtually on Zoom, and can speak during the public comment portion of each agenda item. For those unwilling or unable to speak in-person, written comments can be submitted to devreviewcomments@fcgov.com up to 24 hours before the hearing's start time.
Type 2 Hearings: When more complex proposals are submitted, the decision to approve them is made by the Planning and Zoning Commission, a group of seven volunteers who are able to determine if development meets the requirements of the Land Use Code. Members of the public can comment in-person at City Hall, or virtually on Zoom. For those unwilling or unable to speak in-person, written comments can be submitted to devreviewcomments@fcgov.com up to 24 hours before the hearing's start time.
City Council Hearings: Occasionally, development proposals must be heard by the City Council, the seven-person elected legislative body of Fort Collins. Members of the public can comment in-person at City Hall, or virtually on Zoom. For those unwilling or unable to speak in-person, written comments can be submitted to cityleaders@fcgov.com.