Welcome to Parks Web Page
Be A Good Steward:
Protect & Respect Your Parks & Trails
Ice Skating at City Park
Tis the season...The ice rink has officially opened on Sheldon Lake at City Park.
Please obey the Open/Close sign and the barricades that are in place as they are there for your safety.
The section of Poudre Trail from Lincoln Ave to Lemay Ave will be closed starting Tuesday, October 1 due to the Woodward Project. The detour will utilize bike lanes along Lemay Ave and Lincoln Ave. This closure/detour is expected to last until spring 2014.
Periodic Closures Along Poudre Trail Due to Flood - Utility work is progressing from West to East and periodic closures will be enacted when necessary for heavy equipment to access the Poudre Trail.
As of November 8:
Please use caution along the Poudre Trail between Martinez Park and Shields St. Stormwater Utilities is accessing sites along the trail while performing flood related debris management.
A minor detour is still in place from the flood:
- The detour is along the section of trail between the trailhead at Sharpe Point Dr. and the Environmental Learning Center. It is in place to circumvent the section of damaged trail/eroded river bank. The detour is 200 yards in length, and is mowed soft surface trail.
Hours to enjoy the Parks - 5:00am - 11:00pm

For Park questions or to make reservations: Please call the Parks Department (970)221-6660 or e-mail us at Our office is located at 413 S. Bryan Avenue, and we are open Monday thru Friday - 8:00am-5:00pm.
After hours, if there is an urgent situation needing the attention of park staff, please call our on-call at (970) 219-3450.

For an EMERGENCY call 911
Access Fort Collins
Receive a quick response to your question or concern by using Access Fort Collins - it's easy. You can also use it to let us know how we're doing.
If you would like to know more about public events and races happening in the Parks, along the Trails and throughout City streets, check out the Public Events Calendar. You can subscribe to the calendar for updates and add specific events to your own calendar.
The citizens of Fort Collins have been enjoying the city park system for over 100 years. Fort Collins currently has 875 acres of developed park land including 6 community parks and 49 neighborhood/pocket parks. We also have over 32 miles of recreational trails that flow through our City.
The Park/Cemeteries Division of the Community Services, Service Unit provides maintenance and stewardship of parks, cemeteries, trails, medians and other public grounds for the Fort Collins community; and works to keep them clean, safe and in usable condition for everyone to enjoy.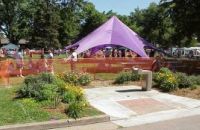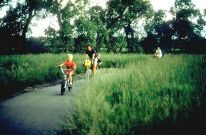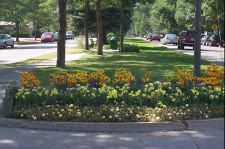 PARKS MISSION
OPERATIONAL EXCELLENCE
To provide safe, accessible and inviting parks & public spaces where quality of place, service and stewardship meet.
2013 Goals
Improve Customer Service - Provide excellent customer service to create a positive customer experience.
Create a Culture of Sustainability - Manage resources through innovative and sustainable practices.
Ensure Fiscal Sustainability - Manage our fiscal resources efficiently.
Engaged Workforce - Employees are our greatest resource, foster that relationship.
Achieve World Class Outcomes - What did I do today that was world class?
Parks and Cemeteries
Physical Address: 413 South Bryan Ave, Fort Collins, CO 80521
Phone: (970)221-6660
Fax: (970)221-6849
Email: