Forestry
Welcome to Fort Collins, Colorado, an annual Tree City, USA award recipient for the last 33 years. Our staff prides itself in its commitment to maintaining our urban forest. The Forestry staff, within the Forestry Division, maintains more than 40,000 city property trees.
City of Fort Collins Forestry Department will provide wood mulch Saturday, May 2 for $5.00 per load.
The City of Fort Collins Forestry Department will offer wood mulch to the public for $5.00 per load. The mulch will be distributed at Midpoint Drive and Sharp Point Drive, south of Prospect Road on Sharp Point Drive.
Exact funds and a tarp or cover to secure the mulch will be required. The mulch will be loaded into open-top vehicles or trailers using a front-end loader. Hand shoveling into vehicles or containers will be prohibited. Self-loading mulch sites are available to residents throughout the year at the Gardens On Spring Creek, 2145 Centre Avenue, and the Rivendell Recycle Center, 1702 Riverside Avenue. This program is not available to commercial businesses. For more information read the flyer or call 970.221.6660.
Invasive Insect Alert: Emerald Ash Borer (EAB)
This small beetle, originally from Asia, is responsible for killing over 50 million Ash trees in the United States. Many Eastern and Midwestern municipalities have lost nearly all of their Ash trees due to this deadly pest. Emerald Ash Borer is now present in Boulder, Colorado. The State Department of Agriculture and USDA/APHIS have issued an Ash Quarantine for all of Boulder County, which prohibits the movement of any Ash material out of the Quarantine Area.
Experts agree that Emerald Ash Borer will reach Fort Collins through natural spread or through the transport of infested Ash material into our City. CSU Entomologists tell us it is not a matter of "if"; it is a matter of "when". So, what impacts will EAB have on Fort Collins? Eighteen percent of City owned trees in Fort Collins are Ash; that means nearly 1 out of every 5 trees on public land have the potential to be infested and killed! We suspect that the percent of Ash on private property may be the same or even higher. In an effort to determine how many Ash are on private property, the Forestry Division will initiate an analysis of private property trees in 2015. What can you do to help? Be aware that we may contact you to seek permission to enter your property and collect data for the analysis. We will contact you ONLY of your property is selected as part of the sampling plan. Also, pass the word that moving ash material, such as logs, branches or firewood, threatens Colorado's urban forests.
For more information about detection, prevention, and treatment visit the Colorado Dept. of Agriculture webpage.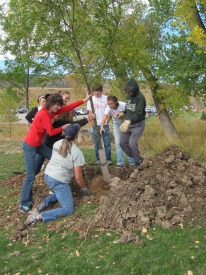 Tree Planting at Spring Canyon Park
Feel free to contact Forestry (970)221.6660 regarding the following:
Services on City Trees and Property
Tree pruning, removal and requests
Tree planting, questions and requests
Hazard tree identification and inspection
Insect and disease identification and control
Tree work permits on City property (pruning, removal and planting)
Trees blocking traffic signs and signals
General Services
Arborist licensing
General information, literature and presentations on trees (City Park Tree Tour, Notable Tree Tour, Champion Trees etc)
Tree mulch program
Tree insect and disease notification (Dutch Elm Disease, Mountain Pine Beetle and Ips Beetle)
Private hazard trees threatening public property
Development review
Arbor Day program
Some Frequently Asked Questions
Is there a place to drop off tree limbs I've pruned from my tree? The City does not accept tree limbs or any yard waste. However, there are some local business that do accept yard waste and tree limbs for recycling.
Where can I get free mulch? There are two locations - 1: City Recycling Drop-Off Facility (1702 Riverside Ave); and 2: in the parking lot at the Gardens on Spring Creek (2145 Centre Ave). Mulch is placed in the bins each week, but at no specific time or day of week. If the bin(s) are empty, you'll have to check again on another day. People may take as much mulch as they need; not for commercial businesses.
I cut down my pine tree that had Mountain Pine Beetle, what do I do with the wood? There are three options: 1) You can have a company come to your house and chip all the wood and then use the mulch yourself, or have that company haul it away. 2) You can take all the wood to the Larimer County Landfill to have it buried. You need to let them know it's infested wood, so please contact them at 970-498-5760 to find out what to do when you get to the landfill. 3) You can strip the bark from the wood, and then use the wood as you wish; but this is a tedious process and may not be worth the work. In addition, the bark would still have to be taken to the landfill.
Forestry
Physical Address: 413 South Bryan Avenue, Fort Collins, CO 80521
Phone: (970) 221.6660
Fax: (970) 221-6849