Sample Projects
The following examples are not intended to be a comprehensive list of affordable housing projects and programs within Fort Collins. Instead, they provide insight on the types of affordable housing found within our city.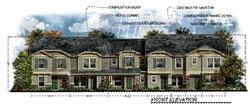 Provincetowne
Project Name: Provincetowne
Project Type: Rental
Developer: CARE Housing, Inc.
Target Population: Families earning 25-50% of Area Median Income
Number of Units: Phase 1 = 80, Phase 2 = 73
Location: South of Trilby Road, East of College Avenue, West of Lemay Avenue
Public Assistance: Federal CDBG and HOME funding to assist with acquisition and development costs.
Developer's Website:
carehousing.org
Project Name: Harmony Road Apartments
Project Type: Special needs rental
Developer: Accessible Space, Inc.
Target Population: Adults with qualifying disabilities earning 50% or less of Area Median Income
Number of Units: 23 wheelchair accessible one and two-bedroom units
Location: 301 East Harmony Road
Public Assistance: Federal CDBG funding
Developer's website: accessiblespace.org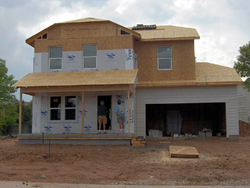 Habitat for Humanity
Project Name: Village on Stanford
Project Type: Rental
Developer: Fort Collins Housing Authority
Target Population: 10 units at 30% or below of Area Median Income; 72 units at 31-50% of Area Median Income
Number of Units: 82
Location: 2613-2701 Stanford Road
Public Assistance: Federal Community Development Block Grant (CDBG) and local Affordable Housing Fund (AHF) funding for purchase and rehabilitation
Developer's website:
fchousing.org
Project Name: Habitat for Humanity Homes
Project Type: Homeownership
Developer: Habitat for Humanity
Target Population: Families earning between 35-50%of Area Median Income
Number of Units: 41 homes
Location: Scattered throughout the City of Fort Collins
Public Assistance: Federal funding for land acquisition and City development incentives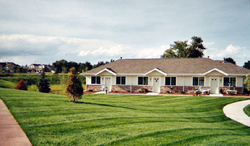 Sanctuary Apartments
Project Name: Sanctuary Apartments
Project Type: Senior rental
Developer: Volunteers of America
Target Population: Seniors 62 years or older earning less than 50% of Area Median Income
Number of Units: 60
Location: 3732 Kunz Court
Public Assistance: Federal Community Development Block Grant (CDBG) funding
Developer's website:
voacolorado.org
Developer's website:
fortcollinshabitat.org