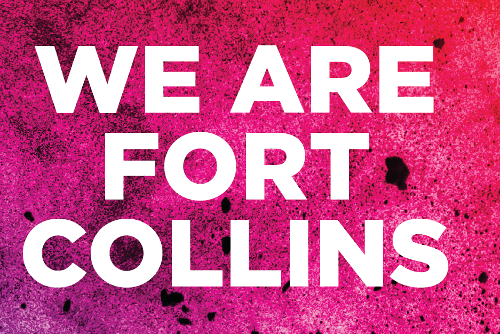 The City's 'We are Fort Collins' multilingual banners are one of many ways the City is working on our commitment to celebrate diversity and support an inclusive community, where all our residents and visitors feel valued. The banners were in response to suggestions from community members that a visual symbol of different languages spoken in Fort Collins would be one powerful way to demonstrate our diversity and foster a sense of belonging, especially for those for whom English is a second language.
The City is working with various community partners to improve and enhance the ways we engage, provide services and develop overall best practices to be more equitable and inclusive. These banners are just one of many efforts as we work towards establishing a more comprehensive strategy and collaborations with our community.
Making Fort Collins a place where all feel welcome, safe and valued is a group effort and work in progress. Do you have an idea to share? Let us know at https://ourcity.fcgov.com/PublicEngagement
Second Edition Banners - Side 1#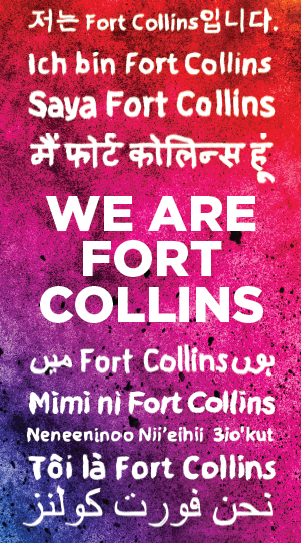 Korean: 저는 Fort Collins입니다.
German: Ich bin Fort Collins
Indonesian: Saya Fort Collins
Hindi: मैं फोर्ट कोलिन्स हूं
.
WE ARE
FORT
COLLINS
.
Urdu: میں Fort Collinsہوں
Swahili: Mimi ni Fort Collins
Arapaho: Neneeninoo Nii'eihii 3io'kut
Vietnamese: Tôi là Fort Collins
Arabic: نحن فورت كولنز
Second Edition Banners - Side 2#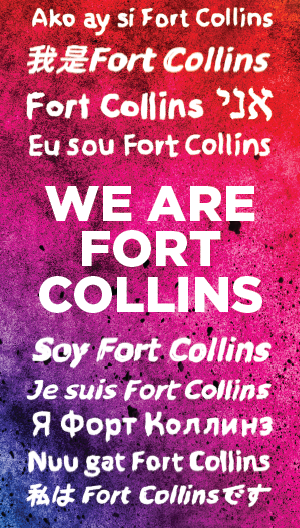 Tagalog: Ako ay si Fort Collins
Chinese: 我是 Fort Collins
Hebrew: אני פורט קולינס
Portugese: Eu sou Fort Collins
.
WE ARE
FORT
COLLINS
.
Spanish: Soy Fort Collins
French: Je suis Fort Collins
Russian: Я Форт Коллинз
Ute: Nuu gat Fort Collins
Japanese: 私は Fort Collinsです