LGBTQ+ Subcommittee
In May 2016, the City formed an LGBTQ+ committee composed of City staff and two community liaisons. The goal of the subcommittee is to ensure our LGBTQ+ community is safe, valued and affirmed within the City organization and community at large.
To that end, we have established a Police Services liaison; attended collaborative meetings with Poudre School District, Northern Colorado Equality, and One Colorado to help support transgender students in the school district; issued a proclamation for Pride Month every year since 2016; and are currently reviewing the City's purchasing procedures to ensure LGBT and gender identity are covered in all relevant non-discrimination clauses.
The committee is also working closely with the Human Rights Campaign to elevate our municipal rating.
Watch the committee receiving the Pride Month Proclamation (June 2018)
HUD LGBTQ+ discrimination resources for housing, health and human services, employment, and more
---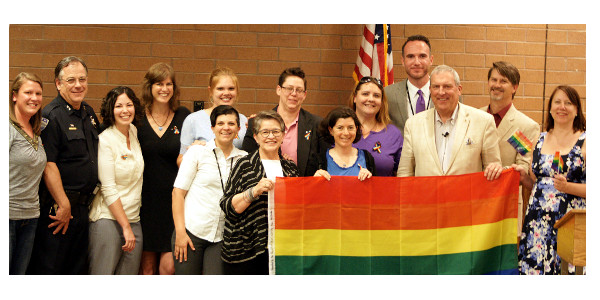 In 2018, the LGBTQ+ Subcommittee will be focusing their efforts on:
Pride Month proclamation
Internal Pride and National Coming Out Day events
Addressing Municipal Equality Index (MEI) scorecard criteria
---
Committee Members:
Heather Cox, Communications & Public Involvement Office, Co-Chair | aGNveEBmY2dvdi5jb20=
Tess Schmitz, City Attorney's Office, Co-Chair | dHNjaG1pdHpAZmNnb3YuY29t
Clint Andrews, Information Technology
Heidi Wagner, Utilities
Janet Freeman, Social Sustainability
Meaghan Overton, Planning
Olivia Terrell, Information Technology
Patty Netherton, Municipal Court
Ash Karpierz, Parks
Rob Hope, Sustainability
Christine Arnott, HR
Amanda Mansfield, FC Moves
Teresa Roche, HR Liaison
Carol Workman, Police Liaison
Kimberly Chambers, Community Member
Alma Vigo-Morales, Community Member
Lucien Meadows, Community Member (Museum of Discovery)
Ambassadors:
Michelle Becker, Utilities
Samantha Velasquez, Utilities
Honore Depew, Environmental Services
Peter Robertson, Parks
Jackie Kozak Thiel, Sustainability Services
Mallory Gallegos, Transfort
Alison Van Deutekom, Neighborhood Services
Jessica Prentice, Finance
Beth Sowder, Social Sustainability
---