PRIDE Employee Resource Group#
In May 2016, the City formed an LGBTQIA+ committee—now known as the PRIDE Employee Resource Group—composed of City staff and two community liaisons. The goal of the subcommittee is to ensure our LGBTQIA+ community is safe, valued and affirmed within the City organization and community at large.
To that end, the team has
established Police Services liaisons and a City Executive Liaison
attended collaborative meetings with Poudre School District, Northern Colorado Equality, and One Colorado to help support transgender students in the school district
issued a proclamation for Pride Month every year since 2016
updated the City's purchasing policy to ensure that sexual orientation and gender identity are covered in all relevant non-discrimination clauses
implemented gender neutral bathroom signage for City's single-stall facilities
has championed the need for trans-inclusive healthcare benefits, which the City adopted in 2021.
PRIDE also works closely with the Human Rights Campaign to elevate the City's Municipal Equality Index (MEI) score, which evaluates cities on how inclusive and welcoming they are for LGBTQ+ people. Primarily due to PRIDE's efforts, the City's MEI score has risen from 83 (2018) to 95 (2019/2020)!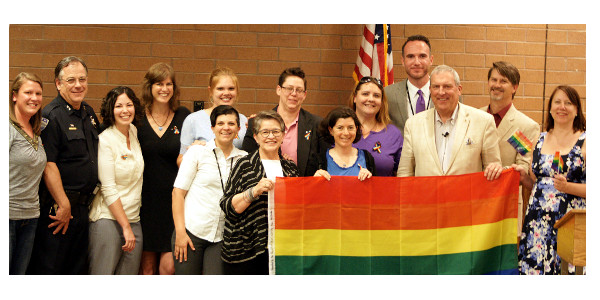 In 2021, the PRIDE team will be focusing their efforts on:
Gender Nondiscrimination & Identity Trainings
Pride Month proclamation, Transgender Awareness Month proclamation + Internal Pride and National Coming Out Day events
Addressing Municipal Equality Index (MEI) scorecard criteria
LGBTQ+ youth programming
Auditing City policies for gender neutral language
Expanding resources and training for City staff
Committee Members:
Heather Cox, Communications & Public Involvement Office, Co-Chair | hcox@fcgov.com
Tess Schmitz, City Attorney's Office, Co-Chair | tschmitz@fcgov.com
Patty Netherton, Municipal Court
Christine Arnott, HR
Amanda Mansfield, FC Moves
Lauren Nagle, FC Moves
Shane Patterson, Natural Areas
Yasmine Haldeman, Community Development & Neighborhood Services
Kristy Volesky, Police Services
Laura Lunsford, Police Services
Carol Thomas, City Manager's Office, Executive Liaison
Teresa Roche, HR Liaison & Executive Sponsor
John Feyen, Police Liaison
Abigail Bencomo, Police Liaison
Ambassadors:
Jackie Kozak Thiel, Sustainability Services
Amanda King, Communications & Public Involvement
Honore Depew, City Manager's Office
Janet Freeman, Social Sustainability
Catherine MacGowan, HR
Jensen Morgan, Environmental Services
Peter Robertson, Parks
Julia Sullivan, Utilities
Katherine Bailey, Utilities
Mary-Claire Geiss, Neighborhood Services
Nick Heimann, FC Moves
Meaghan Overton, Planning
Julie Wenzel, Neighborhood Services
Marci White, Finance
Eric Lahman, Utilities
Jaime Jones, Cultural Services
William Bethurum, Transfort
Kellie Gorman, Utilities
Brittany Depew, Social Sustainability
Mallory Gallegos, Transfort
Jessica Prentice, Finance
Beth Sowder, Social Sustainability
Heidi Wagner, Natural Areas
Michelle Becker, Utilities