Trash and Recycling Enclosures
The City of Fort Collins amended its Land Use Code in December 2004 (Ordinance 198) to require recycling areas to be built along with trash enclosures for all new commercial or multi-family housing construction. This new requirement ensures that future tenants or occupants who wish to recycle are not constrained by a lack of space. The purpose of this requirement is to:
Ensure the provision of adequate locations, compatible with surrounding land uses, for the collection, separation, and pickup of recyclable materials;
Regulate the location of recycling and trash containers and enclosures in order to provide adequate, convenient space for the collection, storage and loading of recycled materials at multifamily residential, commercial and industrial land use sites;
Increase the recycling of reusable materials consistent with the City's goals to reduce solid waste; and
Decrease the impact of the consumption of renewable and nonrenewable resources on the environment.
The trash/recycling enclosure statutes contained in the City of Fort Collins Land Use Code apply to all new and significantly remodeled commercial or multi-family structures. Structures that are exempt from the provisions include single-family dwellings; and multi-family dwellings where there are no central or communal refuse or recycling collection or storage facilities (or where refuse and recyclable materials are stored and collected on an individual unit basis).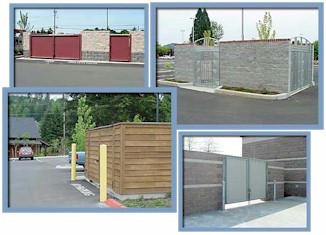 Additional enclosure suggestions from one local trash/recycling company: