Friend of Preservation Awards
Begun in 1985, the Friend of Preservation awards are the highest preservation honor given by the Landmark Preservation Commission. Annually, the awards are given to a person, organization, or project for exemplary work in preservation, rehabilitation, restoration or reconstruction done over the past year.

The Mayor and Landmark Preservation Commission Chairman present the City's Friend of Preservation Awards for excellence in historic preservation in May before a regular City Council meeting at 300 Laporte Avenue.
2013 Honorees
Kevin and Suzanne Murray
for their efforts to designate the 100 block of South Whitcomb Street as a Fort Collins Landmark District.
Wattle & Daub Contractors
for their high standard of excellence in historic preservation.
Kelly Ohlson
was recognized for his leadership and dedication to protecting the historic resources of Fort Collins and Larimer County.

The City of Fort Collins Natural Areas
for its outstanding restoration of four historic structures at Bobcat Ridge Natural Area.
Judith and Irwin Winterowd
for their outstanding restoration of the Seckner Brothers Building at 216 Linden Street.
2010 Honorees
H. Robert Hosanna
For architectural design of the Mitchell Block, reinforcing the visual characteristics and spirit of historic Old Town Fort Collins.

Janet Ore
For outstanding dedication, achievements, and contributions to the field of historic preservation.
Gillian Bowser
For dedication and efforts in restoration and rehabilitation of the Bell House, 1108 West Mountain Avenue.

Peter S. Farquhar, Farquhar Masonry
For exemplary skills and craftsmanship in the rehabilitation of the H. C. Bradley Photographic Studio 150-152 North College Avenue.
Russell J. Wright
For outstanding leadership and commitment to excellence in the historic rehabilitation of the H. C. Bradley Photographic Studio 150-152 North College Avenue.
J. Stephen Mack
For commitment to historic preservation of the W. J. Tilton House & Garage at 409-411 Whedbee Street.
2009 Honorees
Robert King
is recognized for vision and outstanding dedication to preserving the historic resources of our community.

North Front Range MPO, DDA and City of Fort Collins Engineering
are recognized for leadership in collaborative preservation efforts in rehabilitating the trolley bricks on East Mountain Avenue
EDAW and BHA Design
is recognized for design innovation in the revitalization of the historic Trimble Court Alley and Tenney Court Alley.

Colorado State University
is recognized for adaptive reuse of the historic Fort Collins High School.
2008 Honorees
Poudre Landmarks Foundation
for dedication to the preservation, restoration, protection, and interpretation of the architectural and cultural heritage of Fort Collins.
City of Fort Collins
is recognized for Demonstrating Leadership and Vision in Landmarking Grandview Cemetery in Fort Collins.
Julian Siegel Family, in Honor of Julian Siegel
is recognized for Outstanding Historic Restoration of Julian's in The Colorado Building, 137 South College Avenue.

2007 Honorees
Empire Carpentry and owner Kevin Murray
for exemplary preservation of historic resources in our city such as the Franz Smith Cabin in Library Park, interior of the Trolley Barn on Howes Street, Old Post Office, 623 Mathews Street, and many historic homes in Old Town.
Jay Stoner
was recognized for his incredible restoration of the Art Moderne styled Beebe Clinic at 605 South College Avenue.
Judith Reid
was recognized for her restoration of the historic Darrah House at 612 South College Avenue.
Amigos de el Museo de las Tres Colonias
of the Poudre Landmarks Foundation was given an award for their complete restoration of the John B. and Inez Romero House at 425 Tenth Street as an Hispanic culture museum.
Carol Tunner
a recently retired City Preservation Planner, was recognized for her lifetime achievements in historic preservation.
2006 Honorees
David R. Budge - for 10 years, David Budge has been dedicated to researching and restoring the City's 1882.3 Water Works building on Overland Trail. He has poured through antique books, libraries, and governmental records in his quest to bring the Water Works to fruition as a Museum of Water History in Northern Colorado. He has ramrodded significant progress as Project Manager and Chairman of the "Friends of the Water Works Committee," a sub-committee of the Poudre Landmarks Foundation. He has written grants to illumine the archeological and agricultural history of the building and site, as well as to stabilize the building. Today, as he takes a much deserved break, it is important to recognize his efforts and thank him for all he has done. The museum can now be created on a firm foundation of knowledge and research thanks to David Budge.

Susan M. Walker and Emily Fehler - when Susan Walker bought 601 W. Mountain it was so badly neglected and altered that it was a nondescript residence on the grandest residential street in Fort Collins even though it dated to the 1890s. Remodeling had torn off the original porch, paint was peeling, the roof was leaking, the landscape was dying, and the interior was even worse. Sue and her daughter Emily tackled the nightmare job enthusiastically, but with great apprehension. The interior is now re-plumbed, rewired, repainted, and structurally stabilized. The exterior has a new roof and is repainted in colors with more historical charm. The 100 year old dead spruces were removed and a new landscape of rose bushes to compliment the house has been installed. But most of all, they have reconstructed the unusual corner front porch from physical evidence of the existing foundation and Sanborn Fire Insurance Maps. The home now has a rightful place on a street of beautiful historic homes and we thank Sue and Emily for that.

Joe Frank - as Director of the City's Advance Planning Department, Joe has shaped all that the historic preservation program is today. Starting with the Historic Resources Preservation Program Plan, which he wrote in 1994, the City has been able to use that blueprint to institute many financial preservation incentives like the Design Assistance Program, the No-Interest Landmark Loan Program, and the State Tax Credit. When citizens mourned the loss of the Greenacre/Trimble House next to Mountain Bell as the final straw in a line of historic demolitions, Joe started the Demolition/Alteration Delay Process that has preserved the character of our neighborhoods. Last year the program faced budget cuts, but Joe turned historic preservation inside out, and it has survived stronger, more business-friendly, and economic developmentally oriented. For all this and more, we honor Joe Frank as a "Friend of Preservation."

John Albright - for 24 years, John Albright has been grinding out historic preservation students at Colorado State University. Then, after a lifetime of career service as Historian for the National Park Service, he retired to a second career of full time teaching at CSU. He retired from this job not once, but now this year, twice. In all this time, he has been mentor to hundreds of historic preservation students and professionals all over the state and country, including both the City's preservation planners today. Many say his class was the best class they ever took, and that his personality and teaching methods inspired them to go further in the field. He has also served countless volunteer hours over many years as the governor's appointee to the Colorado Historical Society's Historic Preservation Advisory Board, and as a State Historical Fund Advisor. John's life has been oriented to history and saving old buildings, and for that we honor him as a "Friend of Preservation."
2005 Honorees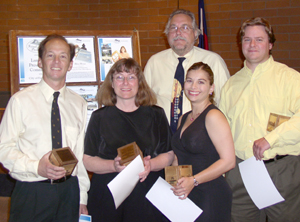 Pictured: Cameron Gloss, Karen McWilliams, Bud Frick, Chris Romero and Adam Thomas.
Adam Thomas with Historitecture- for his stellar work in publishing four historic surveys about the Poudre School District, Quonset huts, Germans from Russia, and Hispanics in Fort Collins. Adam Thomas' superior skills as the principal historian for the City of Fort Collins' lastest historic survey projects have earned him this award. In the Hallowed Halls of Learning: The History and Architecture of Poudre School District R-1; Soldiers of the Sword, Soldiers of the Ploughshare: Quonset Huts in the Fort Collins Urban Growth Area; Work Renders Life Sweet: Germans from Russia in Fort Collins, 1900-2000; and Hang Your Wagon to a Star: Hispanics in Fort Collins, 1900-2000 are excellent testaments to the breadth of his professional skills. His exhaustive research, informative presentations, and insightful recommendations set his work above any other. For all of this, the Landmark Preservation Commission commends Adam Thomas with this award.

Poudre School District - for cooperation in an historic survey and great sensitivity in the Laurel School (Centennial) addition. The Poudre School District's willing participation enabled the City of Fort Collins to conduct intensive level surveys and historic, social, and architectural contexts of approximately 40 properties owned by the Poudre School District. This resulted in Local Landmark and Colorado State Register nominations for the Washington Lab School and Lesher Junior High School, and a Colorado State Register nomination for the Timnath Elementary School. The Landmark Preservation Commission would also like to honor the Poudre School District for their sensitive addition to the historically landmarked Laurel (Centennial) School, the centerpiece of the Laurel School National Register District. The Commission commends Poudre School District with this award for all their cooperation and support of historic preservation.

Karen McWilliams with the City's Advance Planning Department - for dedication, perseverance and leadership in preserving historic resources. This award recognizes Karen McWilliams' dedication, perseverance and leadership in maintaining and preserving our historic resources, in particular, her involvement in recent revisions to the Land Use Code and Municipal Code, and her continuing efforts through the Demolition/Alteration program to maintain the special historic character of Fort Collins. The Landmark Preservation Commission wants to show how much they appreciate her continued efforts to save our historic buildings, and to celebrate her success at this by giving her this Friend of Preservation Award.

Cameron Gloss with the City's Current Planning Department - for an outstanding publication "Alley House Design Standards." The Landmark Preservation Commission commends Cameron Gloss for his skillful preparation of the City policy, Alley Houses Design Standards. This policy provides a blueprint for compatible infill development in our Old Town neighborhoods. It was crafted and presented in a manner showing support and understanding of the importance of our older, character-defining neighborhoods. For this, the Landmark Preservation Commission commends Cameron Gloss with this award.