Fort Collins Utilities' water supply comes from two sources: the Cache la Poudre River and the Colorado-Big Thompson (CBT) shares (Horsetooth Reservoir). Typically, about 80% of the water supply comes from snowpack between April-July.
The City of Fort Collins owns the Michigan Ditch, which redirects water from the Michigan River on the western slope to the Poudre River. It was originally built in 1902 and has been owned by the City since 1971. In 2016, Fort Collins Utilities built a trans-mountain tunnel to address issues with landslides in the area.
Joe Wright Reservoir is currently the only reservoir the City owns for raw water storage that can be treated and used by customers. The reservoir has a capacity of 7,100 acre-feet and sits at an elevation of 9,900 feet. The City has owned it since 1971.
Halligan Reservoir was originally built in 1909. The City owns the dam and land under the reservoir, but the current water stored in it is owned and operated by the North Poudre Irrigation Company (about 6,400 acre-feet of capacity). The City is hoping to expand the reservoir to 14,500 acre-feet in order to provide approximately 8,200 additional acre-feet of water storage for Fort Collins Utilities customers to use during drought or emergencies. Once expanded, water from Halligan Reservoir will be used by exchange during drought or emergencies.
Horsetooth Reservoir is operated by Northern Water as part of the CBT project. The City owns 6% of all CBT shares. Each year, Northern Water determines the quota of water allocated to each share based on snowpack and other factors. It has a capacity of about 156,000 acre-feet and was built in 1951.
The City monitors the water quality of the Poudre River at 19 strategic sites throughout the mainstem, north fork and south fork of the watershed. The City also monitors flood conditions with 55 rain gauges and 48 streamflow gauges and 6 automatic weather stations.
Fort Collins Utilities Water Treatment Facility treats water from both the Poudre River and Horsetooth Reservoir. The intake on the Poudre River consists of multiple pipes built between 1924-2004 ranging in size from 24-67 inches. The facility treats more than 8 billion gallons of water each year. They service 32,000+ residential and 3,000+ commercial customers and manage 500+ miles of distribution pipes.
Once water is used by customers, it flows through 450 miles of collection pipes to one of two water reclamation facilities (Drake Water Reclamation Facility and Mulberry Water Reclamation Facility). Combined, the facilities treat 29 million gallons of effluent a day. Sixtyfive percent of water used by Fort Collins residents is returned to the Poudre River.
Fort Collins Utilities also has 178 miles of underground stormwater drainage pipes, 59 regional stormwater drainage channels and 8,232 inlet structures.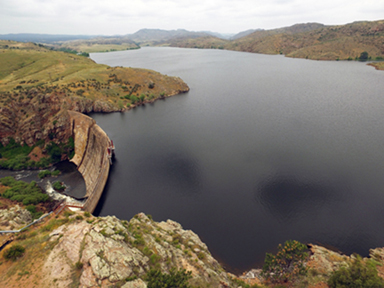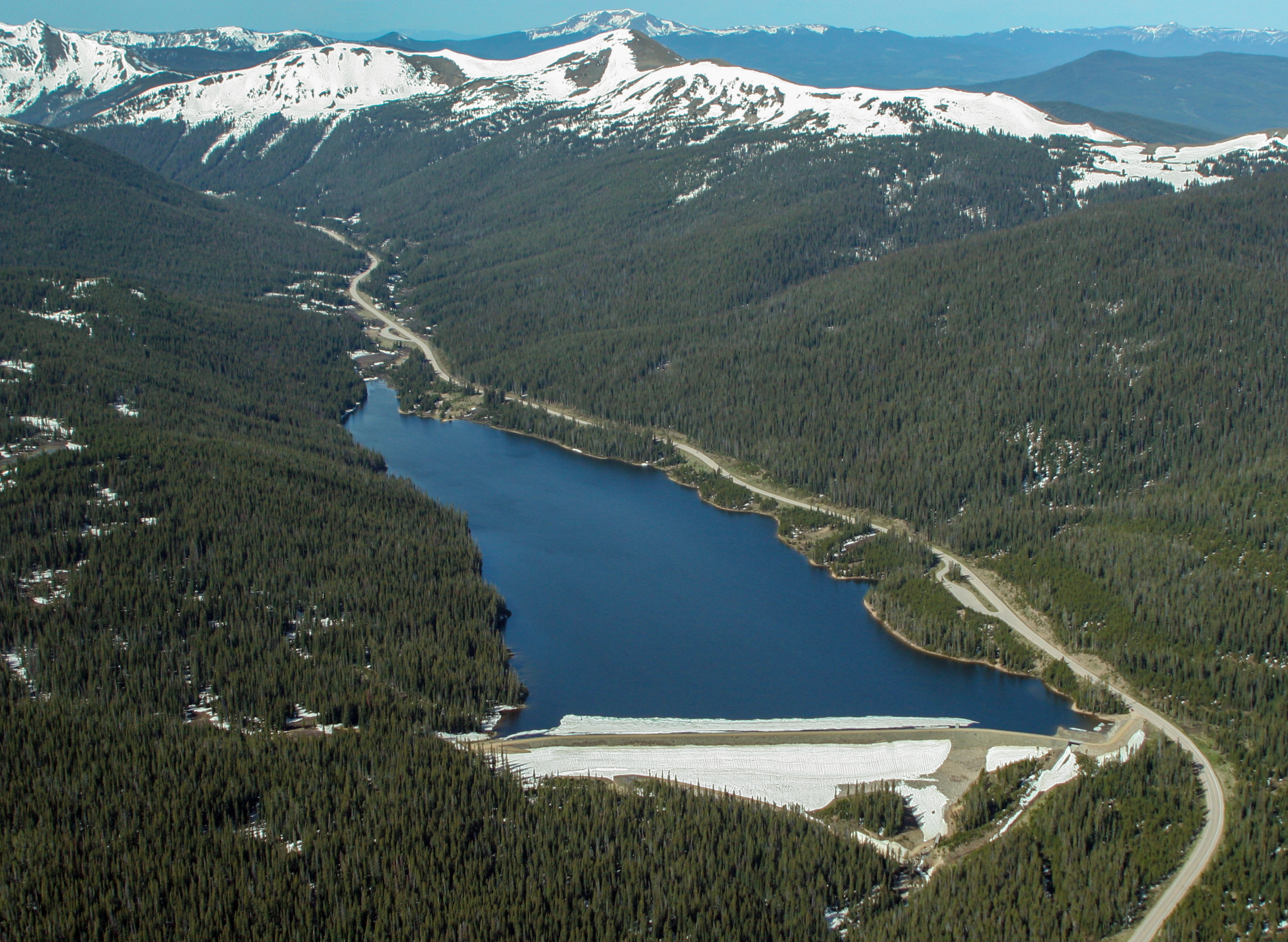 Joe Wright Reservoir (Courtesy of Dick Stenzel at the Applegate Group)