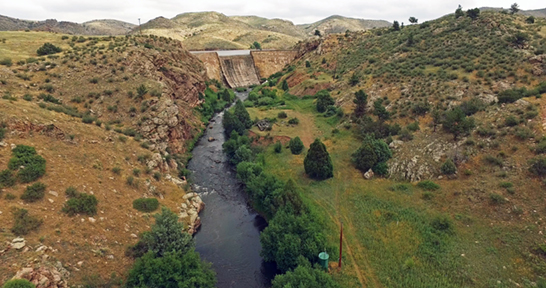 If and when the Halligan Water Supply Project is completed, it will have taken years from the official start of permitting (2006) and environmental studies through the end of construction. This doesn't include the previous decades of pre-permitting studies that were conducted in the 1980s and 1990s. To date, over $20 million has been spent on environmental studies, federal permitting, preliminary design and land acquisition.
Fort Collins Utilities last updated the cost estimate for the Halligan Water Supply Project in 2019. The project costs, based on information known at that time, were estimated between $100 million to $150 million. Costs are predominantly influenced by factors outside of the City's control, including the permitting schedule and permitting and environmental mitigation requirements. Current information indicates the costs will likely exceed the upper end of this range, but detailed information will not be available until after 30% design is completed in 2022.
Costs are likely to increase as project details and design elements are refined throughout future design and permitting activities.
This range of potential costs incorporates unknown factors and risks that may need to be addressed in the future, such as:
Fluctuations in labor and construction rates
Aspects of design that are not yet complete
Federal, state and county permitting processes that will not be complete for several years
Costs of easements and other access needed for the project
It does not include the cost of future operations and maintenance or long-term costs related to easements and other access needed for the project. Total project costs will continue to be refined as permitting and design progress and project uncertainties are reduced.
Although the cost of water continues to rise in Northern Colorado, the Halligan Project remains the most cost-effective alternative to provide a safe and reliable water supply for Utilities' existing and future customers. We will evaluate the cost-effectiveness of the project at each milestone, ensuring it is the best course of action for the cost.