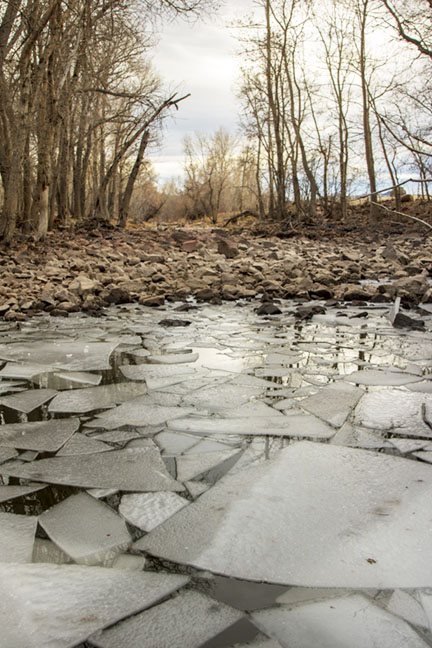 Our focus on stewardship has guided decisions related to the Halligan Water Supply Project and has gained the project recognition as an "acceptable planned project" by Western Resource Advocates.
All environmental impacts associated with the project, positive and negative, are thoroughly evaluated through the federal permitting process. Impacts are further evaluated through the state and county permitting processes. Appropriate avoidance and mitigation of negative impacts will be required before permits are issued. The environmental impacts are disclosed in a draft Environmental Impact Statement (EIS).
The project will make every effort to minimize environmental impacts, primarily through enlargement of an existing reservoir and dam rather than constructing a new one.
Additionally, the City of Fort Collins has committed to improved reservoir operations that provide minimum flows to the North Fork of the Poudre River year-round. Currently, the river often runs dry at various times throughout the year, which stresses fish and other wildlife. The minimum flows planned after the reservoir expansion will reconnect habitat that is currently segmented downstream of the reservoir.
Existing Conditions
Currently, portions of the North Fork between Halligan and Seaman reservoirs run dry in reaches due to existing diversion structures and reservoir operations.
Proposed Minimum Year-Round Conditions
Enlarged Halligan Reservoir operations would provide flows to the river year-round,
which will improve the entire aquatic ecosystem.
Most of the negative environmental impacts will occur along the existing Halligan shoreline and upstream of the reservoir along a ¾-mile stretch of the North Fork of the Poudre River. These areas will be newly inundated from the reservoir expansion. Other negative impacts will be temporary and related to construction. Each impact has been thoroughly evaluated and are described in the draft EIS.
The City of Fort Collins is developing concepts to mitigate impacts from enlarging Halligan Reservoir, as well as enhance the current conditions in the area around the reservoir. The City presents these conceptual plans in a Conceptual Mitigation Plan that is available for public review wtih the draft EIS (released by the U.S. Army Corps of Engineers).
The first step in mitigation is designing a project that avoids impacts. This is achieved for the Halligan Water Supply Project by using existing infrastructure and minimizing the area of the reservoir.
The next step in mitigation is minimizing impacts. For example, the Halligan Water Supply Project includes operational measures to increase flows downstream and improve habitat along the North Fork of the Poudre River.
The final step in mitigation is compensating for unavoidable impacts. An example of this is replacing lost habitat function in wetland and riparian areas in the same watershed.
These mitigation measures are still conceptual in nature and subject to input from the public and reviewing agencies. Some example measures that will be included in the Conceptual Mitigation Plan are:
IMPROVEMENTS OF EXISTING NORTH FORK CONDITIONS
Year-round flows, eliminating no-flow days
Reconstruct or retrofit diversions to allow flow bypass
Peak flow bypass program to allow critical flushing flows
Environmental pool to augment low river flows until full reservoir capacity is needed
Multilevel outlet tower on dam to improve water quality and temperature conditions downstream
Potential options to enhance fish habitat downstream of the reservoir:

Reconnect larger habitat segments of the river by removing or providing passage around diversion structures that currently obstruct fish movement

WETLANDS AND AQUATIC RESOURCES
Restoration or enhancement of existing degraded wetlands in North Fork watershed or Roberts Ranch
Reestablishment of aquatic resources downstream with year-round flows
WILDLIFE AND SPECIAL STATUS SPECIES
Minimize project footprint and protect identified species
Restoration or enhancement of degraded habitat in North Fork watershed or on Roberts Ranch
HISTORIC AND CULTURAL RESOURCES
Protect identified resources
CONSTRUCTION MEASURES
Survey, avoid and protect identified resources
Develop plans to mitigate dust, control stormwater and minimize traffic impacts
Restoration and revegetation of disturbed areas
Noxious weed control
POST-CONSTRUCTION MONITORING AND MANAGEMENT
Streamflow and temperature monitoring
Wetland and habitat monitoring
Fish and aquatic habitat monitoring
POTENTIAL LIMITED PUBLIC RECREATION
A portion of Halligan Reservoir is being considered for limited public recreation, including fishing from the reservoir surface and portions of the shoreline.
Strong Stewardship Ethic#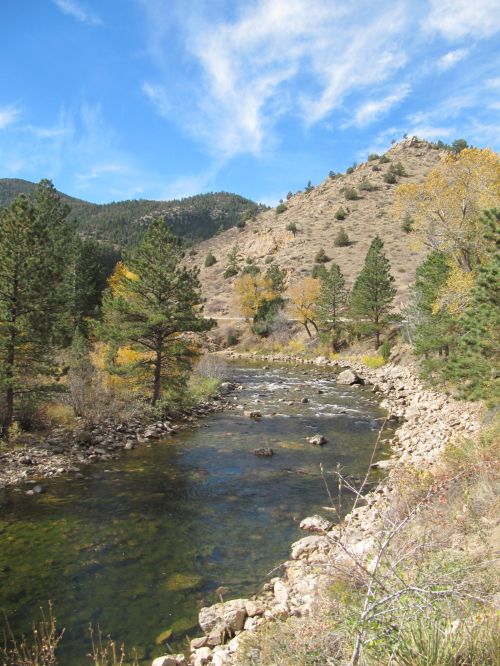 The City of Fort Collins has a strong stewardship ethic that provides the foundation for the management of current and future water use in the Poudre Basin.
Since 2008, Utilities Watershed Program has lead a collaborative upper Cache la Poudre Water Quality Monitoring Program that also includes the City of Greeley and Soldier Canyon Water Authority. This monitoring program assists partners in meeting current and future drinking water treatment goals by reporting seasonal, short-term and long-term trends using a series of source water quality monitoring reports.
In 2016, Utilities' Watershed Program, with assistance from multiple other stakeholders, completed a Source Water Protection Plan (SWPP) for the upper Poudre River and Horsetooth Reservoir Watersheds. The SWPP identifies potential sources of contamination to water supplies; ranks those sources according to risk to the City's drinking water infrastructure and source water quality; and identifies best management practices to mitigate those risks. Forest health/wildfires was identified as the highest priority threat.
Also in 2016, the Coalition for the Poudre River Watershed (CPRW), Fort Collins Utilities and other community stakeholders completed the Poudre River Watershed Resiliency Plan. The plan is used by the Watershed Program to prioritize watershed protection projects in the upper Poudre River Watershed. The Watershed Program continues to work collaboratively with CPRW and other partners on wildfire restoration and mitigation projects to improve the health and resiliency of the Poudre River Watershed.