Collindale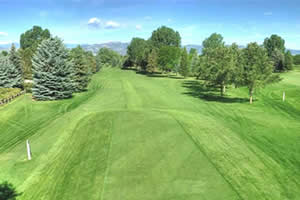 Collindale Golf Course is a championship length, 18 hole golf course situated on 160 acres in southeast Fort Collins. Consistently recognized as having some of the best (and fastest) greens in the state, it is the home of local U.S. Open Qualifying and a perennial favorite for many State amateur events.

1441 East Horsetooth Road Fort Collins, CO 80525
Phone (Tee Times): 970.221.6651
Course: | Tee Times | Fees/Rates | Premier/Gift Cards | Scorecard | Practice Facilities | Photo Gallery
Clubhouse: Instruction | Restaurant | Dale Smigelsky, PGA Pro | Doug Evans, Superintendent | Maintenance Staff
2018 Fees/Rates
Green Fees
Prime Time
Non-Prime Time
Twilight
9 holes
$21.00
$19.00
$16.00
9 holes (ages 17 &amp under)
$21.00
$14.00
$16.00
9 holes (ages 60+)
$21.00
$17.00
$16.00
18 holes
$38.00
$35.00
-
18 holes (ages 17 & under)
$38.00
$26.00
-
18 holes (ages 60+)
$38.00
$30.00
-
Golf Club Rental
Prime Time
Non-Prime Time
Twilight
9 holes
$ 15.00
$ 15.00
$ 15.00
18 holes
$ 25.00
$ 25.00
$ 25.00
3 Wheel Push Cart Rental
Prime Time
Non-Prime Time
Twilight
9 holes
$ 3.00
$ 3.00
$ 3.00
18 holes
$ 6.00
$ 6.00
$ 6.00
Golf Cart Rental
Any Time
9 holes single rider
$10.00
18 holes single rider
$16.00
Prime Time (April 1st to Labor Day)
Saturday
Until 2:00 p.m.
Sunday
Until 2:00 p.m.
Memorial Day
All Day
Independence Day
All Day
Labor Day
All Day
Non-Prime Time (Day after Labor day until March 31st)
All other times are considered prime time.
Twilight - Carts are not available and tee times are not reserved (first come, first served)
March through October
1 1/2 hours before published sunset
November thru February
2 hours before published sunset
Scorecard
HOLE
1
2
3
4
5
6
7
8
9
Out
Black Tees
539
432
434
389
229
589
343
178
480
3613
Blue Tees
526
406
422
379
194
550
336
151
440
3403
White Tees
510
392
410
368
182
530
329
132
427
3280
Gold Tees
431
378
297
358
140
404
322
115
325
2770

Par

5
4
4
4
3
5
4
3
4
36
Handicap
11
9
5
7
15
1
13
17
3
Red Tees
428
280
292
347
135
401
315
88
4320
2606

Par

5
4
4
4
3
5
4
3
4
36
Handicap
3
13
5
9
15
1
11
17
7
INITIAL
10
11
12
13
14
15
16
17
18
IN
TOTAL
HCP
NET
ADJ
Black Tees
452
194
399
608
398
231
422
371
469
3544
7157
74.0/133
Blue Tees
423
183
383
548
364
209
379
342
427
3258
6661
71.5/131
White Tees
410
173
368
530
352
188
368
334
383
3106
6386
70.2/129
Gold Tees
305
163
338
435
340
136
356
325
332
2730
5500
65.5/116
Par
4
3
4
5
4
3
4
4
4
35
71
RATINGS/SLOPE
Handicap
4
16
10
2
14
18
12
8
6
Red Tees
300
153
335
431
262
133
291
317
309
2531
5137
69.1/126

Par

4
3
4
5
4
3
4
4
4
35
71
Handicap
4
16
6
2
10
18
14
8
12
Practice Facilities
Collindale Golf Course offers practice facilities for players of all abilities. From a full length driving range to a practice green with a greenside bunker to an oversize putting green, you can practice all the shots you'll need to score well anywhere.
Need a lesson? Check out the
Collindale Golf Academy
.
Bucket of Balls
| Size | Price |
| --- | --- |
| Small | $4.00 |
| Medium | $8.00 |
| Large | $12.00 |
Photo Gallery
C.B. & Potts at Collindale
Instruction
The Collindale Golf Academy and Club Fitting Center is a state of the art center that provides quality golf instruction and practice facilities for golfers of all levels. Our Equipment Sales Center coupled with Master Club Fittings provide golfers with everything they need to be successful at the most affordable price for this greatest of games.
Collindale Golf Academy and Club Fitting Center is proud to host a wide variety of programs for our Junior golfers. We provide an opportunity, designed for kids ages 5 to 17, to experience the great game of golf in a fun and safe atmosphere.
Learn more at the
Collindale Golf Academy Website
Dale Smigelsky (PGA Professional)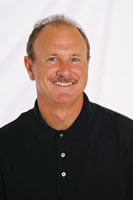 Dale grew up in Winter Park, Florida, turned Professional at the age of 19 and was elected to PGA Membership in 1985. His early career included positions at golf clubs in North Carolina and Nebraska.
In 1993, Dale began working as shop manager at Collindale under then Professional Joe Nance. From 1997 to 2000, he was the Head Professional at City Park Nine here in Fort Collins. In 2001, he took over at SouthRidge and stayed there through the 2008 season. January 1, 2009, Dale took over as the Head Professional at Collindale.
Tournament wins include 1982 Nebraska Assistants Championship, 1985 Nebraska Open, several Florida Mini Tour events, twice the Local US Open Low Qualifier and the 2003 Colorado PGA Section Championship. Low rounds are 61 at SouthRidge and at the Airport Golf Course in Cheyenne. Dale continues to play professionally in Colorado section, local and regional events.
Doug Evans (Superintendent)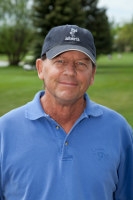 Doug has worked at Collindale since the beginning, helping to install the irrigation system when the course was under construction. While attending Colorado State University, Doug worked part time in the spring and fall at the course. After graduating from CSU with a degree in Business Administration, Doug moved to Estes Park and worked as an assistant on the courses owned and operated by the recreation district. After moving back to Fort Collins in 1976, Doug started working at Collindale, becoming superintendent in 1990.
Maintenance Staff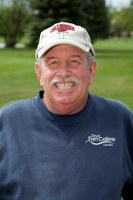 Mike Enright,
Assistant Superintendent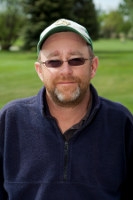 Brent Johnson,
Parks and Grounds Technician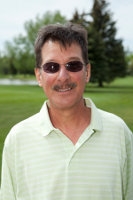 Dennis Smith,
Parks and Grounds Technician