City Park Nine
City Park Nine is a regulation length 9 hole municipal golf course offering enjoyment and challenges for players of all ages and abilities. Built in 1940 and located next to historic City Park and Grandview Cemetery, the course features tight fairways, small greens, and mature trees.

411 South Bryan Avenue Fort Collins, CO 80521
Phone (Tee Times): 970.221.6650
Course info: Fees/Rates | Premier/Gift Cards | Scorecard | Practice Facilities | Photo Gallery
Clubhouse: General Info | Instruction | PGA Professional | Assistants | Superintendent | Maintenance Staff
2018 Fees/Rates
Green Fees
Non-Prime Time
Twilight
9 holes
$19.00
$16.00
9 holes (ages 17 &amp under)
$14.00
$16.00
9 holes (ages 60+)
$17.00
$16.00
18 holes
$35.00
-
18 holes (ages 17 &amp under)
$26.00
-
18 holes (ages 60+)
$30.00
-
Golf Club Rental
Non-Prime Time
Twilight
9 holes
$ 12.00
$ 12.00
18 holes
$ 20.00
$ 20.00
3 Wheel Push Cart Rental
Non-Prime Time
Twilight
9 holes
$ 3.00
$ 3.00
18 holes
$ 6.00
$ 6.00
Golf Cart Rental
Non-Prime Time
9 holes single rider
$10.00
18 holes single rider
$16.00
Twilight - Carts are not available and tee times are not reserved (first come, first served)
March through October
1 1/2 hours before published sunset
November thru February
2 hours before published sunset
Scorecard
Tees
1
2
3
4
5
6
7
8
9
Out
Blue Tees
364
166
280
524
329
342
535
398
212
3163
White Tees
347
151
263
476
318
336
486
376
152
2905
Gold Tees
296
142
244
432
270
293
440
344
141
2602

Par

4
3
4
5
4
4
5
4
3
36
Handicap
12
18
14
4
16
8
2
6
10
Red Tees
273
135
239
417
255
271
400
315
102
2407

Par

4
3
4
5
4
4
5
4
3
36
Handicap
13
15
11
1
9
3
7
5
17
Practice Facilities
City Park Nine Golf Course offers a driving range, chipping green with bunker and two practice putting greens.
Bucket of Balls
| Size | Price |
| --- | --- |
| Small | $4.00 |
| Medium | $8.00 |
| Large | $12.00 |
Photo Gallery
General Clubhouse Information
City Park Nine Golf Course is open throughout the year (weather permitting); metal spikes and fivesomes are not allowed Payment is accepted in cash, credit card, or debit card (VISA, MasterCard, American Express and Discover Card). Personal checks are not accepted.
Need to book a tee time? Call 970.221.6650 -or- Book your tee time online
Instruction: (970.221.6650)
Doug Perry, PGA Professional - Private Lessons by Appointment
# Lessons
Price
1 lesson (45 min.)
$50.00
3 lessons
$135.00
5 lessons
$200.00

Group lessons for 4-6 students
4-1 hour lessons - $80.00 per student
Other multi-student packages are available.
Peter Ivy, Assistant - Specializing in junior instruction and junior clinics
| # Lessons | Price |
| --- | --- |
| 1 lesson (45 min.) | $25.00 |
| 3 lessons | $60.00 |
| 5 lessons | $90.00 |
Doug Perry (PGA Professional)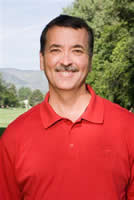 Doug was born in Dover, Delaware and moved to Winter Park, Florida as a teen. He attended the University of Central Florida and turned professional in 1975. After spending 25 years as a professional at two private clubs in western North Carolina, Doug moved to Fort Collins in 2000. Doug played the PGA Tour in 1982 and still plays competitively in Colorado PGA Section tournaments. Doug was previously the Director of Instruction at SouthRidge Golf Course before coming to City Park Nine in 2009.
Pete Ivy (Assistant Professsional)
Jim Higgins, Superintendent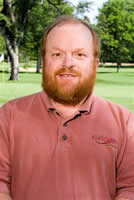 Introduced to golf course maintenance at Glastonbury Hills Country Club in Glastonbury, Ct. in 1974, Jim found golf course work to his liking, allowing for a wide variety of work tasks and learning opportunities from working with a shovel to learning the science of turfgrass maintenance. Jim worked at City Park Nine Golf Course while attending Colorado State University, and graduated with a Bachelor of Science degree in Psychology in 1980. After graduation, Jim decided to pursue golf course maintenance as a career and was hired as Assistant Superintendent of City Park Nine Golf Course in 1986. Jim was promoted to Superintendent of Golf at City Park Nine in 2006.
Maintenance Staff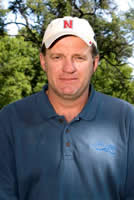 Randy Conard,
Assistant Superintendent