Vine / Lemay / BNSF Intersection Improvements#
New Lemay Avenue bridge to open to traffic Dec. 11, 2021
One of the most anticipated infrastructure projects in Fort Collins will open to vehicular traffic this weekend, making travel safer and more reliable in the city.
The new Lemay Avenue bridge over Vine Drive and the BNSF Railroad will open to traffic on Saturday, Dec. 11, before the end of the day – three weeks ahead of the City's goal of having the bridge open to vehicles by the end of 2021.
"We're excited to be able to mark this significant milestone for Fort Collins," said Project Manager Tim Sellers. "Not only did crews with Ames Construction work hard to get the bridge open ahead of schedule, but it will also be completed within the estimated project budget."
Ames Construction is the City's contractor for the $24 million project.
In addition to a new four-lane road, the new bridge and alignment will feature a multi-use path and connections to local streets at Buckingham Street/Duff Drive and Suniga Road. The new Lemay/Suniga intersection is built to accommodate the future extension of Suniga to the east.
Although the bridge will be open to traffic, lane closures will still be in effect as crews continue to address punchlist items and install finishing touches to the structure and roadway through the spring. Drivers should use caution in the work zone.
"This project literally and figuratively bridges a significant transportation gap in our community," said Caryn Champine, the City's Planning, Development, and Transportation service area director. "Residents now have a safe, reliable connection from the northeast part of the city to the rest of Fort Collins."
Over the next few months, final fencing, landscaping, and artwork will be installed on the bridge and surrounding area. A ribbon cutting and celebration is being planned for later in 2022.
Bicycles and pedestrians will not be able to use the multi-use paths on either side of the bridge until concrete and fencing work is completed, likely near the end of January 2022.
Crews from the City and Ames Construction began substantial construction on the structure in spring 2021, with planning for the new bridge being years in the making. Numerous City staff and Fort Collins residents have been involved in the project, and City Council secured final funding for the bridge in 2020.
The current intersection of Vine Drive and Lemay Avenue has seen significant congestion in recent years due to the existing railroad crossing and train switching yard as well as growth in the northeast part of Fort Collins. The new structure will help alleviate that congestion and will benefit through travelers on Lemay Avenue as well as residents and visitors to the Andersonville and Alta Vista neighborhoods.
The existing Vine/Lemay intersection will remain as the intersection of Vine and 9th Street. The old alignment of Lemay from Buckingham Street south to the new alignment will be removed.
FCTV has also been regularly recording drone footage of the project. To view the latest video recorded on Dec. 3, visit https://youtu.be/9EVOLt97ZR8
Background#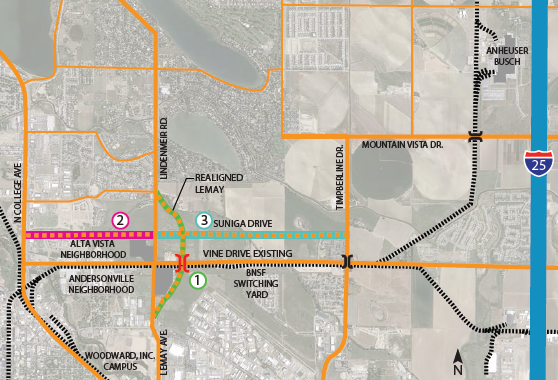 Lemay Avenue realignment and intersection improvements have been prioritized as the City's top Transportation Capital Improvement Project. The improvements will construct a new road and intersection slightly east of the existing Vine and Lemay intersection. The City has utilized an extensive planning process to arrive at an ultimate solution that includes a new bridge over the Burlington Northern Santa Fe (BNSF) railway and existing Vine Drive.
The existing Vine and Lemay intersection, which includes the BNSF Railway crossing, is severely congested with limited options to expand through or turn capacity due to land use constraints. Through and extensive alternatives analysis process, the City selected a bridge over the BNSF railroad tracks and Vine Drive as the preferred alternative to address the needed safety and congestion improvements.
Project Goals#
The Lemay realignment and overpass is included within the City's land use and economic development plan (Mountain Vista Subarea Plan) which was created as a long-term planning vision for the northeast section of Fort Collins. Improvement of the intersection has become a safety issue for residents, BNSF, emergency services and the public. With this project, our primary goals are:
Neighborhood Livability
Congestion relief
Strong urban design and landscaping
Multimodal improvements
Safety
Coordinate with future development of northeast Fort Collins
One of the fundamental aims of the Lemay realignment is to complete critical transportation improvements to enhance connectivity for local neighborhoods and provide safe and reliable access to emergency services, employment centers and businesses, schools, shopping, medical services and the like.
Currently, residents of both the Alta Vista and Andersonville neighborhoods (located at the Vine/Lemay intersection), as well as people traveling north and south in the area, suffer from the constraints of severe congestion on a daily basis. This project will help alleviate traffic issues along existing roadways and the BNSF rail corridor.
This project will also help facilitate the development of new housing and employment opportunity in a priority infill area near downtown Fort Collins. In recent years, this area has become the focus of increased economic and housing activity. Safe and efficient connections are necessary to ensure equity and livability within northeast Fort Collins and access throughout the city.
Resilient, accessible, and safe systems for all modes of travel - whether by bike, walking, transit, or vehicle - are critical to the project's success. This project is an important part of the City's Enhanced Travel Corridor network, which is intended to provide a system of multi-modal corridor connections between key activity centers, access to high frequency transit service, and bicycle and pedestrian facilities.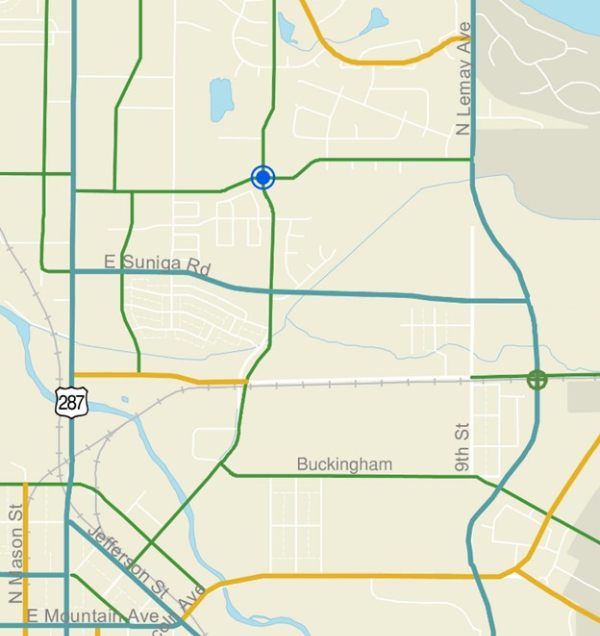 When complete, Lemay Avenue will pass over the BNSF Railroad and Vine Drive. Suniga is being extended to the east as part of the Northfield development and will connect to the new alignment of Lemay.
The City has also registered this project with Greenroads International, a non-profit that advances sustainability education and initiatives for transportation infrastructure. Greenroads manages a certification process for sustainable transportation development projects in the U.S. and internationally. Obtaining this certification is a goal of the project and will help the City in achieving its goals in the Climate Action Plan.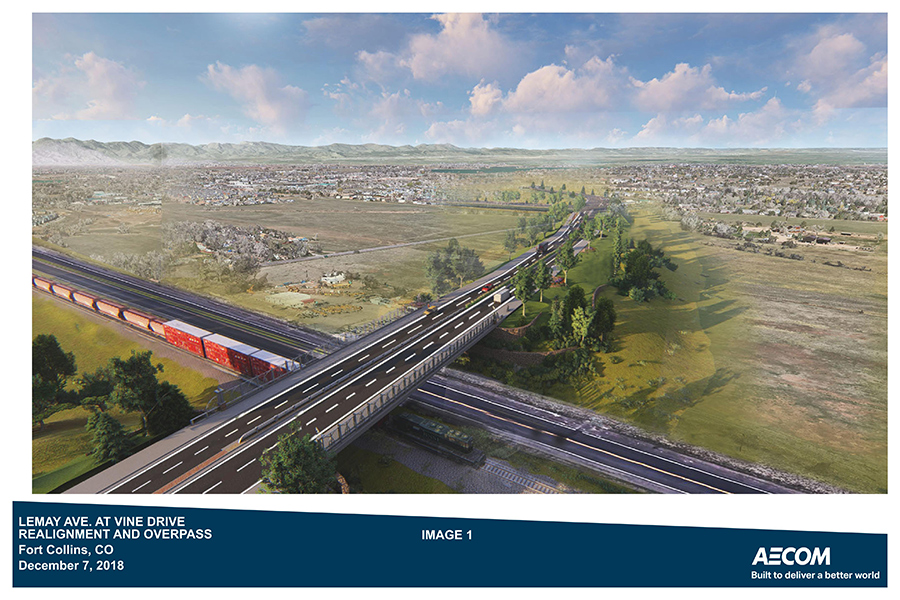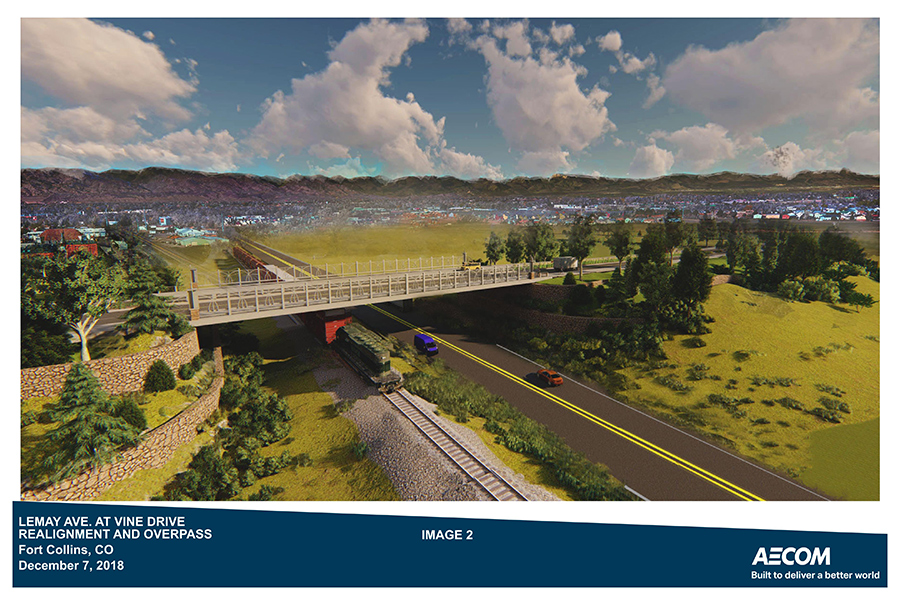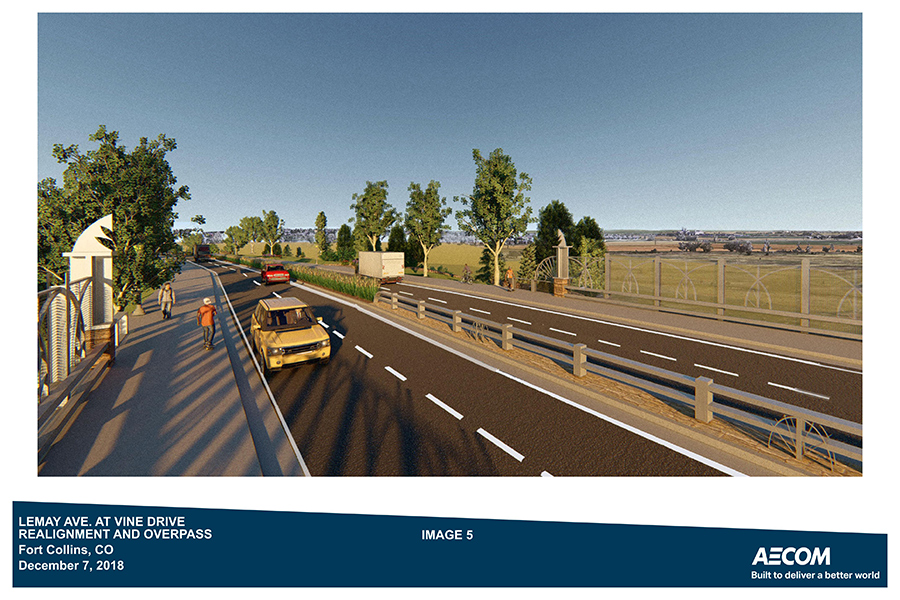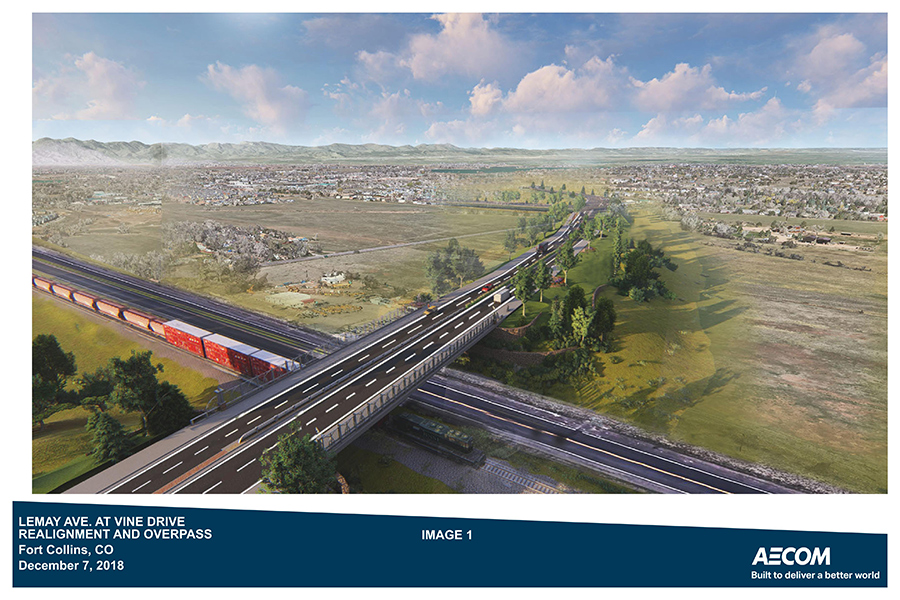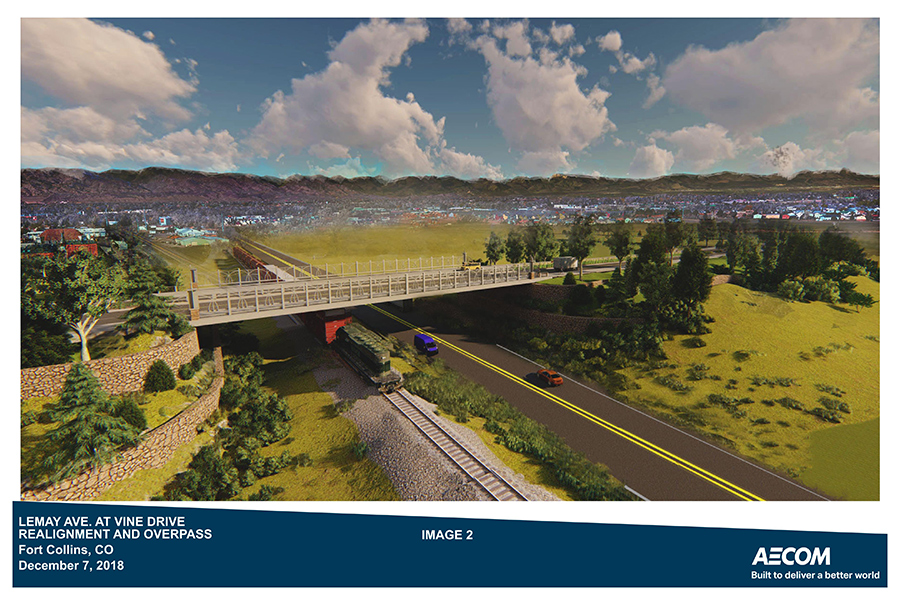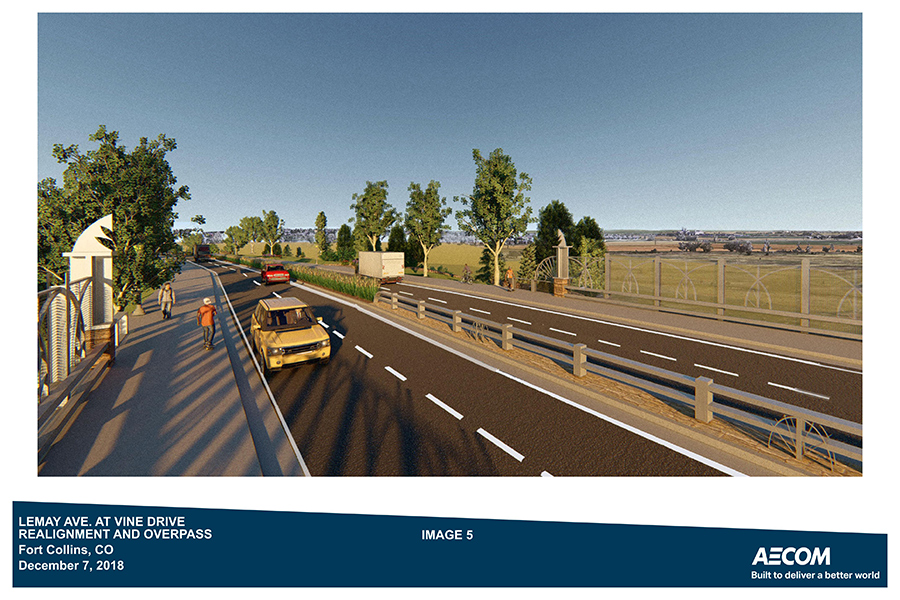 Current Funding#
The final funding for the project was secured in the City of Fort Collins' final 2021 budget that was approved by City Council in November 2020. This was a significant milestone that allowed the project to proceed to final design and complete construction.
The total project budget is approximately $24 million, of which approximately $9 million has been identified to come from the City's Transportation Capital Expansion Fee (TCEF) program. The TCEF program contributes funds to projects where there are impacts from developments causing additional stress on the transportation system.
Through previous budget processes, the City has also appropriated and spent approximately $3 million on preliminary design, right-of-way acquisitions, construction of dirt embankment, installation of a large box culvert for storm events, public outreach, and various other tasks
Schedule#
The City secured a construction contractor through an alternative project delivery approach called Construction Manager/General Contractor (CM/GC). Construction activities are currently underway. Below is a general timeline through project completion:
January – May: Finalize design and railroad processes
Late February: Resume on-site construction, primarily off existing roadways with embankment, drainage and walls
April/May – Begin roadway and drainage construction
May/June – Begin bridge construction
November – Complete bridge construction and final roadway paving
December 2021 – Bridge open to traffic!
September 2022 - Landscaping complete
Frequently Asked Questions#
No. The existing crossing at Vine Drive and 9th Street/Lemay Avenue will remain open and unchanged to ensure connectivity is maintained between neighborhoods and other amenities.

No, Vine Drive will not connect directly to Realigned Lemay. Users will have to go north or south on existing Lemay Avenue off from Vine Drive and connect to realigned Lemay via Suniga Drive to the north or Buckingham Street to the south.

In conjunction with the Northfield Development, the City will be connecting Suniga Drive from College Avenue to realigned Lemay as a new 4-lane arterial. This work will be complete by the end of the project and function as new major east-west arterial connection in northeast Fort Collins.

There will need to be intermittent closures during bridge construction (Summer 2021), but it is not anticipated that there will be lengthy closures or impacts to Vine Drive during the majority of the project.

No. Buckingham will be slightly re-routed at the end of the project to tie into Duff Drive on the east side of realigned Lemay Avenue.

Yes, there will be a new intersection at Duff Drive/Buckingham Street and Realigned Lemay. It has not yet been determined if this intersection will be signalized.

The City will be replacing the existing signal at Lincoln/Lemay intersection as part of this project and constructing a new signal at Suniga Drive and realigned Lemay.

The City is also exploring whether or not a signal will be warranted at the new Duff Drive/Buckingham Street intersection with realigned Lemay.

The project includes buffered and separated bike lanes along the corridor as well as sidewalks and pedestrian access.

As the roadway goes up and over the railroad tracks there will be an attached 12-foot wide multi-use path on both sides of the roadway to accommodate both bikes and pedestrians, thus minimizing the project footprint and overall costs.

The project is currently seeking certification through the Green Roads program which recognizes projects for exceeding industry standards related to green construction practices such as recycled materials, innovative contracting methods, air quality standards, improving neighborhood access, etc.

Visit https://www.greenroads.org/ for more information about the organization and their certification process as well as other award-winning projects.