Vine / Lemay / BNSF Intersection Improvements
Background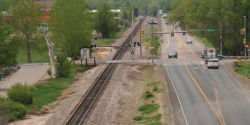 Lemay Avenue realignment and intersection improvements have been prioritized as the City's #1 Transportation Capital Improvement Project. The improvements will construct a new road and intersection slightly east of the existing Vine and Lemay intersection. The City has utilized an extensive planning process to arrive at a number of interim and ultimate solutions that include new at-grade intersections or overpass / underpass of the Burlington Northern Santa Fe (BNSF) railway and existing Vine Drive. More details can be found at the 2014 Project Development Report link.
The existing Vine and Lemay intersection, which includes the BNSF Railway crossing, is severely congested with limited options to expand through or turn capacity due to land use constraints. The City is currently taking steps to determine the best plan to appropriately serve the project area and increase safety to meet the needs of existing residents and the travelling public; while balancing the growth of vehicle and train traffic. Existing Vine Drive and Lemay Avenue will be changed to local streets upon completion of realigned Lemay Avenue.
View Staff Presentation For Alta Vista Neighborhood Meeting (Nov 16 2016)
Project Goals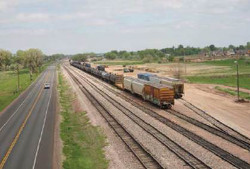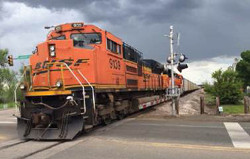 The project area is included within the City's land use and economic development plan (Mountain Vista Subarea Plan) which was created as a long-term planning vision for the northeast section of Fort Collins. Improvement of the intersection has become a safety issue for local residents, BNSF, emergency services and the public. With this project, our goals are:
Community Revitalization: One of the fundamental aims of this project is to complete critical transportation improvements that will enhance connectivity for local neighborhoods. Residents of both the Alta Vista and Andersonville neighborhoods (located at the Vine/Lemay intersection) suffer from the constraints of severe congestion on a daily basis. This limits connectivity to employment, schools, goods and services.
Diverse Housing and Employment Opportunities: This project will help facilitate the development of new housing and employment opportunity in a priority infill area near downtown Fort Collins. In recent years, this area has become the focus of increased economic activity. Safe and efficient connections are necessary to sustain the transportation network.
Multi-modal Connectivity and Safety: A primary emphasis of this project is to foster a safe, connected, resilient and accessible system for all modes of travel. This project is a critical part of the City's Enhanced Travel Corridor network, which is intended to provide a system of multi-modal corridor connections between key activity centers, access to high frequency transit service, and bicycle and pedestrian facilities.
Commerce and Accessibility Improvements: The existing Vine/Lemay intersection, which includes the BNSF Railway crossing is severely congested. Construction of the improvements will help alleviate congestion along existing roadways and the BNSF rail corridor, which in turn helps improve rail operations and the overall ability to move goods and services efficiently.
Current Funding
The City has a $1M budget, through Council appropriation for the 2015-2016 budget cycle. This funding comes from the voter approved Keep Fort Collins Great (KFCG) sales tax which was approved in 2010. These funds will be used to complete a preliminary design for realigned Lemay, conduct an Alternatives Analysis for realigned Lemay at existing Vine Drive and the BNSF railway, pursue right-of-way acquisitions and develop a Communication and Public Outreach Plan.
Project Map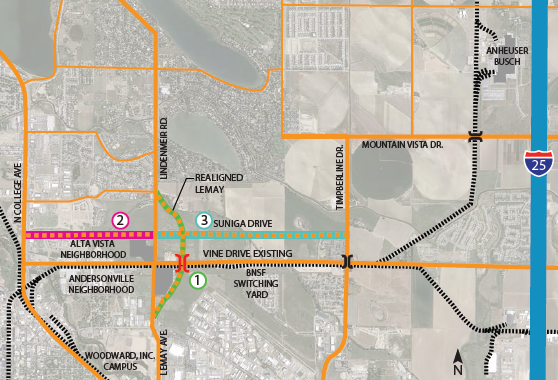 Future Funding
The City submitted an application for federal grant funding in June, 2015 through a highly competitive, nationwide opportunity through the United States Department of Transportation; known as Transportation Investment Generating Economic Recovery (TIGER) grant. The total project cost ranges from $25M to $40M for the options of "at grade", "overpass" and "underpass".
Other Resources
Vine/Lemay/BNSF Project Public Meeting Summary (4.1MB)
Executive Summary Vine/Lemay Intersection Realignment Project Development Report (676KB)
2015 TIGER Grant Submittal (Executive Summary) (964KB)
2015 TIGER Grant Submittal (Narrative) (2.8MB)
2015 TIGER Grant Submittal Appendix A (Mountain Vista Subarea Plan) (3.4MB)
2015 TIGER Grant Submittal Appendix B (2014 Project Development Report) (5.9MB)
2015 TIGER Grant Submittal Appendix C (Benefit / Cost Analysis) (544KB)
2015 TIGER Grant Submittal Appendix D (Letters of Support) (3.2MB)

Contact
Tim Kemp | Capital Projects Engineer | 970-416-2719 | dGtlbXBAZmNnb3YuY29t