Laporte Corridor Pedestrian
and

Bicycle Improvements#
Fishback Avenue
to

Sunset Street#
Background#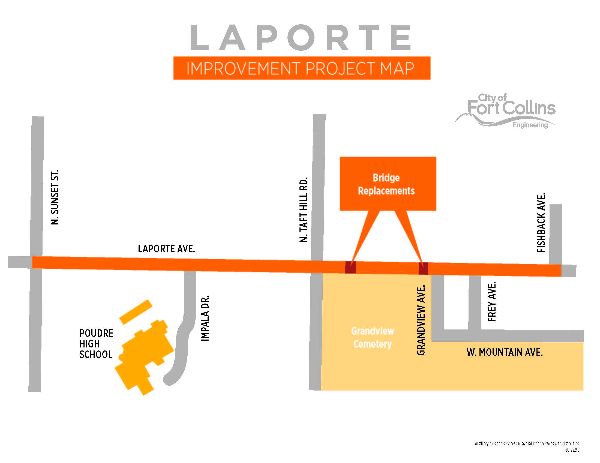 The Laporte Avenue corridor between Fishback Avenue and Sunset Street currently has several gaps in bicycle and pedestrian facilities. Many locations lack sidewalk and curbs, and the bike lanes are often narrow and not well defined. The corridor also provides access to Poudre High School and has significant bicycle and pedestrian activity with the proximity of the school and residential neighborhoods. There have been several near misses and at least one serious accident involving bicyclists and pedestrians in recent years. There are also two deficient bridges on Laporte Avenue over the New Mercer Canal, just north of Grandview Cemetery which will be replaced by a the Laporte Bridges project (a separate project) in the winter of 2022.
The project corridor is part of the City's Low Stress Bicycle Network and is recognized by the North Front Range Metropolitan Planning Organization (NFRMPO) as a high priority for bicycle and pedestrian improvements.
City Staff have gathered feedback from stakeholders, including Poudre School District, nearby residents, and property/business owners. The City also held an open house in October 2019. There is widespread support for the proposed improvements.
Project Description
and

Goals#

This project seeks to improve vehicular, bicycle and pedestrian safety along the Laporte Avenue corridor by addressing deficient sidewalks, adding bicycle lanes, and adding a center reversible turn lane, upgrading the roadway with curb and gutter, and other traffic improvements.
Schedule#
Summer 2022: Advertise for Design Consultant
2022 – 2023: Design
Fall 2023: Advertise for General Contractor
Spring and Summer of 2024: Construction
Current Funding#
This project has funding from a variety of sources including local funds, state grants, and federal grants.
This project was awarded the following grants:
Multimodal Transportation and Mitigation Options Fund (MMOF) Grant
Transportation Alternatives Program (TAP) Grant
Revitalizing Main Streets (RMS) Grant
Together these grants account for the majority of the project funding.
The full project budget is currently estimated to be $4.7M including design, construction, ROW, engineering, testing and inspection. The project is anticipated to be fully funded by 2024.
October 9 Laporte Avenue Open House Materials#