Project Complete
This project was completed in 2020. The information below is provided for reference purposes.
Jefferson Street Improvements#
Background#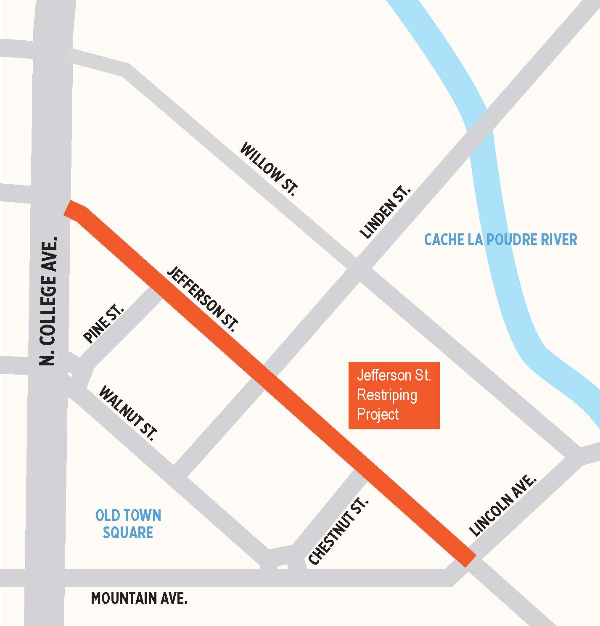 Jefferson Street is a constrained four-lane roadway located in the heart of Downtown Fort Collins. One of the most historical roadway segments in Fort Collins, Jefferson Street is also part of the Colorado state highway system and designated as a truck hauling route. Jefferson Street serves as a border to the established Old Town District as well as to the emerging Downtown River District.
In 2009, the City of Fort Collins was awarded $1 million in Congestion Mitigation and Air Quality (CMAQ) Funds from the Colorado Department of Transportation (CDOT) to reimage Jefferson Street as more pedestrian friendly urban roadway – one that could serve as a bridge between the two downtown districts yet still function as a segment of a state highway.
The City worked for several years with CDOT, the Downtown Development Authority (DDA), property/business owners, and other stakeholders on an alternatives analysis that resulted in the recommendation of the reduction from four travel lanes to three on Jefferson Street, the addition of raised center medians, and changes to on-street parking. These improvements were formalized in an Intergovernmental Agreement (IGA) between CDOT and the City in 2013.
With long term improvements defined, the City has shifted its focus toward construction, using remaining grant funds to implement portions of the 2013 long-range plan adopted by the City and CDOT.
Project Description
and

Goals#

This project will reduce Jefferson Street/Colorado Highway 14 to one lane in the southeast-bound direction between North College Avenue and Linden Street. On-street parking spaces will be added as part of this project, and spaces for bulb outs will be established at the Jefferson/Linden intersection. The bulb outs will be built as part of a project on Linden Street and will allow for improved pedestrian crossings at Linden and Jefferson streets.

The bulk of this project is restriping the roadway in addition to some concrete work. The traveling public can expect temporary lane closures during the duration of the project.

Although one travel lane will be removed between North College and Linden, data analysis and modeling shows minimal short and long term impacts at the three intersections within the project limits:

Ultimately, this project will prepare Jefferson Street for future improvements and help better tie in the Downtown River District with the rest of Downtown Fort Collins.

This project is tied to the Linden Street renovation project, which has been postponed to January 2021 due to COVID-19 and associated business recovery.
| Intersection | 2020 Level of Service (AM) | 2020 Level of Service (PM) | Post Construction 2020 LOS (AM) | Post Construction 2020 LOS (PM) | Post Construction 2040 LOS (AM) | Post Construction 2040 LOS (PM) |
| --- | --- | --- | --- | --- | --- | --- |
| College/Jefferson | A | B | A | B | B | C |
| Linden/Jefferson | A | A | A | A | A | B |
| Mountain/Jefferson | A | B | A | B | B | B |
Schedule#
This project is currently scheduled to begin in late summer 2020. Work is anticipated to last approximately six weeks, weather permitting.
Current Funding#
The overall project budget for the restriping and concrete work is $300,000. This work is funded through a CMAQ grant awarded to the City. The City is working to identify funds enabling the final design and construction of Jefferson Street's long-term improvements.