Section of Jefferson/Linden intersection to close April 19; Walnut/Linden reopens to traffic
As work progresses on the first phase of renovations to Linden Street, construction crews will move the focus of the project from the Walnut Street end of downtown Linden Street to the Jefferson Street end over the next few days.
Businesses on Linden Street, Walnut Street, and Old Firehouse Alley are open and will continue to have access at all times.
The intersection of Walnut and Linden Streets, which has been closed to traffic since March, reopened Friday afternoon, April 16.
On Monday, April 19, the south section of the Jefferson and Linden intersection will close to traffic, weather permitting. Through traffic on Jefferson Street will not be affected, and traffic will be able to turn onto Linden north of Jefferson Street toward the River District.
Access to the downtown section of Linden Street will be available from Walnut Street as well as Old Firehouse Alley for pedestrians and bicycles.
The Jefferson/Linden closure will last for several weeks and will allow for improvements to be built at that intersection. After the Jefferson/Linden closure ends, the Walnut/Linden intersection will close again briefly for installation of overhead lights.
All work on Linden Street is expected to be complete by mid-May. Work being performed this spring will substantially reduce impacts when the rest of the Linden Street Renovation project is completed at a later date.
Lane closure scheduled on northbound Jefferson Street
Beginning Monday, March 29, Jefferson Street will be reduced to one lane in each direction to accommodate construction work. Both northbound and southbound traffic on Jefferson will still be permitted.
Linden Street Renovation Project#
This project will renovate the section of Linden Street between Jefferson Street and Walnut Street. The Conceptual Design Phase, completed in 2014, recommends transforming this section of Linden into a "convertible street," which is a roadway that can be closed to vehicular and bicycle traffic and transformed into a pedestrian gathering space during specialty events.
To accomplish this, the City is planning significant urban design and landscaping improvements, gateway elements, roadway/pedestrian improvements, and utility improvements. The overall project budget is $3.5 million, with the design performed in 2019.
Construction was originally planned for 2020, but had been postponed to 2021 due to the coronavirus outbreak.
In January 2021, the City announced that the bulk of the project will be postponed due to ongoing economic recovery efforts. The City will still construct some of the improvements at the intersections of Jefferson and Walnut streets in 2021 and will build out the rest of the project at a later date.
- - -
As part of the Linden Street project, the City restriped parking on Pine Street and made lane adjustments and improvements to Jefferson Street. Both projects were completed in 2020.
On Pine Street, restriping resulted in an increase in parking spaces.
Jefferson Street was reduced to one eastbound lane from College to Linden and new parallel parking spaces were added. More information about the Jefferson Street project is available at fcgov.com/engineering/jeffersonimprovements2020.
Project Goals#
By the end of the project, Linden Street will be transformed into a "convertible street" and will be much more pedestrian friendly and aesthetically pleasing.
Parking spaces on Linden will be changed to parallel spaces instead of the diagonal parking spaces that currently exist. While some loss of parking will occur on Linden Street, additional new parking spaces will be created on Jefferson and Pine streets as part of this project.
Schedule#
Restriping of parking on Pine Street was completed in March 2020, and improvements to Jefferson Street were completed in the second half of 2020. Both projects are related to the Linden Street efforts.
Construction at the intersections of Linden Street and Walnut and Jefferson streets will begin in early February 2021. A timeline for completing the rest of the project will be announced when it is available.
What can I expect?#
Work in early 2021 will focus on improvements to Linden's intersections with Jefferson and Walnut streets, specifically:
New paver intersection at Linden and Walnut
Updated corners at the Linden and Walnut intersection
New lighting at Linden and Walnut
Updated pedestrian corners at Linden and Jefferson
Updated pedestrian push buttons at the Linden and Jefferson corners
Pedestrian and business access to Linden will be maintained at all times. However, vehicle traffic will be restricted from Walnut to Linden for portions of the project. Outdoor dining areas on Linden will not be affected.
- - -
When the rest of the Linden Street project resumes, construction on Linden Street will be from building front to building front and will move in phases around Linden Street. Access to businesses will be available at all times. Parking is available on adjacent streets and in the Firehouse Alley Parking Structure, which contains more than 200 spaces available to the public.

This rendering highlights the work areas for 2021. Efforts will focus on Linden's intersections with Walnut and Jefferson. In this image, Walnut Street is on the left and Jefferson Street is on the right.
Funding#
The project budget is $3.5 million, and will come from the voter-approved Building on Basics program.
Other Resources#
Click the link for the current project flyer for this project.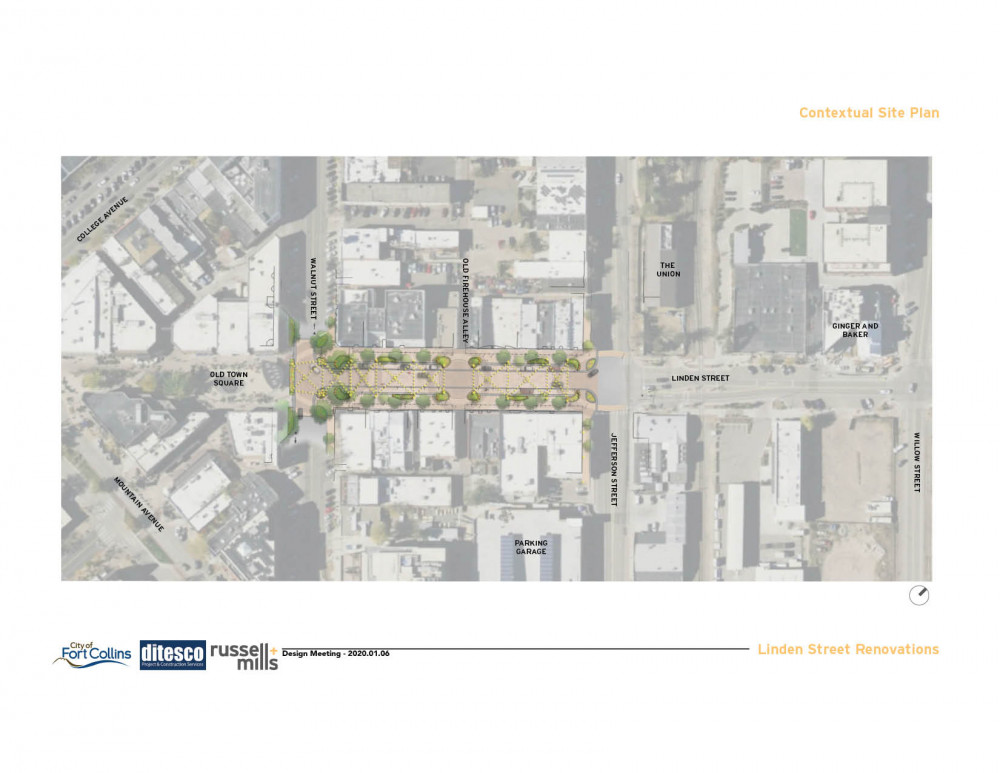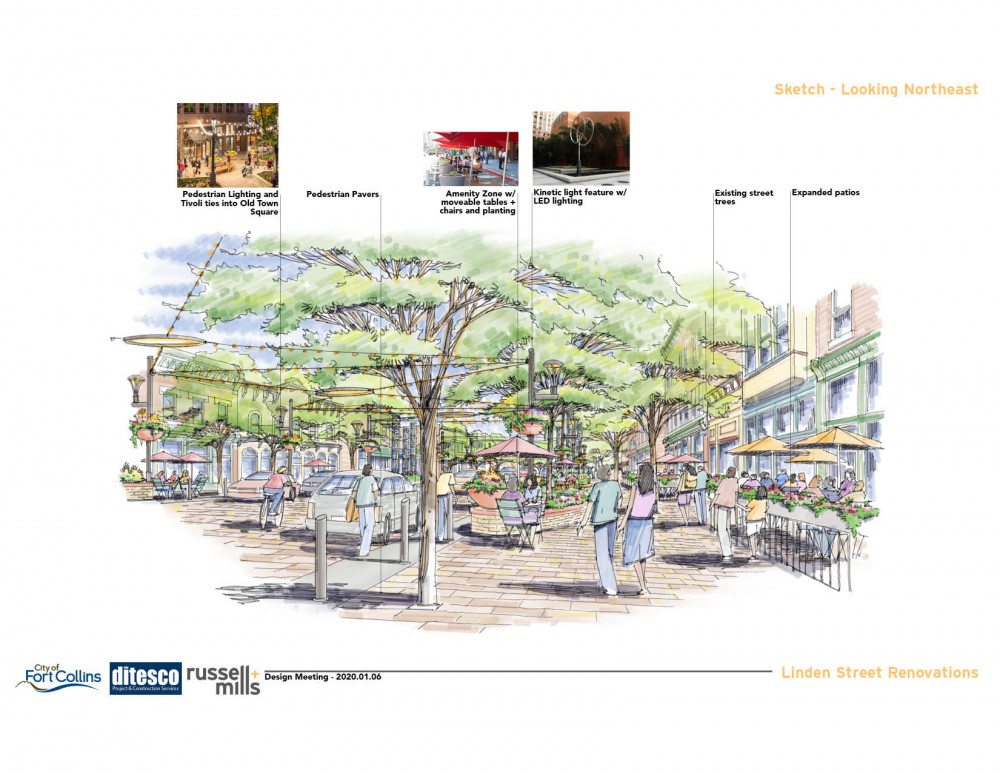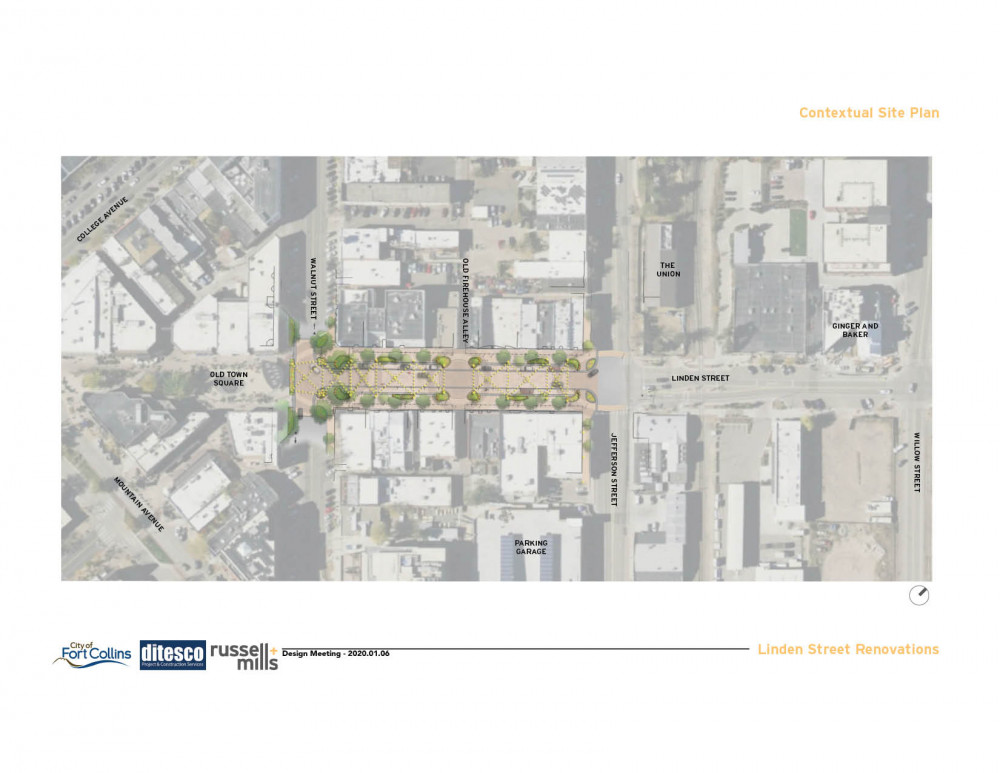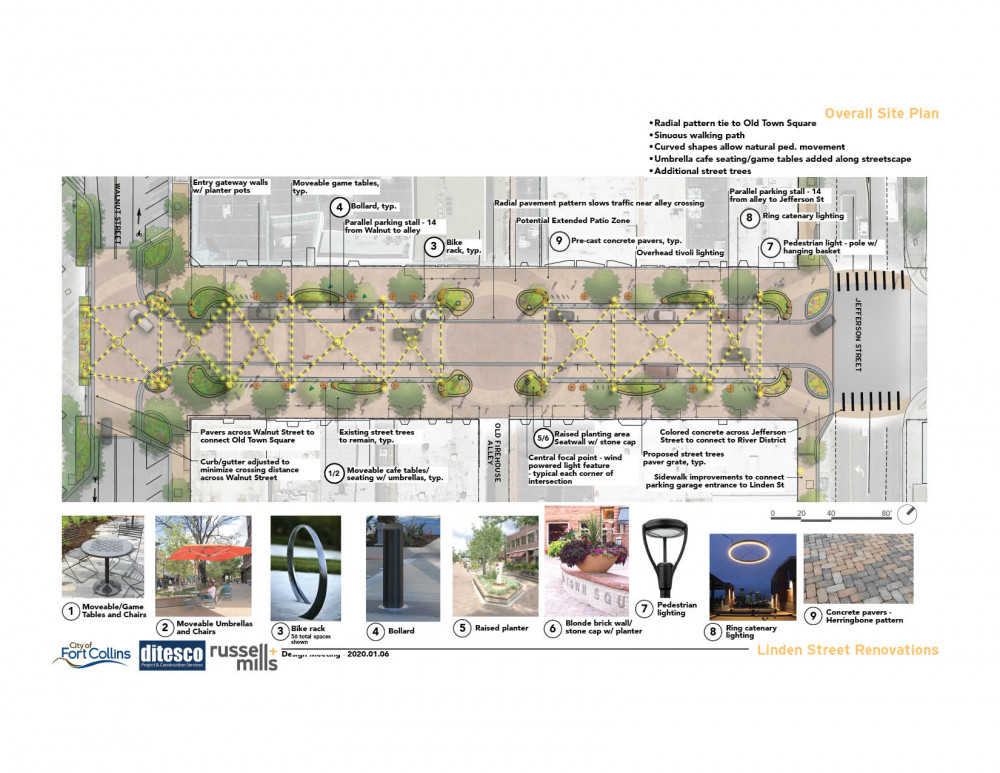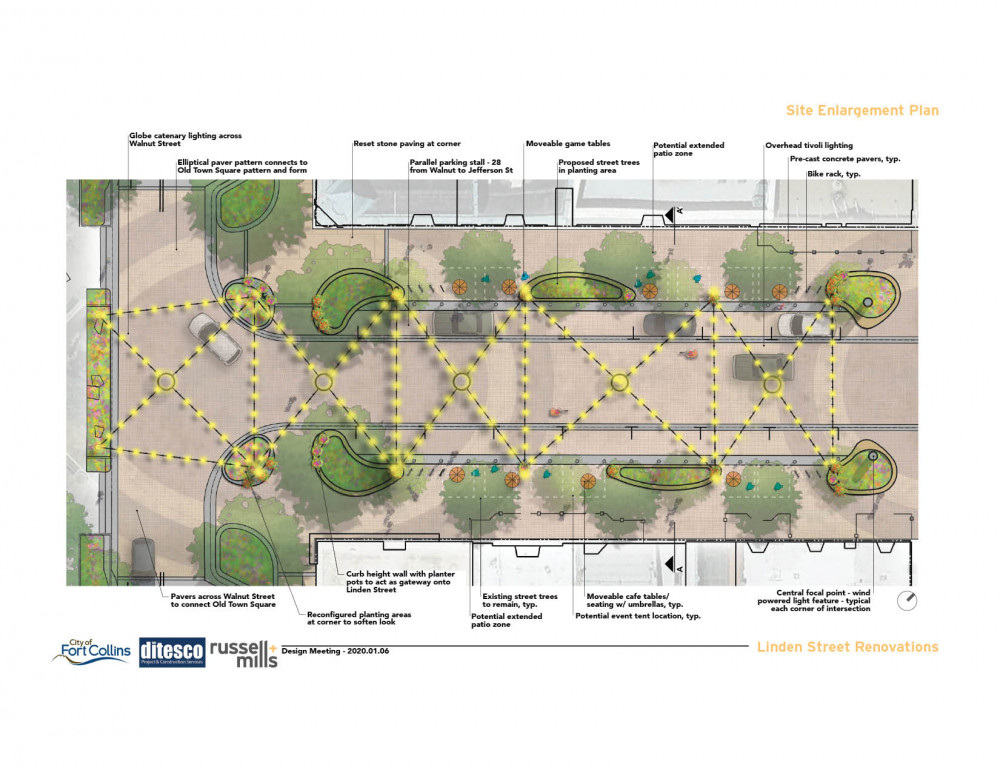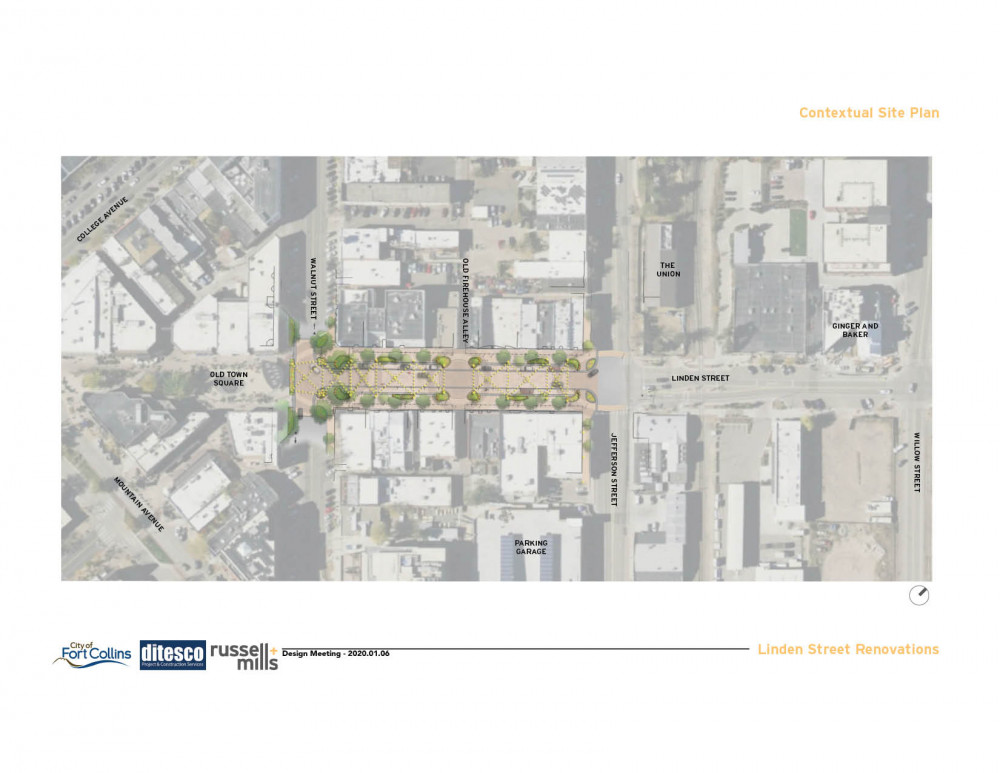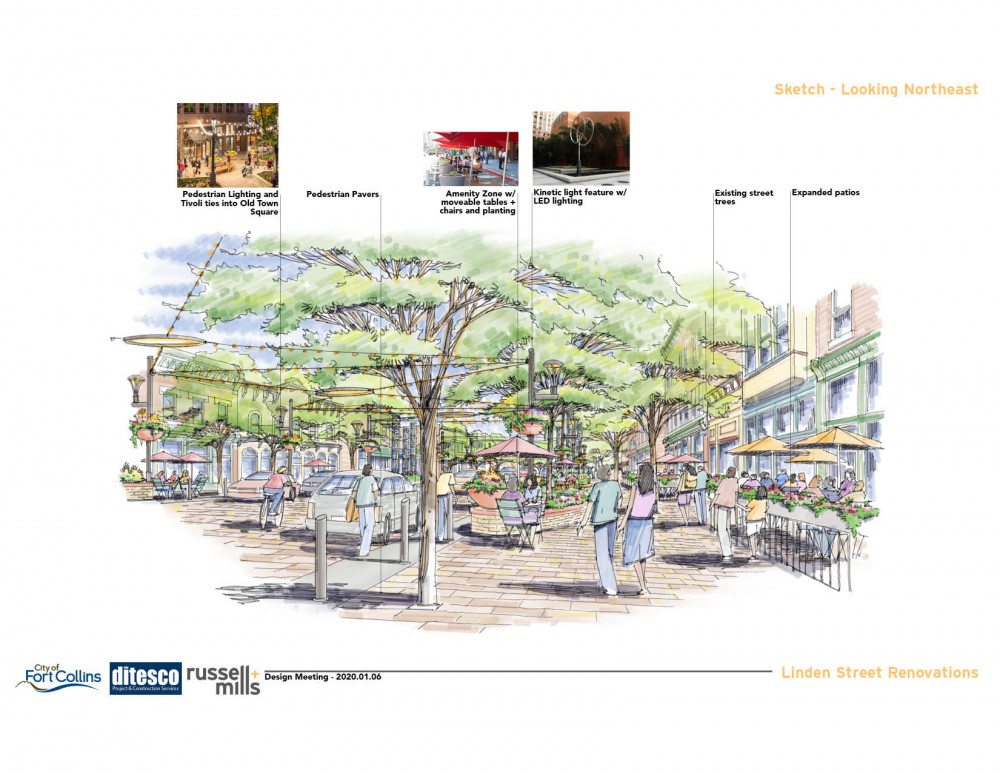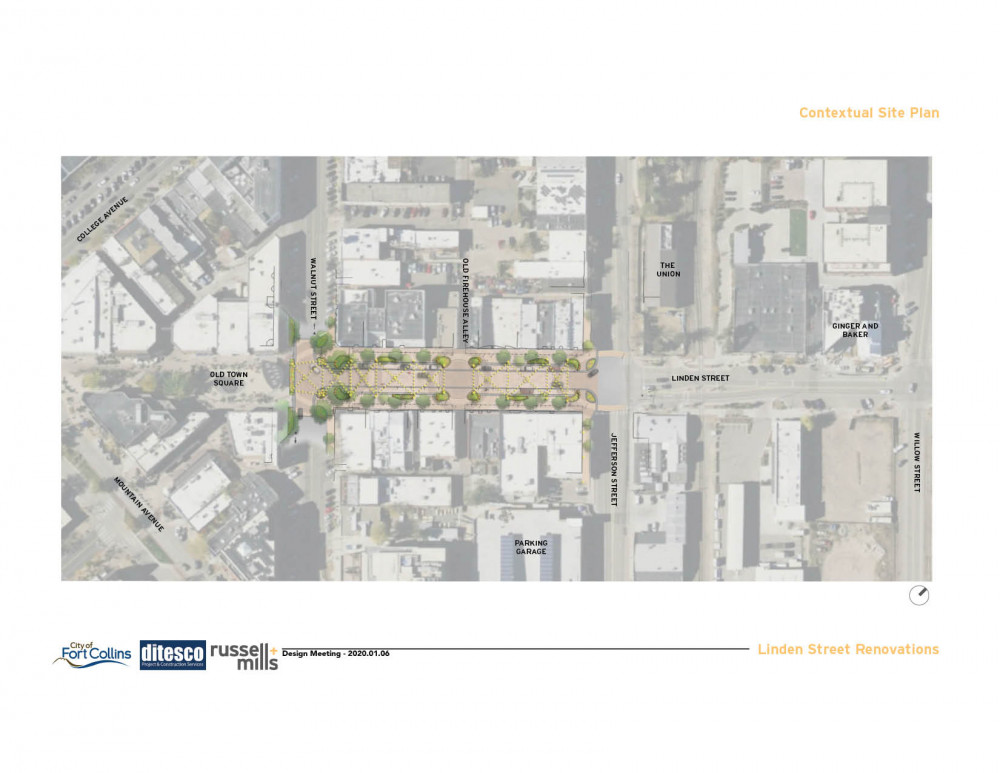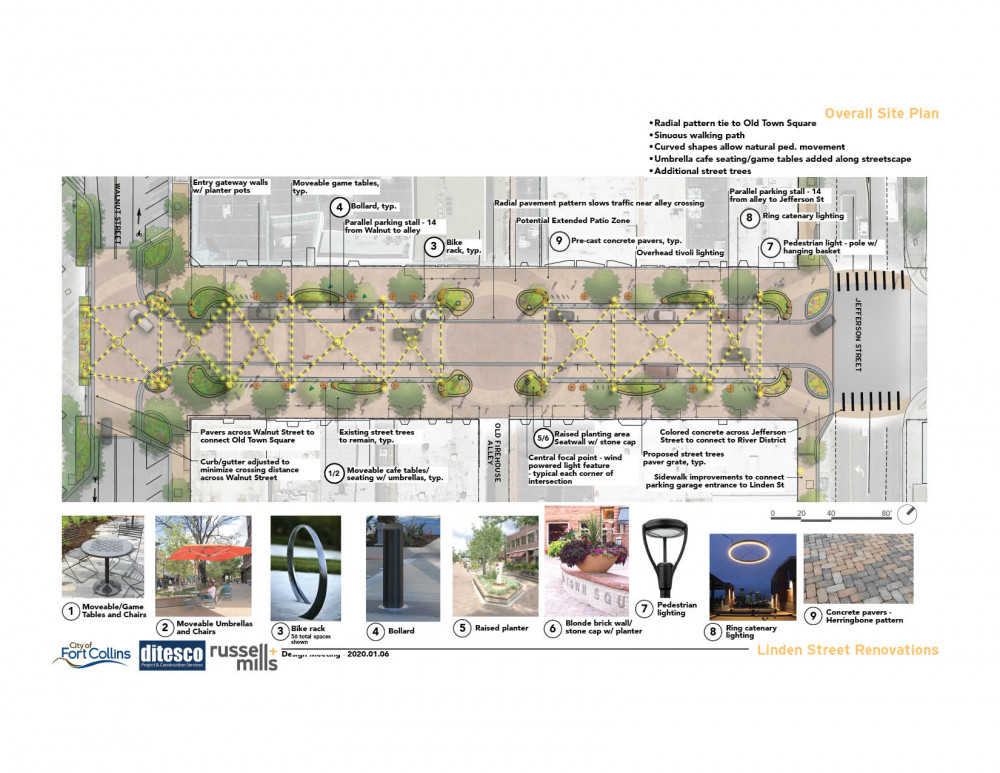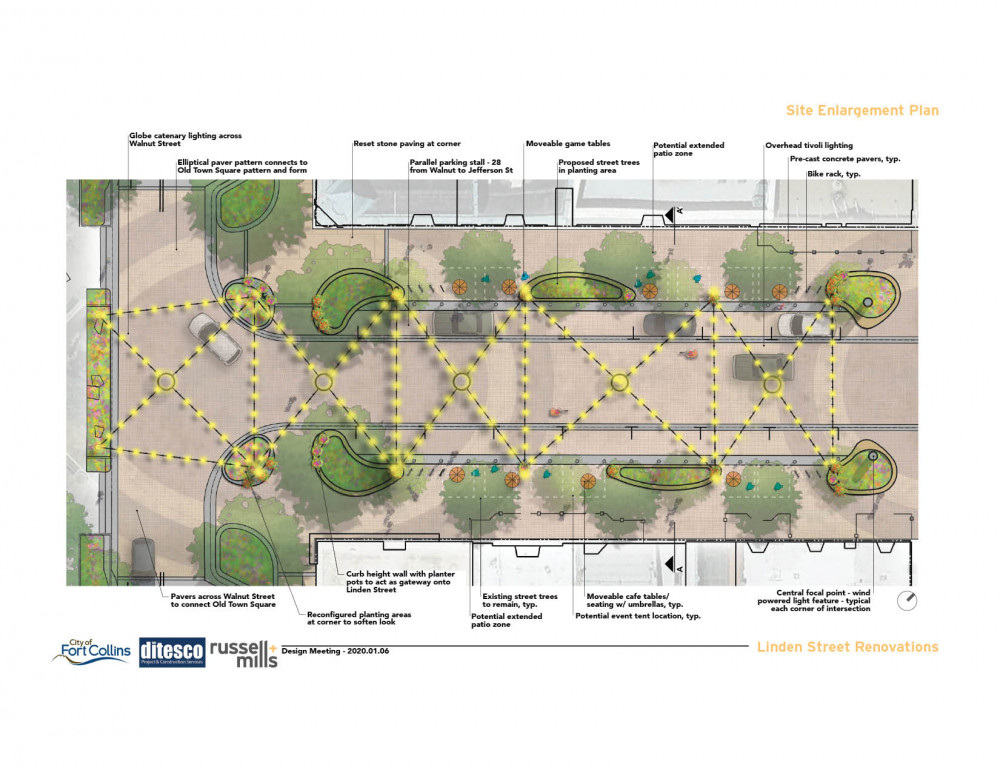 Contact#
Kyle Lambrecht | Design Project Manager – Civil Engineer III | 970-221-6566 | klambrecht@fcgov.com
Nicole Hahn | Construction Project Manager - Civil Engineer II | 970-224-6108 | nhahn@fcgov.com