Elizabeth & Shields Bicycle/Pedestrian Underpass
Background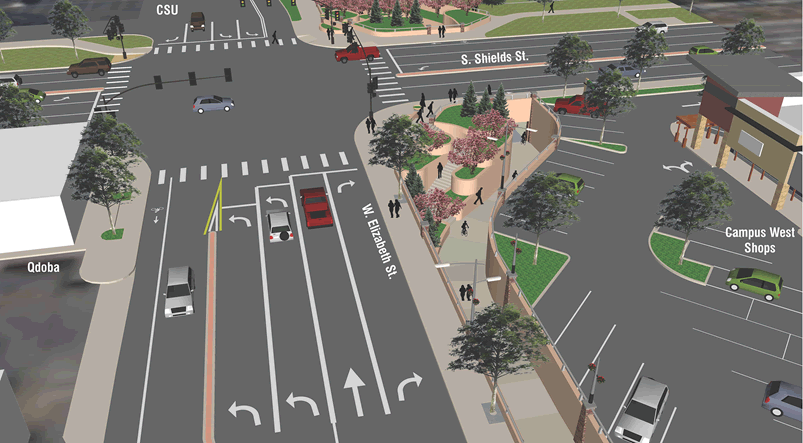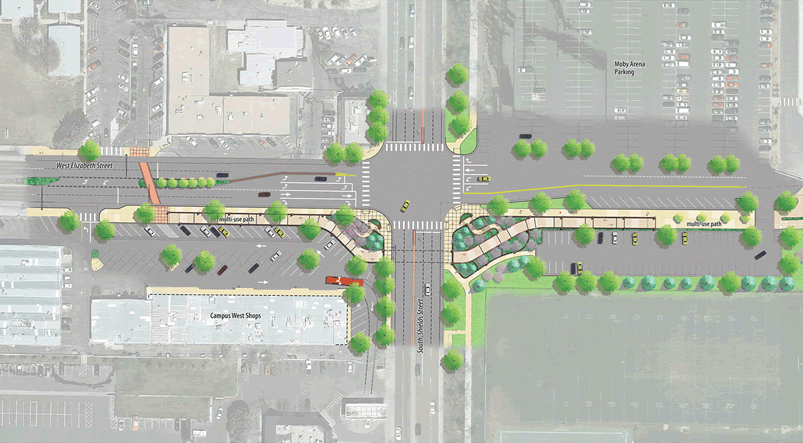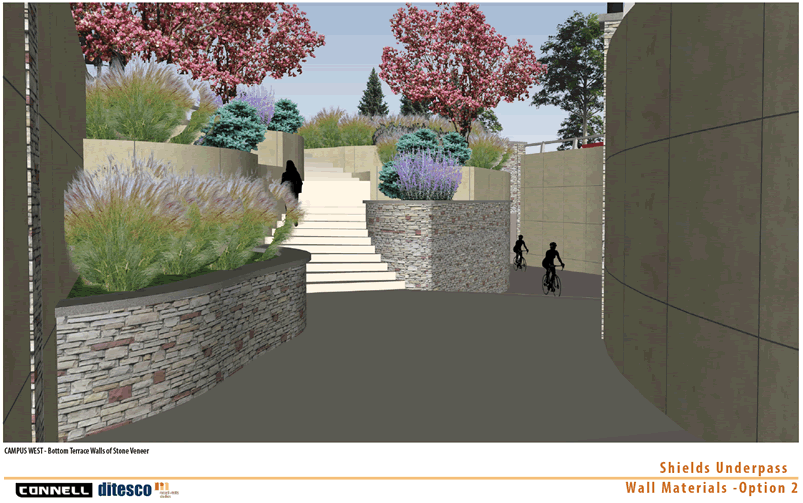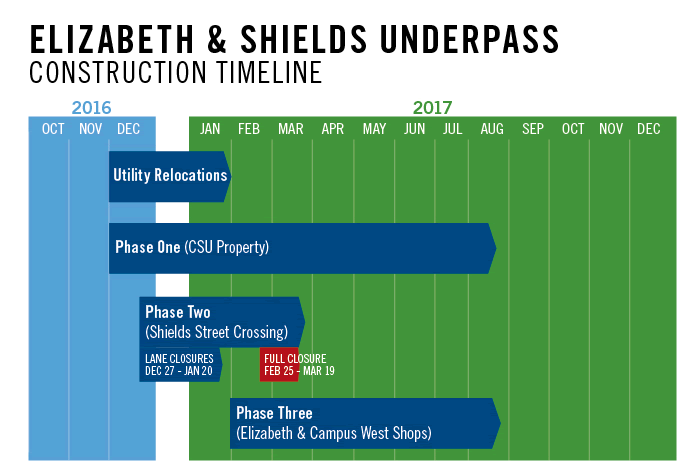 The City and Colorado State University (CSU) have been working in partnership for years to improve bicycle and pedestrian safety amid continued and projected population growth along the West Elizabeth corridor. CSU is making a series of improvements as a commitment by the University to improve safety and make the campus more accessible.

The proposed bicycle and pedestrian underpass will cross under Shields Street and tie the Campus West area to CSU, via the West Elizabeth corridor.

The project aligns with multiple CSU and City planning efforts, such as: West Central Area Plan (2015), CSU Parking and Transportation Master Plan (2014), City Bicycle Master Plan (2014), City Student Housing Action Plan (2013), City Arterial Intersection Prioritization Study (2012), and the City Transportation Master Plan (2011). All of these planning efforts identified the need for improvements at the Elizabeth and Shields intersection with recurring themes of: enhanced safety, separation of travel modes, and reducing the number of conflict points and crashes.
Traffic Statistics
The Elizabeth and Shields intersection has 50,000 vehicles per day, an increase of 20% in traffic volumes since 2009. Peak hour volumes (morning, midday, and afternoon) generate 170 bicyclists and 140 pedestrians per hour. More than 2,000 bicyclists per day are crossing Shields at Elizabeth, an increase of 40% since 2009.

This intersection has a "higher than expected" crash rate. The grade separated crossing for bicyclists and pedestrians will reduce the number of conflict points and intersection crash rating.
Public Outreach and Project Approvals
CSU and the City have collaborated on various public presentations to gather public feedback. This feedback was used to refine the design and minimize the construction impacts to business owners and the travelling public. In addition to the public presentations, staff from CSU and the City has held numerous individual property owner meetings.
May 6 Campus West Shops Tenant meeting
May 25 First Neighborhood meeting
June 13 Stadium Advisory Group presentation
June 16 West Elizabeth Enhanced Travel Corridor meeting
September 14 Second Neighborhood meeting
September 26 Bicycle Advisory Committee presentation (Unanimous Support)
October 19 Transportation Board presentation (Unanimous Support)
November 10 Planning and Zoning Board Hearing (Unanimous Support)
December 7 Pre-Construction Neighborhood meeting
Design and Construction Timeline
| | |
| --- | --- |
| Final Design | Fall 2016 |
| Utility Relocations | December 2016 - January 2017 |
| Phase One (CSU Property) | January - February 2017 |
| Phase Two (Shields Street) | March - April 2017 |
| Phase Three (Campus West) | May - August 2017 |
Construction Goals
The underpass project is a key component of the recently adopted West Elizabeth Enhanced Travel Corridor Plan, and builds upon past planning efforts conducted by the City and the University.

With this project our goals are to:
Improve Safety by:

Separating travel modes to make it easier for bicyclists and pedestrians to cross Shields Street between the West Elizabeth corridor and the University campus
Reducing the number of conflict points and accidents between vehicles, bicyclists, and pedestrians
Relocating the Elizabeth Street mid-block crossing and adding three HAWK signals to protect bicycle and pedestrian crossings

Improve Traffic Flow during Campus Events:

The underpass will allow for "free flow" bicycle and pedestrian traffic to and from campus following Moby and stadium events
The Moby parking lot driveway will be modified at this intersection to allow for dual left turns out of the parking lot

Plan for the Long-Term Vision by:

Creating a gateway feature between the Campus West area and the University
Constructing urban design features and environmentally sensitive landscaping improvements which complement the surrounding land uses
Providing a safer alternative for multi-modal travel

Minimize Construction Impacts by:

Implementing a phased construction schedule which optimizes opportunities during Winter Break and Spring Break
Scheduling the most impactful work during the less busy times for businesses in the Campus West area
Working with area residents and communicating detour routes to deter neighborhood cut-through traffic
Providing clear communication for bicycle and pedestrian traffic in the area
Project Funding
Colorado State University is funding the design and construction of the underpass project. The City is funding the upgraded traffic signal system and bicycle / pedestrian HAWK signals
Other Resources
Project Contacts
Tim Kemp | City of Fort Collins Project Manager | 970-416-2719 | tkemp@fcgov.com
Tony Flores | CSU Project Manager | 970-491-7110 | steven.flores@colostate.edu