Art in Public Places – Celebrating Over 20 Years
Art Coming to College and Horsetooth Intersection
Fort Collins artist Tim Upham will be installing Horsetooth Towers on both sides of the bridge on the west side of the College and Horsetooth intersection. Tim worked with the Project Team to develop light towers created from stainless steel frames and river rock gabion bases that act as beacons on the Canal Bridge on Horsetooth Road. These vertical elements bookend and accent the railing design that alludes to Horsetooth Rock. The upper portion of towers create a puzzle pattern with buff and dark red sandstone while other sections are translucent with polycarbonate and crushed glass.
The image shows Tim and one of the towers in his shop as it was being fabricated.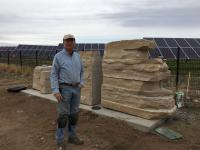 Have you seen a crane at Riverside and Mulberry lately? How about the rock sculptures that are beginning to dot the site? Artist Robert Tully has been installing his Mulberry Gateway project. The sculptures are intended to serve as a gateway to Fort Collins. The artwork is a series of sandstone sculptures with colored-metal accents, that will be illuminated for a nighttime presence. Mulberry Street (State Highway 14) is part of the Scenic Byway leading up the Poudre Canyon. While continuing the theme of the stone used on the Mulberry Bridge, the sculptures are also inspired by the prominent buff sandstone cliffs where Highway 14 splits from Highway 287. Once the sculptures are installed, landscaping will finish the design of the corner.
Pianos About Town is a collaborative effort between the Fort Collins Art in Public Places Program and community partners Bohemian Foundation and the Downtown Development Authority. This exciting project brings together visual art and music for the public to enjoy. We currently in our 8th season! For updates and to share your photos and videos of the pianos in action, please visit us on Facebook.
Help us care for the pianos! If you enjoy playing the pianos, help us protect them by closing the keyboard cover after each use and using the attached tarp to cover the piano in times of bad weather and overnight—Thank you!
2018 Piano Muralists
Burt Nunnelee
Oct 3 - Oct 18
Piano concept
Diana Dellos
Sep 19 - Oct 1

Piano concept
Kristen Vohs

Sep 5 - Sep 17

Piano concept
Chelsea Gilmore
Aug 22 - Sep 3
Piano concept
Ren Burke

Aug 1 - Aug 20
Piano concept
Kyla Novak
Jul 18 - Jul 30

Piano concept
Robin Street

Jul 4 - Jul 16

Piano concept
Chelsea Ermer

Jun 20 - Jul 2
Piano concept
Mary Harnett
Jun 6 - Jun 18
Piano concept
Larry Tucci

May 23 - Jun 4
Piano concept
Chris Bates
May 9 - May 21
Piano concept
Clint Burkholder

Mar 27 - May 8
Piano concept
2018 Transformer Muralists