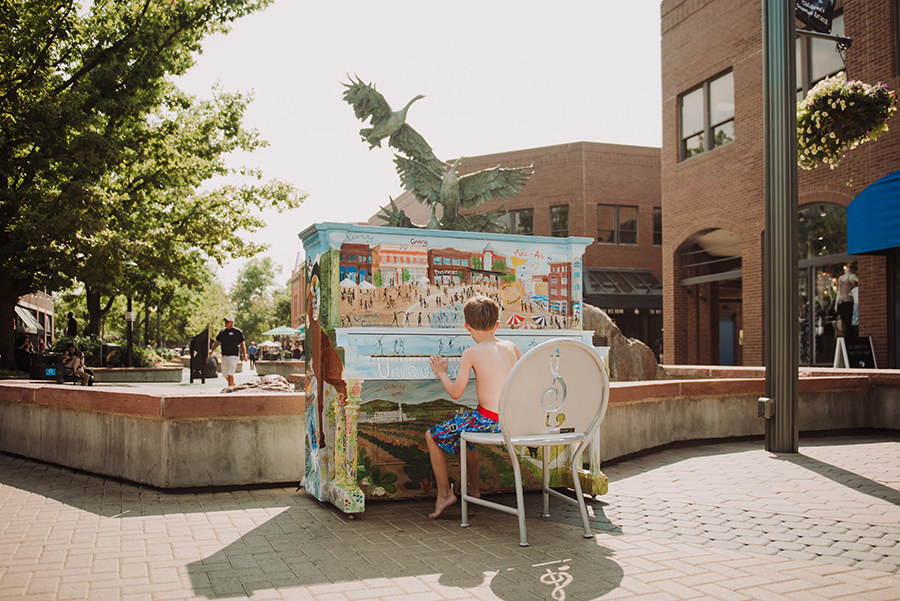 The 100th piano mural painted by Karina Branson in 2018.
Pianos About Town is a collaborative project between the City of Fort Collins Art In Public Places Program, Bohemian Foundation, and the Downtown Development Authority. The project combines art and music for the enjoyment of the community. Pianos are painted from May through October in Old Town Square, where the public can interact with the artists as they work. Pianos are also painted in the winter months, in various public indoor locations. The completed pianos then rotate to various locations throughout Fort Collins, inviting people to admire the artwork and play a tune.
Questions About Applying?#
If you are interested in painting a piano for Pianos About Town in 2024, we will post the call for artists in late December. You can also come to our informational sessions to learn more about the process.
Virtual Presentation and Q&A
Jan. 31, 6:30-7:30 p.m.
Zoom Link
This virtual session will include a presentation at 6:30 p.m. about the application and review process. Program staff will be available to answer questions at the end of the session.
One-On-One Meetings with Program Staff
Feb. 14, 2-6:30 p.m., by appointment
Link to sign up will be posted after the first session
Staff will be available to meet with applicants one-on-one for up to 30 minutes to review applications and make application recommendations. Staff also will be available to provide general information for applicants who were unable to attend the first information session.
Have Questions? Contact Liz Good at (970) 416-2646; lgood@fcgov.com.