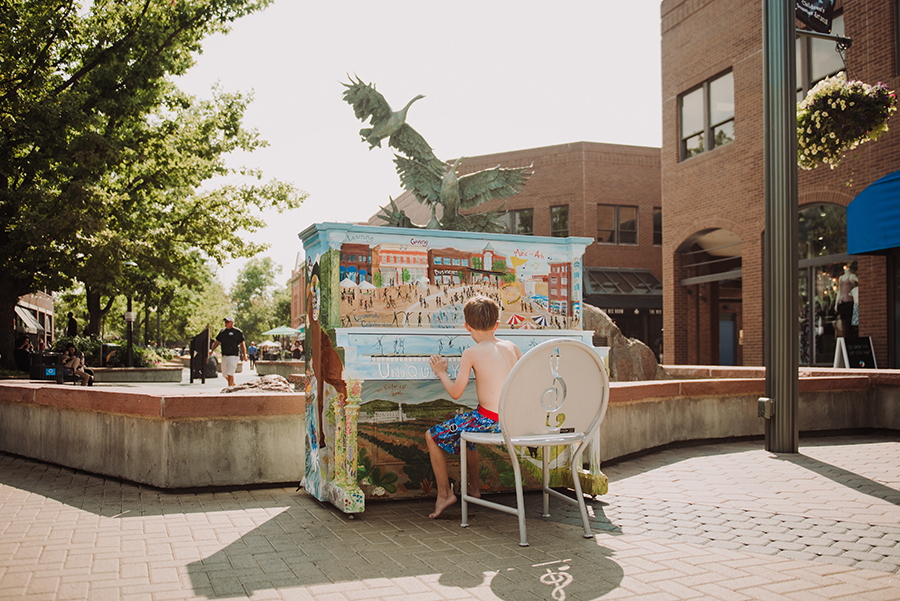 The 100th piano mural painted by Karina Branson in 2018.
Pianos About Town is a collaborative project between the City of Fort Collins Art In Public Places Program, Bohemian Foundation, and the Downtown Development Authority. The project combines art and music for the enjoyment of the community. Pianos are painted from May through October in Old Town Square, where the public can interact with the artists as they work. Pianos are also painted in the winter months, in various public indoor locations. The completed pianos then rotate to various locations throughout Fort Collins, inviting people to admire the artwork and play a tune.
See the 2022 Murals in Progress
Paint
a

Pianos About Town Mural, Deadline February 28#
The City of Fort Collins Art in Public Places (APP) Program, in cooperation with community partners Bohemian Foundation and Downtown Development Authority, seek to involve local artists/teams by commissioning them to work with the Pianos About Town Project team to paint murals or otherwise artistically decorate working pianos. The artists will be required to work on the piano in Old Town or other APP determined location in Fort Collins. The intent of this project is to create the attraction of an artist working on site and to place decorated pianos around the Fort Collins area. The artists/teams are required to develop and submit a visual concept for the mural to be painted and/or decoration to be added to a functioning piano. The Selection Committee will select multiple artists for this project. Selected artists will receive a $1,000 honorarium. Deadline: February 28, 2023 by 4:00 pm.
Questions About Applying?#
If you are interested in painting a piano for Pianos About Town in 2023, come to our informational sessions to learn more about the process. Neither session is required in order to apply.
Virtual Presentation and Q&A
Feb. 8, 6:30-7:30 p.m.
Join Zoom Meeting on Feb. 8:
https://fcgov.zoom.us/j/97359215939?pwd=R3d6NEZpbXFYV1FmbzRSa0owYWk1QT09
This virtual session will include a presentation at 6:30 p.m. about the application and review process. Program staff will be available to answer questions at the end of the session.
One-On-One Meetings with Program Staff
Feb. 22, 2-6:30 p.m., by appointment, sign up details will be posted after the first presentation
Staff will be available to meet with applicants one-on-one for up to 30 minutes to review applications and make application recommendations. Staff also will be available to provide general information for applicants who were unable to attend the first information session.
Questions? Contact Liz Good at (970) 416-2646; lgood@fcgov.com.