Flashing Yellow Arrow Signal#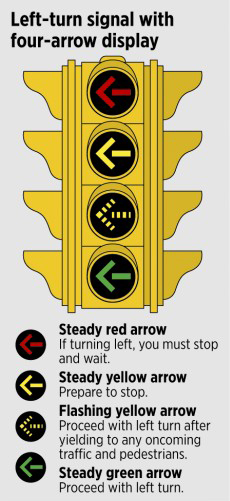 Several intersections throughout Fort Collins are about to get updated with the latest in traffic signal technology - the flashing yellow arrow. The flashing yellow arrow is part of a new signal display system that more clearly indicates to drivers when it is ok to make a left turn across traffic. Already installed:
College and Willox all 4 directions
College and Foothills WB only
College and Kensington NB and SB (flashing yellow for off peak hours only)
College and Monroe NB and SB (flashing yellow for off peak hours only)
Mason and Harmony EB and WB
College and Stuart NB and SB
Center and Prospect EB and WB
Shields and Trilby NB and SB
Timberline and Timberwood EB only
Snow Mesa and Harmony NB only
Coming Soon:
College and Cherry EB only
How
the

Signals Work#

See the Flashing Arrow in Action!

View a brief video created by another community to demonstrate how these signals work.
A Little Signal History#
When making a left turn, drivers traditionally see a green ball, which means you can make a left turn, but must yield to oncoming traffic. Research shows many motorists are confused by the green ball and either fail to yield or think they are not allowed to make the left turn.
Federal Highway Administration (FHWA) research found motorists more clearly understood what to do when presented with the flashing yellow arrow. Further, the flashing yellow arrow provides more flexibility in signal timing operations as it can be optimized for certain times of day. This ultimately improves safety and improves traffic flow.