Advanced Traffic Management System (ATMS)#
The Advanced Traffic Management System is the traffic signal control system used by Traffic Operations to monitor traffic and control the traffic signals in Fort Collins. Utilizing wireless communication and over 33 miles of fiber optic technology, the ATMS connects over 175 traffic signals, 42 closed-circuit television cameras and remote data sensors throughout the City, allowing traffic engineers to effectively manage and analyze real-time traffic conditions.
The ATMS is housed at the City's Traffic Operations Center (TOC) at 626 Linden Street. From this location, traffic engineers can monitor the transportation system, modify signal timings and troubleshoot many signal malfunctions.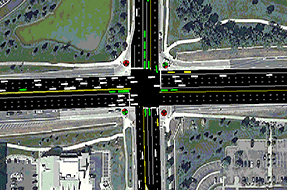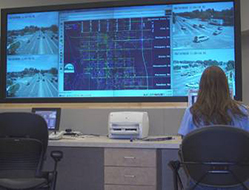 Tour
the

Traffic Operations Center!#

Traffic Operations is resuming public tours of the Traffic Operations Center! Learn about the work we do and the systems we use to keep traffic moving and safe in Fort Collins.

Tours are currently scheduled for:
Tuesday, Feb. 21, 2023
Thursday, April 20, 2023
Thursday, June 22, 2023
Thursday, Sept. 21, 2023
All tours are 6 p.m. to 7:30 p.m.
Space is limited on each tour (16-20 participants maximum). To reserve a spot, call Traffic Operations at 970-221-6630 or e-mail TrafficOperations@fcgov.com.