Crack Seal#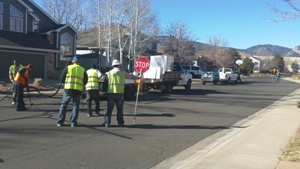 Cracks can form in asphalt or concrete pavements through various modes of distress. Regardless of how the cracks form, they must be repaired to help protect the pavement structure. If the cracks are not maintained, they can ravel and increase in size. Unsealed cracks allow water to penetrate into the structure from the pavement surface, which eventually causes potholes and further deterioration. Water intrusion is the number one enemy of pavements. Crack sealing is the single most important and cost effective maintenance option used to help protect the pavement structure. It is often placed in advance of overlays and surface treatments to improve performance.
Benefits of Crack Seal:
Prevents sand, stones and dirt from entering into open cracks
Prevents water from entering and weakening the sub base and pavement
Prevents or delays pothole formation
Reduces pavement damage from the freeze-thaw cycle
Crack Seal has a life expectancy of approximately 3-5 years.
Slurry Seal#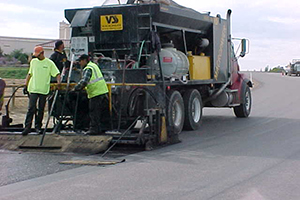 Slurry seal is a surface treatment designed to extend the life of existing pavements by filling surface cracks and voids, sealing weather tight, and adding texture and uniform appearance to the street. In general, asphalt patching and concrete repairs will occur the year before the slurry seal is to be applied. After these repairs are completed crack sealing is then typically performed that fall or the following spring. The final step is to slurry seal the street during the summer.
Benefits of Slurry Seal:
Extends the useful life of the pavement by keeping air/water out and stopping oxidation
Does not require milling or resetting of utilities
Improves safety by providing a high skid resistance surface
Restores uniform black color
Cost effective treatment that will stretch maintenance dollars
Slurry Seal has a life expectancy of approximately 6-8 years.
Chip Seal#
Chip Seal is used to maintain, protect and prolong the life of an existing street or road. It will improve the skid resistance to allow for a safer driving surface, improve the overall appearance, provide a weatherproof membrane to repel moisture from damaging the base and extends the useful life of the existing pavement.
Benefits of Chip Seal:
Extends the life of an existing asphalt surface by protecting it from oxidation and deterioration
Stretches maintenance dollars and is a strong return on investment
Seals and resists reflection of small surface cracks
Reduces future cracking, distress and potholes that eventually start to appear
Improves skid-resistance and safety with a high friction surface
Chip Seal has a life expectancy of approximately 8-10 years.
Double Chip Seal#
Double Chip Seal is an application of two layers of Chip Seal applied one after another.
Benefits of Double Chip Seal:
Extremely durable, reduces and or eliminates cracking
Extends life of existing asphalt pavement
Easy, quick application. Minimum disruption to traveling public
Reduces snowplow damage
Strong solution for a distressed pavement in lieu of removing and replacing pavement
Double Chip Seal has a life expectancy of approximately 8-10 years.
Cape Seal#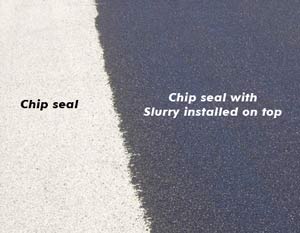 A Cape Seal is a two-step surface treatment that combines Chip Seal and Slurry Seal applications. The Chip Seal portion of this application helps provide a waterproof membrane to repel moisture from entering the sub-grade and adds elasticity to prevent reflective cracking from showing through the new surface. After the Chip Seal process has been completed, Slurry Seal will then be applied within 48 hours to hold the loose chip material in place and provide a smooth texture for the final product.
Benefits of Cape Seal:
Extends the life of an existing asphalt surface and is more durable than a standard Slurry Seal
No milling or utility adjustments are required
Significantly reduces cracking that appears overtime
Strong usage for residential streets due to its ability to provide the strength of a Chip Seal with the smoothness of a Slurry Seal
No structural damage from snowplows
Cape Seal has a life expectancy of approximately 8-10 years.
Asphalt Overlay#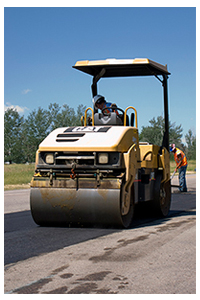 An asphalt overlay is the application of the top layer of asphalt onto the existing pavement surface. Hot mix asphalt (HMA) is mixed, placed and compacted at elevated temperatures, hence the name. HMA material is a precisely engineered product composed of about 95 percent stone, sand, and gravel by weight, and about 5 percent asphalt cement, a petroleum product. Asphalt cement acts as the glue to hold the pavement together.
Asphalt is Americas most recycled material. In Fort Collins, most HMA contains approximately 20% recycled asphalt. Recycling is just one reason that asphalt is such a sustainable pavement.
Benefits of Hot Mix Asphalt Overlay:
Less expensive than complete removal and replacement
Adds structural strength to the existing surface
Can improve drainage in streets
Re-establishes proper grade
Improves surface for smoother driving and better traction
HMA has a life expectancy of approximately 16-20 years depending on the volume of traffic.