Your Part#
How can you be assured you can safely get your kids to school, yourself to work, and any other place you need to go? It is important to be prepared before the first snowflake hits the pavement. Consider these winter tips:
Make certain that your vehicle is ready for winter driving conditions long before a storm rolls into town. Being prepared means that your vehicle has decent tires, good wiper blades and a working defroster and an ice scraper.
When there is a storm, only travel when absolutely necessary.
If you do have to travel, reduce your speed in snow and ice conditions. Reckless driving and high speeds are the number one cause of most winter accidents. Remember that bridge crossings are highly susceptible to freeze over first.
If a storm is forecast, please remove your parked vehicle from the street so that snow plows can clear their routes from curb to curb. Find out if you live on a Snow Route.
Snow Emergencies#

When storm conditions are severe, a Snow Emergency may be declared. Factors such as wind and temperature combined with current and projected snow accumulations, influence this decision. When a Snow Emergency is declared, newspapers and local radio and television stations are informed in an effort to alert the public. All parked, stalled or abandoned vehicles may be towed from Priority 1 routes at the owner's expense during Snow Emergencies. These streets (major arterials like College, Lemay, Laporte, etc) are posted as "Snow Route Tow Away Zones." In severe weather conditions, residents are advised to avoid driving if possible.
Watch out
for

Snow Plows#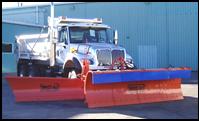 Please use extra caution when driving near snow plows. Refrain from passing any snow plow until the plow vehicle stops or turns. If you do decide to pass, make sure there is a clear path to do so.
Visibility may be impaired by blowing snow or other winter conditions. Avoid driving into a snow spray cloud that is created by the plow as this may cause a total "white out" of zero visibility to the driver.
Motorists should use extra caution when driving near specialized wing plows, which have a regular 12 foot plow in the front and a 9 foot wing plow that hangs to the right. This wing plowing system clears both the driving lane and shoulder lane or two lanes of traffic in one pass. This also means it can be extremely dangerous for motorists who try to pass the plow.