11 a.m. to 5 p.m. (M-F, except for holidays)
Regional Wasteshed Coalition
Because the Larimer County Landfill is forecast to reach capacity by 2025, Fort Collins is working with several other municipalities and Larimer County to plan for the next generation of waste material handling in our region.
waste·shed
ˈwāstəˌSHedˈ
noun
1. An area that shares common rules and means for handling waste.
The term "wasteshed" is used to describe an area where waste, much like water or air, does not adhere to normal boundaries. The regional wasteshed of Colorado's North Front Range is an area in and around Larimer County, including all solid waste generated by residents and businesses from the cities, towns, and unincorporated areas.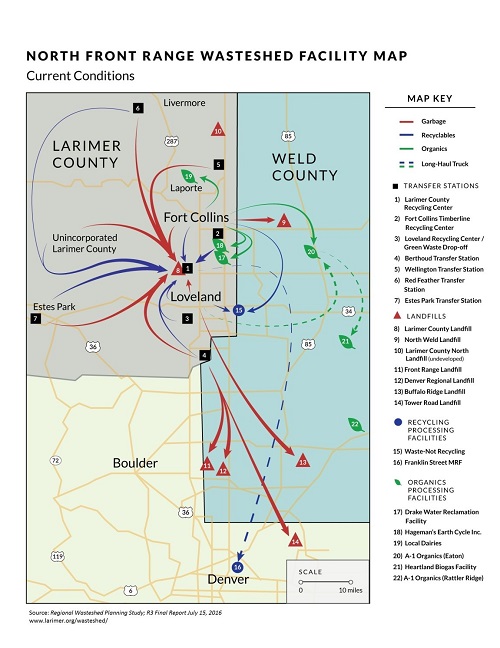 Wasteshed Coalition
The Larimer County Landfill is the only publicly-owned landfill in Northern Colorado. The facility is forecast to reach capacity and close in 2025. When a landfill closes, it is an opportunity for a community to step back and decide how to invest in the future. The close collaboration between jurisdictions on this issue is very timely and the outcomes may create opportunities for Fort Collins to recycle and compost more of our waste.
Staff and elected representatives from Fort Collins, Loveland, Estes Park, and Larimer County formed the North Front Range Wasteshed Coalition to engage in a rigorous, multi-year planning process, with the help of a Stakeholder Advisory Group and public input. The goal of this comprehensive planning process is to have facilities built before the County landfill closes. The successful combination of facilities and supportive programs are needed to:
continue to manage solid waste,
increase the recovery of resources, and
maintain convenience and affordability for residents of the North Front Range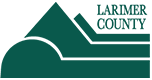 The Wasteshed Coalition includes a Technical Advisory Committee (TAC) made up of staff and a Policy Advisory Committee (PAC) made up of elected officials:
Larimer County – Steve Johnson (Commissioner)
City of Fort Collins – Wade Troxell (Mayor) and Ross Cunniff (Councilmember)
City of Loveland – Leah Johnson (Councilmember)
Town of Estes Park – Wendy Koenig (Mayor Pro Tem)
Wasteshed Project Timeline
2015-16
Coalition formed
Initial research
Waste Sort Audit
Public engagement
2017
Adopted goals
Initial stakeholder input
Options analysis
Public engagement
2018-19
Recommendations:

Infrastructure packages
Supportive policies

Financing options
Public-private partnerships
Public engagement
2020-25
Infrastructure design and construction
Public engagement
View more information on the North Front Range Wasteshed planning process.
Phase 1
The first phase of the project focused on information gathering.
A preliminary Regional Wasteshed Planning Study was researched and prepared in 2016 to better understand how much solid waste is generated in the region, where it goes, and what options exist for after 2025. Read the full report.
During the summer of 2016 more than 1,200 Larimer County residents responded to a survey regarding their recycling habits and attitudes. Read the summary report.
Survey responses and information from the Planning Study were used to design public forums, four of which were held with the help of CSU's Center for Public Deliberation.
A two-season "waste characterization" study of material accepted for disposal at the Larimer County Landfill was conducted in 2016. A major finding of the waste sort was that organics (yard trimmings and food scraps), as well as construction and demolition materials, offer a significant opportunity for waste diversion. Read the full report.
Phase 2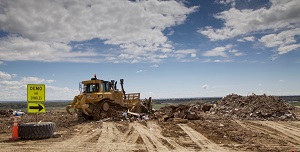 The second phase of the project focused on setting unified goals for the process and assessing options for new facilities and programs. Adopted Wasteshed Goals:
Establish regional materials management system
Implement solid waste programs and facilities
Develop waste diversion/reduction goals for all jurisdictions
Conduct strong, consistent public education and outreach
A Stakeholder Advisory Group met throughout 2017 to assist the Coalition by reviewing relevant technical and policy information.
Eleven possible solid waste infrastructure options (see following table) have been identified. Each option is being evaluated to determine its benefits and costs using a triple-bottom line modeling tool to calculate financial, environmental, and social impacts. Other considerations include capital costs, timeframe to complete, projected disposal costs, and portion of the waste-stream handled. Recommendations for which options to advance to be put forth by the Coalition in 2018.
Infrastructure Options Evaluated
Central Transfer Station
New County Landfill
Yard Waste Composting Facility
Food Waste Composting Facility
Construction and Demolition (C&D) Processing Facility
"Clean" Material Recovery Facility (MRF)
Food Waste Pre-processing Facility for Anaerobic Digestion
Direct Combustion Energy-from-waste Facility
Refuse Derived Fuel (RDF) Energy-from-waste Facility
"Dirty" Mixed-Waste Material Recovery Facility
Status Quo (Do Nothing Upon Landfill Closure)
Next Steps
In 2018, the Coalition will produce a final report detailing the pros and cons of options for solid waste infrastructure and conduct extensive public outreach, including continued work with the Stakeholder Advisory Group, before offering recommendations on which scenarios to pursue. Approaches to financing and public-private partnerships will an important part of 2018 work.
Watch this page for updates and a schedule of public meetings.
Visit Larimer County's Future Planning page for more information on the North Front Range Wasteshed planning process.