11 a.m. to 5 p.m. (M-F, except for holidays)
Regional Wasteshed Planning
After more than 50 years of service the Larimer County Landfill is almost at the end of its useful life – it is forecast to reach capacity and close by 2024.
The City of Fort Collins has been working closely with regional partners to plan for the long-term future of waste disposal and resource recovery infrastructure in Northern Colorado. After several years of careful analysis and stakeholder input, a master plan for regional solid waste infrastructure has been adopted by Larimer County.
Continue exploring this page to learn about all about these exciting new plans!
---
Significant new infrastructure is planned including resource recovery facilities for green waste and construction debris, a convenient trash drop-off site for residents and trash haulers, upgrades to the existing recycling center, and a new landfill in the north part of the county – all without using taxpayer funding!
---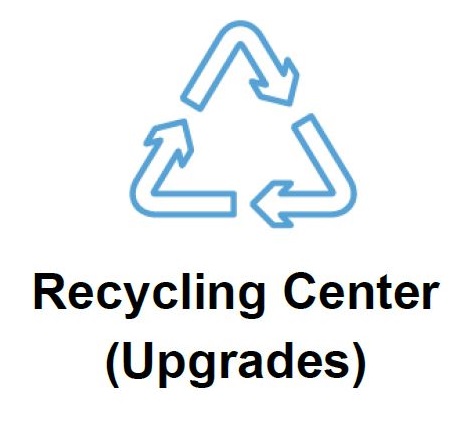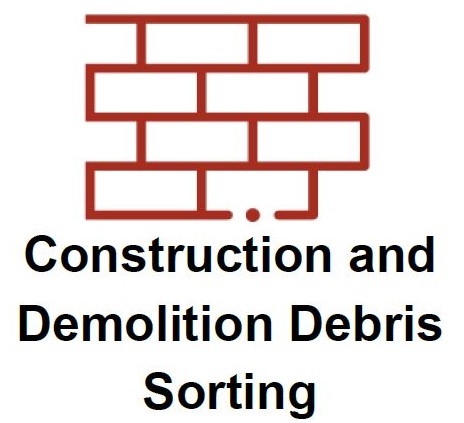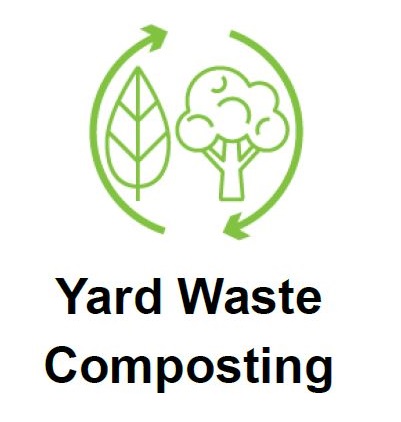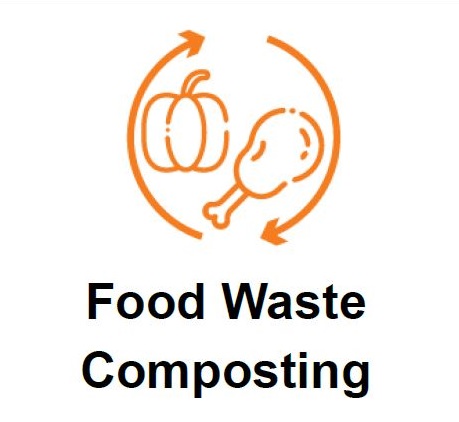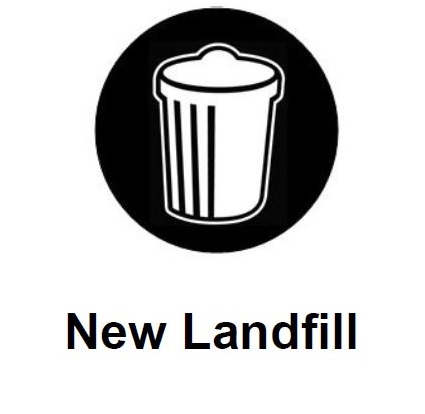 ---
All proposed facilities, except the new landfill, would form a resource recovery center at a familiar and centralized location adjacent to the existing landfill (near S. Taft Hill Road & W. Trilby Road).
The trash transfer station would provide a high level of convenience and safety to customers with a new entrance and separate lanes for commercial and self-haul visitors.
A modern, sanitary landfill would be built on a section of County-owned land in northern Larimer County and would predominantly accept trash from the Central Transfer Station (including landfill waste from Fort Collins).
---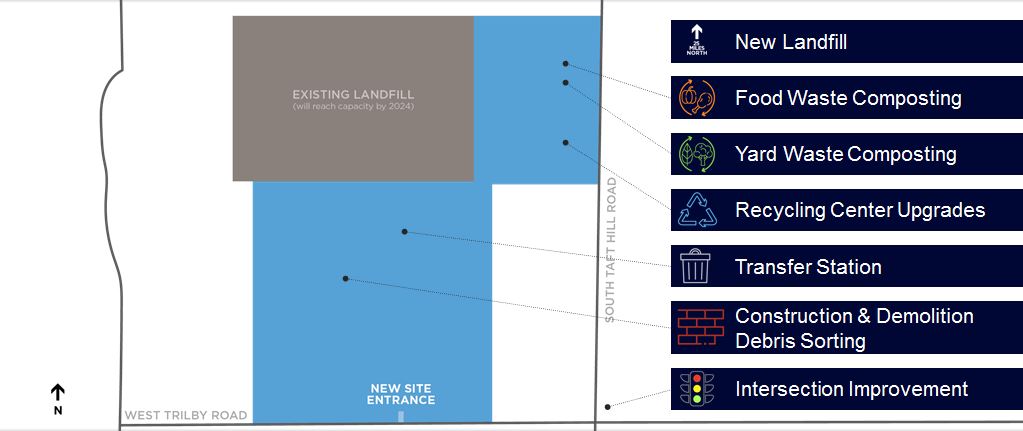 Map of proposed resource recovery facility, located just south of the existing landfill complex (near S. Taft Hill Road & W. Trilby Road).
The proposed Regional Wasteshed Coalition Master Plan calls for new policies and programs to be implemented in Fort Collins and Larimer County. These policies will help drive material to the proposed County-owned facilities and help ensure that they are financially viable.
---
Flow Control for Construction and Demolition Debris (C&D)
All mixed loads of construction and demolition debris must be sent to a County-owned processing facility for a period of ten years (projects over 1,000sf).
Flow Control for Single-Stream Recyclables
Mixed curbside recycling must be sent to a County-owned recycling center.
Yard Trimmings and Food Scraps Diversion
Municipalities would be expected to develop policies and programs appropriate for their community to divert green waste from landfills.
waste·shed
ˈwāstəˌSHedˈ
noun
1. An area that shares common rules and means for handling waste.
The term "wasteshed" is used to describe an area where waste, much like water or air, does not adhere to normal boundaries. The regional wasteshed of Colorado's North Front Range is an area in and around Larimer County, including all solid waste generated by residents and businesses from the cities, towns, and unincorporated areas.
---
Regional Wasteshed Master Plan
for

Solid Waste Infrastructure

The Larimer County Landfill is forecast to reach capacity and stop accepting waste in 2024. The process to design, permit, and construct new facilities can take years, so decisions about what should replace the current landfill are being made now to allow enough time for new facilities to be built.

Unprecedented regional collaboration for solid waste planning has yielded a master plan for infrastructure that can divert significant waste from landfills without capital investment from the City of Fort Collins. To support this project, the role of municipalities in the region is to adopt policies and programs that will deliver materials to the new County-owned resource recovery facilities.
---
Throughout Fort Collins valuable resources are currently being buried in landfills, as shown in the figure to the left and in the 2017 Waste & Recycling Report. To help meet community diversion goals and serve the region for decades to come new facilities are outlined in the new master plan, The proposed facilities are projected to divert as much as 40% of what is currently landfilled, delivering useable products back into the regional economy.
---
The Regional Wasteshed Coalition is made up of staff and elected representatives from Fort Collins, Loveland, Estes Park, and Larimer County. Throughout a rigorous, multi-year planning process, the Coalition worked with stakeholders and the public to research and propose new facilities to construct and open before the County landfill closes.
---
Regional Wasteshed Planning Timeline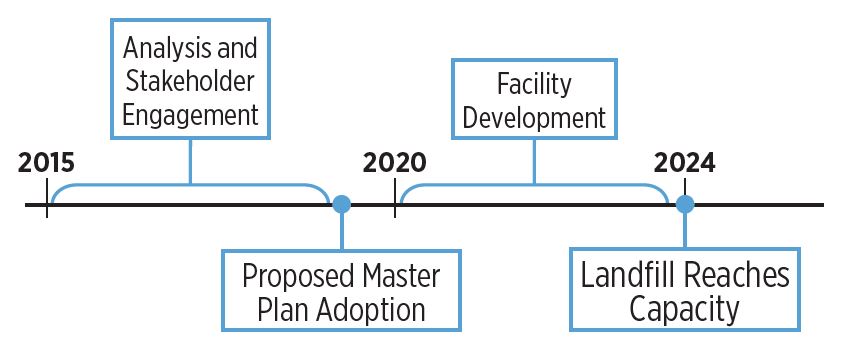 The planning process included extensive analysis of:
Current and future regional solid waste volumes
Emerging technologies for resource recovery
Recommended infrastructure elements

Including triple-bottom line and market impacts

Policies to support new facilities
Eleven possible solid waste infrastructure options were identified for analysis and narrowed down to the five new facilities recommended based on cost-benefit ratio, timeframe to complete, and projected tipping fees.
The Coalition worked closely with stakeholders and members of the public in developing the proposed Master Plan.
A Stakeholder Advisory Group met seven times between May 2017 and September 2018 to provide input and review technical and policy information produced by coalition staff.

Over 50 stakeholders were invited to participate from key sectors including: the business community, academia, regional governments, waste haulers and recyclers, boards and commissions, state agencies, and advocacy groups.

Coalition staff met directly with local waste haulers throughout the project to seek feedback and discuss impacts on their operations.
Staff engaged with numerous boards and community groups and they provided feedback throughout the project.
Four open houses were held in May of 2018 throughout the County to educate the public about the topic and seek input to the plan.
---
Fort Collins City Council unanimously adopted a resolution of support for the master plan on January 15, 2019. An intergovernmental agreement formalizing commitments by participating jurisdictions is being developed for review at a Council work session on February 12, 2019. Implementation of the master plan, including design, permitting, and construction of new facilities would begin in 2019 with the intention of all facilities being operational by 2024.
---
How
to

Get Involved

Fort Collins Residents can get involved in the Regional Wasteshed Planning Process by:
---
The Larimer County Landfill is forecast to reach capacity and stop accepting waste materials by 2024. The process to design, permit, and construct new facilities can take years so a final decision on what should replace it must be made now to allow enough time for new facilities to be operational before the landfill closes.

---

The term "Wasteshed" is used to describe an area where waste, much like water or air, does not adhere to normal boundaries. The regional Wasteshed of Colorado's North Front Range is an area in and around Larimer County, including all solid waste generated by residents and businesses from the cities, towns, and unincorporated areas.

---

Transfer Station – Convenient trash drop-off for both residents and trash haulers in separate traffic lines.
Recycling Center (Upgrades) – Improvements to the existing facility that handles mixed recycling.
Construction and Demolition (C&D) Debris Sorting – A covered facility that sorts out mixed loads of materials from building sites (such as wood, metal, and concrete, etc.).
Yard Waste Composting – Windrow composting system that turns yard trimmings (leaves, branches, grass, etc.) into a valuable soil amendment (compost).
Food Waste Composting – An enclosed composting system that turns food scraps into a valuable soil amendment (compost).
New Landfill – A modern sanitary landfill for containing garbagw.

---

Over the last several years a coalition of regional governments has conducted rigorous analysis, with input from key stakeholders and the community. The five new facilities being proposed were selected based on several factors:

total cost-benefit ratio,
projected disposal fees,
whether they would be operational before the current landfill closes (2024 forecast), and
how they align with the established goals of the landfill replacement planning process.

Additional options for solid waste infrastructure that did not meet these criteria at this time were identified and will be assessed for feasibility regularly by a regional Advisory Council.

---

It is estimated that as much as 40% of the materials currently being sent to landfills could be diverted by the proposed resource recovery facilities.

---

No. The capital needed for new facilities (approximately $56 million) would come from existing funds and financing managed by the Larimer County Solid Waste Department. Municipalities would offer support through partnership and policy rather than financial contribution. Future revenue needed for operation of the facilities would be generated by user fees.

---

Cost impacts to existing trash collection service are expected to be very small. Future costs for new services will vary for each community. The closing of the only publicly-owned landfill in the region will lead to disposal rate changes with or without new facilities. Waste haulers set their own rates for collection services in Fort Collins and will adjust their pricing as needed in response to new rates and rules. Research indicates an average monthly cost increase of less than 10% for trash collection service. This is because disposal costs are only a small part of the costs to haul waste materials.

---

Yes, policies are needed to direct mixed construction and demolition debris and mixed curbside recyclables to the recycling centers to kick-start markets for those materials and encourage investment in these facilities. Participating towns and cities would need to develop programs and policies appropriate for their community to encourage yard trimmings and food scraps recycling at local private and public facilities.

No new rules are proposed for how or where trash is disposed.

Proposed policy to support Larimer County infrastructure investments:

Flow Control for Construction and Demolition Debris (C&D)

All mixed loads of construction and demolition debris must be sent to a County-owned processing facility for a period of ten years (projects over 1,000sf).

Flow Control for Single-Stream Recyclables

Mixed curbside recycling must be sent to a County-owned recycling center.

Yard Trimmings and Food Scraps Diversion

Municipalities would be expected to develop policies and programs appropriate for their community to divert green waste from landfills.

---

Flow control ensures there's enough material coming into a facility to make it financially viable and to spur future investment. Landfill disposal fees are expected to be approximately 20% lower than recycling fees so market forces alone won't drive recyclable materials to resource recovery facilities.

---

Still to be determined. Public-private partnerships may be established for facility operation.

---

No. The new resource recovery center proposed just south of the existing landfill (at Trilby and South Taft Hill roads) would include a transfer station for trash, so residents can continue to dispose of materials at this familiar location right between Fort Collins and Loveland.

---

Larimer County would continue to host recycling and household hazardous waste drop-off.
The Timberline Recycling Center would continue to provide recycling services for everyday recycling and hard-to-recycle materials.
Convenience centers in Wellington, Red Feather Lakes, and Estes Park would continue to accept waste material from the public.
Convenient trash drop-off at a state-of-the art transfer station will be easily accessible to visitors as well as drop off for green waste and construction materials.

---
---