Old Town Historic District and
the River Downtown District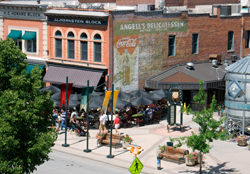 Design Standards and Guidelines
The City of Fort Collins is currently addressing design standards and guidelines for the new development and redevelopment of existing buildings within the Old Town Historic District and the River Downtown District. These are two separate projects in the same relative area of Fort Collins. To maximize resources, the two are progressing together under one management team and on the same timeline.
Old Town Design Standards and Guidelines
The objective of this project is to create updated design standards and guidelines for the Fort Collins Old Town Historic District. These will include a section on sustainability guidelines for historic preservation, in addition to addressing other contemporary issues with new construction and redevelopment within the historic district. The project purpose is to develop comprehensive standards and guidelines to guide property owners, staff, and the Landmark Preservation Commission's review of alterations, additions, and new construction within the District.
River District Design Guidelines
The goals of this project are to identify, evaluate, and implement measures to achieve a high quality of site and building design for new non-industrial development projects that preserve and promote the unique character of the river district.
PROCESS AND SCHEDULE
The project will begin in September 2013 and is anticipated to finish in June 2014 with a City Council adoption hearing. Public outreach will take place to invite anyone interested in the character of these areas and how development and building changes can be sensitive to and compatible with the existing development in these special historic districts to provide input and feedback. There have been two public meetings about the project and there are more public engagement opportunities to come.
October 3, 2013: Project Informational Meeting
November 13, 2013: Public Informational Workshop
Contacts
Ted Sherpard | Chief Planner
City of Fort Collins
970-221-6343 | tshepard@fcgov.com
Karen McWilliams | Historic Preservation Planner
City of Fort Collins
970-224-6078 | kmcwilliams@fcgov.com
Josh Weinberg | Preservation Planner
City of Fort Collins
970-221-6206 | jweinberg@fcgov.com