Asian Americans
in

Early Fort Collins#
Disclaimer: The information below relies on primary source material from Fort Collins history that often used outdated, racist and offensive terms to refer to Asian Americans. In some cases, those terms have been included here to acknowledge and accurately reflect the experiences of Asian Americans in Fort Collins and the challenges they faced, and sometimes still face.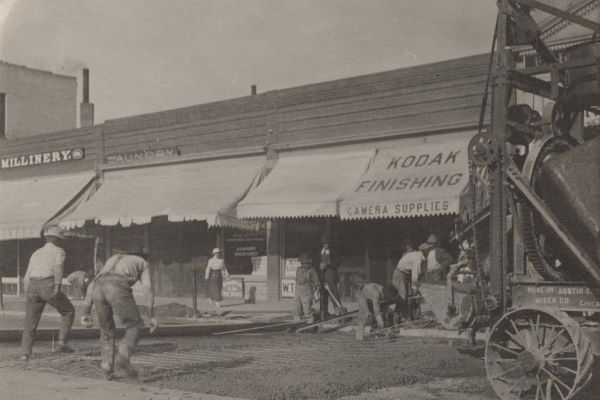 The Asian American experience in Fort Collins is nearly as old as the community itself. People from Asia, especially China, were early residents of many towns in the western United States, starting with the first waves of immigration to the Pacific coast in the late-1840s. They were among the first permanent immigrants from Asia, and were followed in later decades by Japanese residents, and then by much broader waves of immigration from elsewhere in Asia. The experience that began there evolved over time, facing white supremacy and racist stereotypes ranging from opium addiction to problematic labeling as America's "model minority." This brief story attempts to explain a small piece of this story during the first decades of Fort Collins' existence.
The discovery of gold in California in 1849 led to a global rush to the region, and Chinese men were among them, pulled by the hope of gold prospecting, and pushed by famine in many of the southern regions of China. The construction of the transcontinental railroad between Missouri and California from 1862 to 1869 took advantage of the available labor presented by Chinese men who had immigrated to America. Many of those men, usually single, who had struck out in the gold fields were looking for work and were recruited by the Central Pacific Railroad to build the route from Sacramento west across Nevada and into Utah. After completion of the railroad in 1869, these men found work building secondary railroad lines, on timber cutting crews, or in service industries in the hundreds of towns that emerged along the new rail lines. It was common for most western towns, even small ones, to have a small "Chinatown" and several Chinese-owned businesses such as restaurants, shops, and laundries in their central business districts.
Fort Collins was no exception. By 1881, a laundry owned by Sam Lung began operating along an alley off Linden Street in the rear of Bernard's Shoe Store. Lung's laundry was short-lived, operating until Lung left for Rock Springs, Wyoming in the fall of 1882. By 1885, local newspapers advertised for Yee Lee's laundry in the "Chinese quarter" of Fort Collins, indicating that a small "Chinatown" had developed in the business district known today as Old Town.
While Fort Collins had several Chinese-owned businesses between the 1880s and the 1920s, numbers remained low compared to migrants from the eastern United States and Europe. Widespread racism against Asian immigrants based in white perceptions of labor competition limited Asian numbers in the first decades of settlement. White residents targeted the Chinese in particular, and often referred to Chinese workers derisively as "coolies," "celestials," "orientals," or "washee-washees."
In Fort Collins, one of the longest-running Chinese-owned businesses was a laundry run by Hong Sing on North College Avenue. Beginning as a frame building that was constructed at some time prior to 1886, the laundry remained a Chinese-owned business from the mid-1880s to approximately 1920. By 1900, the owner was Hing Law (or Low, Henig), a twenty-five year old immigrant from China who ran the laundry with live-in help from Song Chan Sorey, a seventeen-year-old who was born in California. In about 1901, Hong Sing took over the laundry and after a fire, replaced the damaged frame structure with the brick building that remains today at 156 N. College in the Old Town Landmark District. Hong Sing appears to have continued operating the laundry until about 1920.
Alongside the Chinese, Japanese immigrants began immigrating to the western United States by the 1890s. While immigration from Japan was not regulated after 1882 to the degree that those from China were, the Japanese still found their economic prosperity and social freedom limited due to similar racist stereotyping on the part of white Americans. Many worked in agriculture or related industries throughout the west, either as gardeners or farm laborers. Within the Colorado Front Range's sugar beet industry, Japanese workers (both Issei and Nissei) comprised the first labor source for sugar beet farmers, before the industry shifted to German-Russians by the late-1890s, comprising 2200 of the 10,000 laborers recorded in the industry prior up through 1909. In 1907, Theodore Roosevelt negotiated an agreement with the Japanese government in which Japan agreed to end the provision of passports to laborers seeking to leave the country, greatly diminishing new immigration from Japan.
In Fort Collins, the Japanese are most evident as labor for the sugar beet industry, as agricultural ditch builders, and as stone quarriers in the 1900s-1910s. There was also reference to a Japanese boarding house on Jefferson Street by 1909, although its exact location is not known.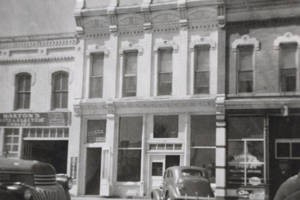 Local news reports noted large Japanese crews working in beet fields throughout the region, and completing ditches like the Link and Grand River ditches in Larimer County. Both of these were high-altitude projects to divert western slope water into the Cache la Poudre watershed for eastern Colorado farmers, both completed with significant amounts of Japanese labor in the early 1900s. Japanese work crews also constructed sections of the Union Pacific Railroad near Fort Collins, and quarried alongside Mexican Americans and Mexican immigrants in the quarries north and west of Fort Collins. Notably, during a tragic explosion at the Great Western Sugar Company's Ingleside limestone quarry north of Ted's Place, eight men were killed including five Mexican Americans and two Japanese men. Japanese residents in Colorado were so numerous as to draw the attention of the Ku Klux Klan, the United States' most notorious white supremacist organization which was extremely active in Colorado in the 1920s. In 1924, Colorado governor and Klan member Clarence Morley signed various anti-Japanese laws in Colorado, including barring Japanese residents from owning land following the example of similar laws already passed in California. Most notoriously, after the outbreak of war between the United States and Japan in 1941, the federal government placed all Japanese American residents, mostly citizens, into internment camps throughout the country, including the Amache War Relocation Center in Granada, Colorado.
As with many other immigrant groups, higher education proved an important avenue for Asian Americans to make gains, both social and economic, in the United States and Fort Collins. In the mid-1900s, several were attending the Colorado Agricultural College, now Colorado State University. In 1906, a J. Yamamoto and other men were documented as attending the College, with Yamamoto also offering a lecture to the local Baptist Church on the "Religions of Japan." Between 1940 and 1942, in the midst of American-Japanese hostilities and the start of Japanese Internment during the Second World War, Chet Maeda transferred to Colorado A&M to play football. He was a starting player his junior and senior years (1941 and 1942), playing at halfback and quarterback. After graduation, he served in the U.S. Army during the Second World War, briefly played professional football for the Chicago Cardinals after the war, and then a veterinarian in his native California.
Between the 1860s and the 1940s, the Asian American experience in Fort Collins was troublesome and defined by persistence in the face of racist legislation, attitudes, and violence. The 1882 Chinese Exclusion Act dramatically limited immigration from China, and the 1924 Immigration Act effectively ended it temporarily, along with limits on immigration from other Asian nations including Japan. It was not until 1943 that the Exclusion Act was overturned and caps on immigration from Asia were raised, leading to a new generation of immigration to America from Asia. Nevertheless, racism persisted, including the myth of Asian Americans as the nation's "model minority," meant to imply the ease by which many east Asian families assimilated to Euro-American cultural norms. This stereotype is damaging and problematic because it ignores the history of violent racism against Asian Americans since the 1860s, ignores the immense ethnic and cultural diversity of people who immigrated from Asia, and ignores the discrimination and disproportionate poverty rates among certain Asian American communities, especially those more recently transplanted to the country. These overlapping stories have enriched the tapestry of Fort Collins history and continue to be a part of the community's culture.
We Need Your Help!#
Our goal is to recognize the important places in Fort Collins that reflect the full history of our Asian American communities, as an important but underrepresented group in our city's widely recognized history to date. If you have stories, photographs, or research leads that will help us identify important sites and people in Fort Collins associated with Asian American history from any perspective, please contact us and help us in our effort to tell the full story of our community. Contact us at preservation@fcgov.com.