Transportation Capital Expansion Fee Program
The City of Fort Collins strives for a world-class transportation system which serves all modes of traffic.
The Transportation Capital Expansion Program (formerly called the Street Oversizing Program)references City adopted plans and policies to offset additional traffic added to the existing transportation system by new development or redevelopment. Development categories are defined by the Institute of Transportation Engineers Trip Generation Manual, not the International Building and Residential Codes.
The program collects fees from new development or redevelopment projects. These fees are due prior to the building permit is issued. The fees vary depending on the type of development: i.e. residential, commercial, office space, industrial, etc. Per City code, the fees can be used to fund projects which reduce congestion or to reimburse development projects which construct roadway up and above the local access standards.
---
Transportation Capital Expansion Fee Program Flowchart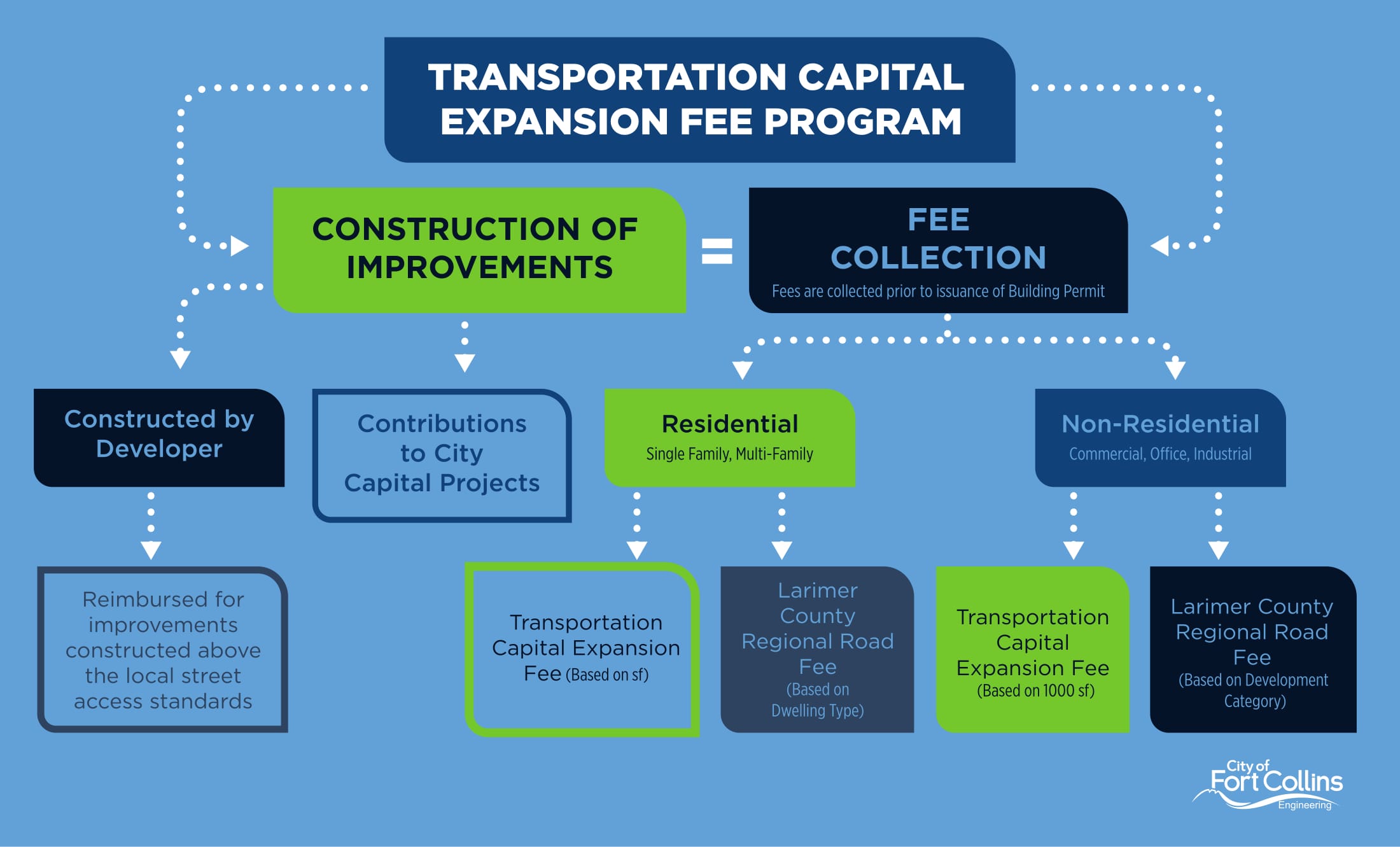 Transportation Capital Expansion Fees
Residential (Per Dwelling Unit)
SF of Finished Living Space
Fee
up to 700
$2,321
701-1200
$4,310
1201-1700
$5,596
1701-2200
$6,543
over 2200
$7,014
Non-Residential (Per 1000 sf of Floor Area)
Development Type
Fee
Commercial
$8,539
Office & Other Services
$6,291
Industrial
$2,030
Larimer County Regional Road Fees
Residential (Per Dwelling Unit)
SF of Finished Living Space
Fee
900 or less
$163
901 to 1300
$228
1301 to 1800
$275
1801 to 2400
$322
2401 to 3000
$361
3001 to 3600
$393
3601 or more
$420
Non-Residential (Per 1000 sf of Floor Area)
Development Type
Fee
Industrial
$100
Commercial
$422
Office & Other Services
$248
Recently Constructed Projects
Development Projects with Reimbursement from TCEF Program

Suniga Road (Aspen Heights Development)
Lincoln Avenue Roundabout, Duff Drive, International Blvd (Capstone Cottages)
Timberline Road, Rosen Drive, Red Willow Drive (Crowne at Timberline)

Capital Projects

College/Willox
Harmony Road
Ziegler/Drake
Horsetooth/Ziegler Roundabout
---
Capital Expansion Fees
The City recently revised its Capital Expansion Fees. For more information, please see the
Capital Expansion Fee Study
---
City Adopted Plans
and

Policies

TCEF Fees collected are ultimately used to support projects which increase the carrying capacity of the transportation system. The TCEF Program is Plan-Based; it references various plans to determine project and funding priorities. The following plans influence how the program prioritizes projects:
---
Building Services
Transportation Capital Expansion and Larimer County Regional Road Fees are collected prior to the issuance of the building permit. For information an additional building permit fees, please visit:
---