Taft Hill - Horsetooth
to

Harmony#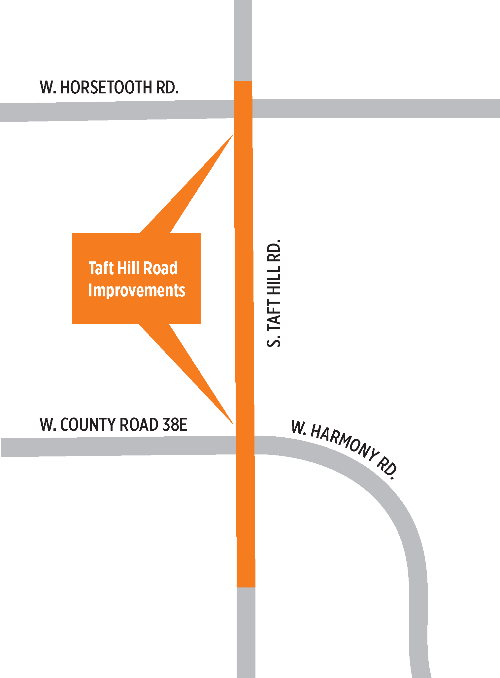 The City of Fort Collins and Larimer County are partnering to improve Taft Hill Road from Horsetooth Road to Harmony Road. This segment of Taft Hill is a two-lane (one lane each direction) road with a center turn lane, and experiences traffic congestion and safety concerns. Planned project improvements include construction of a 4-lane arterial street including auxiliary turn lanes, intersection improvements, curb and gutter, sidewalks, bicycle lanes, median, and storm sewer.
Project Goals#
Improve safety along Taft Hill Road for vehicles, transit, bicyclists and pedestrians
Implement the Larimer County Urban Area Street Standard for an arterial roadway
Project Status#
Design returned to active status with Rights of Way acquisition anticipated for late 2022.
The project team has been coordinating with Fort Collins Loveland Water district on their regional upgrade plan that includes improvements within the project limits. The district has made this section of their planned construction a priority accelerating funding and design resources to perform their work prior to improvements of the roadway. This coordination and revised sequencing will allow for much needed utility improvements while ensuring the quality of roadway improvements is not compromised.
Funding#
The City and County jointly applied for and were awarded a Surface Transportation Block Grant (STBG). Local matching funds are from Regional Transportation Capital Expansion Fees which the City collects for the County.
STBG funds - $3.8 million
Local funds - $1.5 million
Taft Hill Project Virtual Public Meeting - Nov. 18, 2020#