Riverside Bridge Replacement
The City of Fort Collins will be replacing the structurally-deficient Riverside Avenue bridge over Spring Creek in the fall/winter of 2018/19. The work includes removal of the existing structure, raising the roadway, installing new storm sewer systems, and installing the new bridge and roadway system.
During bridge construction, a 6-week full closure of Riverside will be required to remove and replace the bridge. During this time, EPIC parking access will be detoured to Stuart Street.
Once the bridge work is completed, the City will focus on Spring Creek stream restoration and realignment work that will take place in the Spring Creek corridor. Limits of the stream rehabilitation work will be from the railroad underpass on the east to the existing Edora detention ponds at the west. The Spring Creek restoration and realignment work will begin in January and will continue through the end of the Spring 2019. For more information about the Spring Creek stream restoration project visit: fcgov.com/spring-creek-edora.
---
Overall Project Goals
Primary goals of the project include:
Replace the Spring Creek bridge which is currently rated as structurally deficient
Raise the Spring Creek Trail so that it floods less frequently
Raise Riverside roadway and bridge above the existing Spring Creek floodplain
Restore the Spring Creek stream corridor to a natural condition
Improve the Spring Creek floodway corridor
Improve the aesthetics of the Riverside Bridge
Add sidewalk on the east side of Riverside to EPIC
Improve Riverside Ave. drainage
---
Construction Update
The City of Fort Collins Engineering Department and their contractor, Lobos Structures, LLC began construction for the Riverside bridge on September 17, 2018. The contractor is behind schedule with the full closure phase. The bridge construction project is anticipated to be completed in Spring 2019.
During September and October, the Contractor focused on pre-staging work to reroute the Spring Creek Trail and provided temporary access for EPIC users from Stuart Street.
On October 13, 2018, the City closed Riverside Avenue and work began on dismantling the old bridge and installation of the new bridge. This work was scheduled to take 6 weeks, but due to schedule changes and production rates, this work is still ongoing. City staff is evaluating the schedule changes with the Contractor and has notified stakeholders about the delay.
The City will release additional information as the construction schedule becomes more defined.
---
---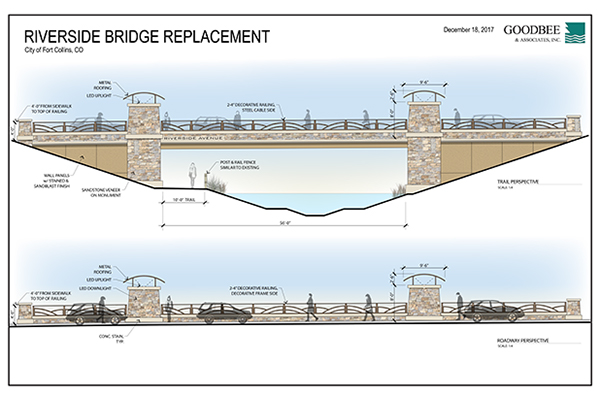 Bridge Concept Drawing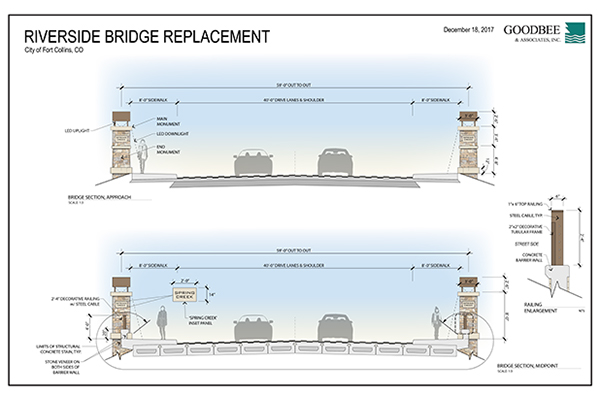 Bridge Concept Cross-Section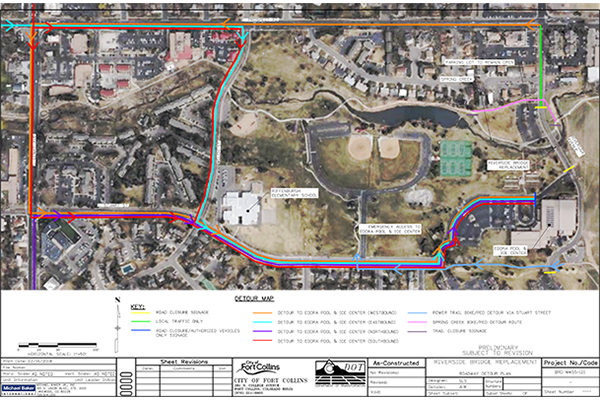 Detour Map
---