Riverside Bridge Replacement#
The City of Fort Collins will be replacing the structurally-deficient Riverside Avenue bridge over Spring Creek in the fall/winter of 2018/19. The work includes removal of the existing structure, raising the roadway, installing new storm sewer systems, and installing the new bridge and roadway system.
During bridge construction, a 6-week full closure of Riverside will be required to remove and replace the bridge. During this time, EPIC parking access will be detoured to Stuart Street.
Once the bridge work is completed, the City will focus on Spring Creek stream restoration and realignment work that will take place in the Spring Creek corridor. Limits of the stream rehabilitation work will be from the railroad underpass on the east to the existing Edora detention ponds at the west. The Spring Creek restoration and realignment work will begin in January and will continue through the end of the Spring 2019. For more information about the Spring Creek stream restoration project visit: fcgov.com/spring-creek-edora.
Overall Project Goals#
Primary goals of the project include:
Replace the Spring Creek bridge which is currently rated as structurally deficient
Raise the Spring Creek Trail so that it floods less frequently
Raise Riverside roadway and bridge above the existing Spring Creek floodplain
Restore the Spring Creek stream corridor to a natural condition
Improve the Spring Creek floodway corridor
Improve the aesthetics of the Riverside Bridge
Add sidewalk on the east side of Riverside to EPIC
Improve Riverside Ave. drainage
Construction Update#
The City of Fort Collins Engineering Department and its contractor, Lobos Structures, LLC are paving Riverside Avenue on Friday, April 19 and Saturday, April 20. Riverside Avenue will reopen to traffic this upcoming weekend once striping operations are completed after paving. Please pay attention to access changes for EPIC. The Stuart Street entrance to EPIC will close once Riverside Avenue reopens.
Once Riverside Avenue reopens, there will still be some final construction activities impacting Riverside Avenue and the Spring Creek Trail. Riverside Avenue will have periodic lane closures with flagger operations, and Spring Creek Trail will still have some segments of concrete to install before the trail reopens to users.
The City of Fort Collins Engineering Department would like to thank the affected neighborhoods in the vicinity of EPIC, EPIC patrons and Spring Creek Trail users who endured a lengthy closure to Riverside Avenue and portions of Spring Creek Trail.
---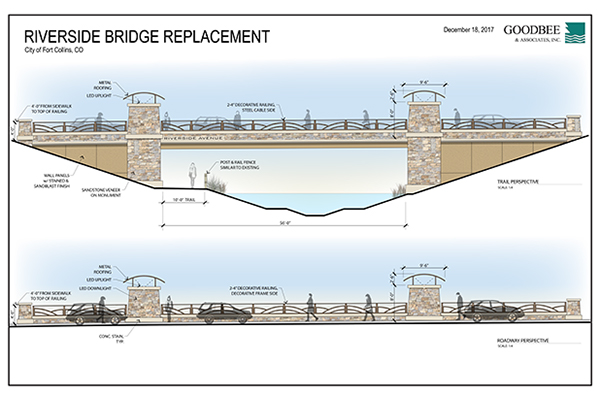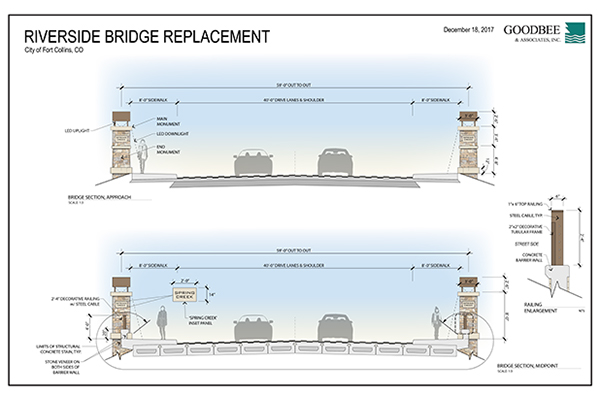 Bridge Concept Cross-Section