Lemay Avenue Projects - 2021#
Overview#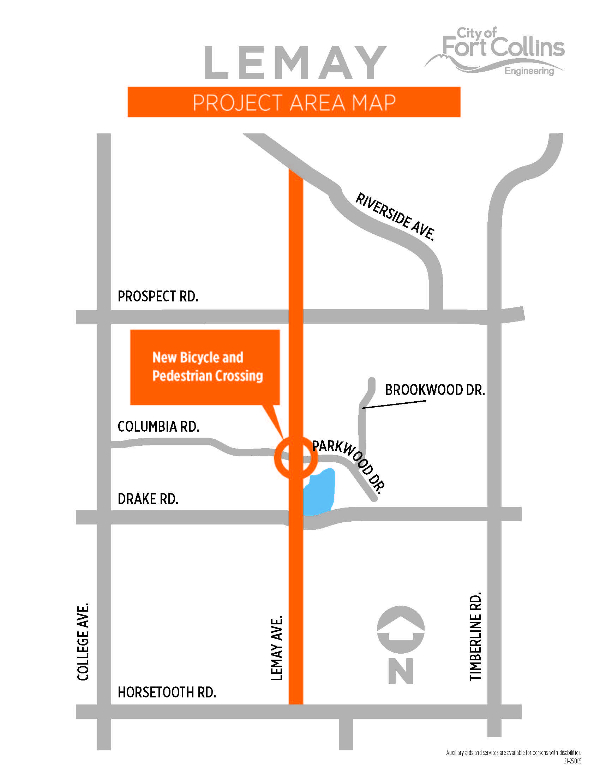 A number of projects are scheduled on the Lemay Avenue corridor in 2021. These projects include:
FC Moves: A new pedestrian/bicycle crossing at Columbia Road/Parkwood Drive and Lemay starting on March 1, 2021, and ending in early May
Streets Department: Concrete repairs and paving on Lemay from Riverside Avenue to Horsetooth Road.
Utilities: Work on stormwater lines and water lines.
Additionally in the area, Utilities will work to replace a water line and resurface Brookwood Drive from Parkwood to Stuart in late summer through early fall.
Managers for each project have been coordinating across City departments to reduce traffic impacts as much as possible.
- - -
Also this year, Lemay Avenue will be moved to a new alignment and onto a new overpass at Vine Drive. Click here to visit the project page.
Project Goals#
These projects will result in several improvements for the Lemay Avenue corridor including:
A safer pedestrian and bicycle crossing at Columbia Road/Parkwood Drive and Lemay, further contributing to Fort Collins' Low Stress Bike Network.
Upgraded stormwater and water lines system underneath Lemay Avenue.
Resurfacing of Lemay from Riverside Avenue to Horsetooth Road.
After Lemay Avenue work is complete, Utilities will replace an existing water line on Brookwood Drive, followed by a street resurface.
What Can I Expect?#
Drivers on Lemay Avenue will experience several consecutive projects on Lemay from February through the fall of 2021.
At least one lane of traffic will be open in each direction at all times except:
From March 25-29 when Lemay is closed between Columbia Road/Parkwood Drive and Drake Road for a Utility stormwater line replacement, and
During the paving project on Lemay later this year (see below).
Paving on Lemay between Riverside Avenue and Horsetooth Road in the summer will result in lane closures and directional closures as the project gets underway. Drivers should plan for these changes when paving begins.
As with all construction projects, weather may affect construction schedules. Drivers should plan to use alternate routes if possible, like College Avenue and Timberline Road. Access to residences and businesses will be maintained at all times.
Project
February
March
April
May
June
July
Fall
FC Moves new Bike/Ped crossing
✓
✓
✓
Streets concrete work
✓
✓
✓
Utilities lane reductions
✓
✓
✓
Stormwater work lane closures

✓

(Full closure March 25-29)

✓
✓
Streets Lemay overlay project
✓
✓
Utilities water line replacement
✓
✓
Contact#
Questions about these projects can be directed to lemay2021@fcgov.com or 970-416-8049 (PIN if needed: 112233)