What's
in

a

Friendship?#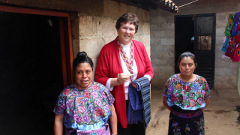 In 2012, Fort Collins established a Friendship City Partnership process to assist in the response and development of more formalized partnerships with international communities. The City believes in the benefit and richness of sharing and learning from others.
A Friendship City Partnership is an established partnership between the City of Fort Collins and a foreign city that is mutually beneficial. The first step towards establishing a Friendship City Partnership is completing an Application. The Application helps to identify the proposed goals of the partnership, the supporting activities that would be included, and it highlights the areas of interest and strengths or needs for each party.
The criteria for considering a Friendship City Partnership is based on, but not solely limited to, one or more of the following:
Attribute Match: Does the community have similarities to our size, population, demographics, vision, mission, or goals?
Goal Match: Does the community have relevant sustainability, cultural and/or economic goals?
Connection Match: Does the community have existing local connections with significant community or business interests such as Colorado State University, Front Range Community College, University of Colorado Health Systems, Poudre School District, a targeted cluster industry, etc.?
Exchange Match: Does the community currently participate in an on-going exchange program with an organization in the city such as the Poudre School District, service organization, health care organization, etc.?
Ethical Match: Does the community strive to be a stable and ethical government?