Dept Head: Larry Schneider
Potholes and Street Hazards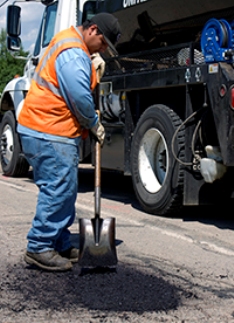 Once you call the Pothole Patrol Hotline, the hole is usually filled within two days.
The City of Fort Collins strives to provide safe and well-maintained streets. You can help! Ultimately, taking care of potholes in a timely manner will prolong a street's useful life and reduce future maintenance and rehabilitation costs. With citywide cooperation, we can fight back against potholes and work together to keep our streets well-maintained.
How to Report Potholes
For Potholes or Street Hazards
Call the the Pothole Patrol Hotline at 970-221-6614 or report the pothole/street hazard online. Upon the initial report, potholes are generally filled within two business days.
For Trail Hazards
To report problems along the trail system, contact City Parks at 970-221-6660 or cGFya3Nob3BAZmNnb3YuY29t.
Access Fort Collins