Construction continues on Mason Street
The City of Fort Collins Streets Department will continue road work on Mason Street beginning Monday, Sept. 11.
Work will take place in both directions of Mason between Maple Street and University Avenue. Block-by-block closures of Mason will be in effect and detours will be posted. The entire final phase of the project is expected to take three months, weather permitting.
Initial closures will be from Laurel to University and Mountain to Olive.
On Oct. 2, Mason will be closed from Magnolia to Mulberry St. This closure should be completed by Oct. 26.
Background#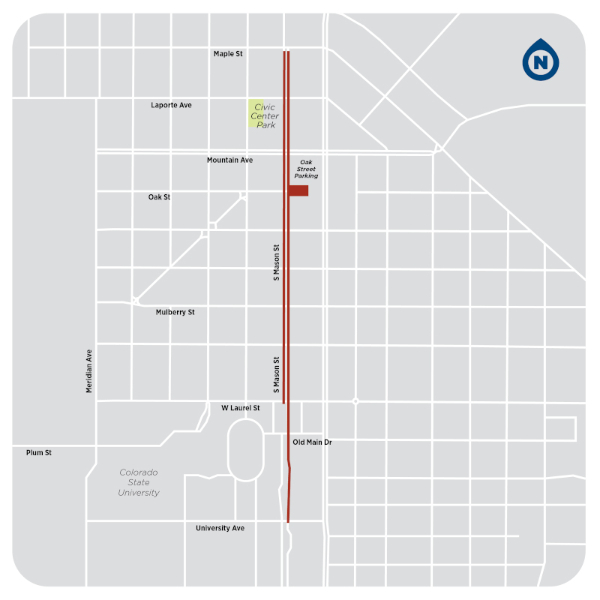 The Mason Street corridor is a heavily trafficked thoroughfare that connects the west side of Downtown Fort Collins with Colorado State University. In addition to being an important business corridor, Mason Street also carries the MAX bus rapid transit line through Downtown.
Improvements and repairs are necessary to continue to maintain a high level of service along the corridor and make concrete, curb, and gutter repairs where needed.
Project Goals#
This project will involve concrete and asphalt work along the Mason Street corridor from University Avenue to Maple Street.
Both directions of Mason Street will be under construction throughout the summer months. Work will move on a block by block basis, leaving sections of the street open when work is not taking place.
The public Oak Street parking lot will be paved as part of this project and will close while paving occurs.
Minor utility work and tree trimming is also part of this project.
Timeline#
Work began in early June 2023 and will continue through December 2023, weather permitting.
Information
for

MAX riders#

Because Mason Street normally carries the MAX line, MAX service will be affected. MAX service and stops will be relocated one block west to Howes Street once Mason Street begins closing to traffic.

More information will be posted here and at www.ridetransfort.com once the detour begins.
Business Support#
The City recognizes that Mason Street is an important business corridor and this project will affect normal business operations.
We want to make projects like this as least disruptive as possible for businesses. Check out our Construction Toolkit below, and our Business Support Liaison can be reached for additional questions:
Michael Bussmann
Business Support Liaison
mbussmann@fcgov.com
Contact#
Bill Welborn | Project Manager | Streets Department | bwelborn@fcgov.com
Michael Bussmann | Business Support Liaison | mbussmann@fcgov.com