Dept Head: Jennifer Poznanovic
8 a.m. to 5 p.m. (M-F, except for holidays)
Become an Outdoor Vendor
Pick your location. Get started today.
Expanded Opportunities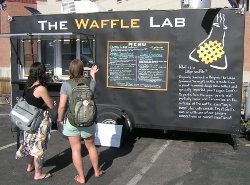 An Outdoor Vendor is any person, whether as owner, agent, consignee or employee, who sells or attempts to sell, or offers to the public, any services, goods, wares or merchandise including, but not limited to food or beverage, from any outdoor location.

An outdoor vending license costs $60.00 for six-months or $120.00 for 12-months.
Please refer to Outdoor Vendor Licensing Areas to determine the approved areas.
Apply Online
Site Plan if location is on private property showing the location of all existing and proposed structures, access, equipment and parking
Special Vending License issued to a person responsible for an occasional, temporary event located solely on a single private lot when the event does not require issuance of a special events permit under Chapter 23.5 of the Municipal Code
Insurance Certificate if on public property – City named as additional insured and certificate holder. (Commercial General Liability with a Combined Single Limit of $500,000 per occurrence and Products Liability with a Combined Single Limit of $500,000 per occurrence.)
Colorado Secretary of State Document of Good Standing
Copies of City, County and State sales tax licenses
If vending food, Copy of Larimer County Health Permit
Apply In Person
Fill out the Outdoor Vendor Application

(83KB)

and attach all of the required documents.
Submit your application packet to the Sales Tax Division:

City of Fort Collins
Sales Tax Division
215 N. Mason Street, 2nd Floor
Fort Collins, CO 80522-0580
c2FsZXN0YXhAZmNnb3YuY29t
Resources
Questions?
Check out the Outdoor Vendor Handbook or send an email to c2FsZXN0YXhAZmNnb3YuY29t